By Parke Shall
Nordstrom (NYSE:JWN) reported after the bell today and the report seemed to be confirmation of the secular decline in brick-and-mortar retail that we have been seeing over the last year or two. That the company missed on both lines in the outlook was disappointing, just days after Wal-Mart (NYSE:WMT) similarly readjusted the public's outlook. Naturally, all of the retailers were getting hit on the news, but we have a couple of very good reasons why we think people should be buying Macy's (NYSE:M) on this dip ahead of Macy's earnings report, which is due out next week.
First, a lot of the bull case behind Macy's is different from Nordstrom; it primarily revolves around the value unlocked from M's premium real estate. From contributors on Seeking Alpha to large hedge fund names like David Einhorn, the focus has been on getting active in order to get the company to monetize its real estate. There have been many guesses as to what the company may do, but the scenario of a private equity bid entangled with a real estate investment trust bid is what we continue to hear over and over again. We think this thesis in and of itself, which has been estimated to add significant amounts of value to Macy's stock, is enough of a reason to be long the company.
For those who have missed it, Macy's has recently created two executive positions to deal with real estate and has hired a real estate banking company in order to help it monetize some of the fantastic real estate assets that it owns. The stock has broken out of a technical downtrend, as you can see by looking at any 1 year chart, and Macy's was able to weather a similar storm when Kohl's (NYSE:KSS) reported poor results just weeks ago.
In addition to this, we have said in past articles and we believe that Macy's has "kitchen sinked" the guidance for the company and has lowered expectations in order to hopefully be able to meet or beat their numbers for this coming quarter. It is worth noting, however, that JWN's estimates had also come down from $1.29 to $1.22 for this quarter over the last 90 days. Surely, if the company guides down, it will be a short-term headwind for the company. But that will not take away from the underlying thesis that the real estate holds value and that the company is making a decent transition from brick and mortar to online. As we are learning from Amazon of recent, it looks like online retailers are going to want to have an in-store presence as well. Macy's is approaching this from the opposite angle, but has seen double-digit growth in its online sales over the last few quarters, and we are confident that the company can continue growing this number.
We are definitely seeing multiple compression in Nordstrom shares that started after the report was released and is probably going to continue into Friday's session. However, Nordstrom sports a 15x PE multiple while Macy's only sports a 10x PE multiple. We have often argued that Macy's deserves a 12x PE multiple, which would value shares closer to $45.96. Nordstrom will continue to trade at a premium to Macy's, although their multiple on these results may come down to 12x or 13x, pushing JWN into the mid $40s.
In the world of retail, Macy's sports one of the lowest forward P/Es.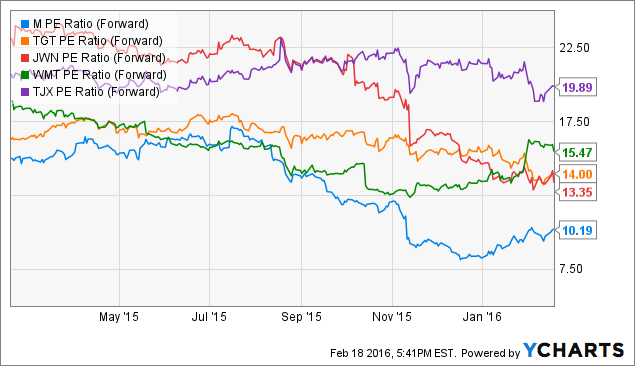 M PE Ratio (Forward) data by YCharts
It is peculiar to argue that the Macy's bull thesis is somewhat detached from the Nordstrom bull thesis. However, we think this is exactly what is going on. In short,
Macy's has a strong foundation of assets in real estate that give the company, we believe, well in excess of $50 per share of value on their own accord.
Macy's trades at a multiple that is 33% lower the Nordstrom. If Macy's were to trade at JWN's multiple prior to their report this afternoon, it would be trading somewhere around $57.45 per share.
If Macy's traded at JWN's price to sales prior to today's report, it would be trading near $48. If it traded at nearly 6.8x book value like JWN does (which is a little high, we admit), it'd be trading somewhere near $80 per share. We think Macy's is still cheap relative to competition; and in general.
There are activist investors involved with Macy's that are not involved with Nordstrom. David Einhorn and Starboard Value are working for shareholders and trying to actively help the company unlock value.
We think Macy's guidance has come in much lower than the company needs in order to put up in earnings report next week that is, at least, decent
All the while, Macy's pays a 4% dividend that is very sustainable as well as buying back tons of its own shares as it has done on a consistent basis.
While we realize that sentiment is probably not going to be at an all-time high heading into next week's report, we think that Macy's represents a unique opportunity and that value will eventually become unlocked from within the company. It is our intention to add to our position on any selloffs that occur due to Nordstrom's results. We added some shares today after hours, and we may add tomorrow.
Disclosure: I am/we are long M.
I wrote this article myself, and it expresses my own opinions. I am not receiving compensation for it (other than from Seeking Alpha). I have no business relationship with any company whose stock is mentioned in this article.