Valentine's Day is just a fading memory, and evidently Wunderlich Securities is not feeling the love for retail investor favorite Realty Income (NYSE: O).
On February 16, Seeking Alpha reported that Wunderlich had lowered "The Monthly Dividend Company" from Hold to a Sell rating, while maintaining its $53 per share target price.
Based upon Realty Income's previous close of $60.48 per share, the Wunderlich $53 price target represents a potential downside of 12.4% vs. receiving monthly distributions with a ~4% current yield.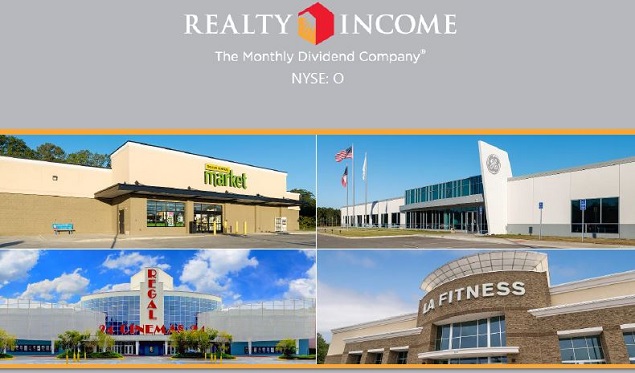 Source: Realty Income - Q4'15 Supplemental (for all non-attributed slides)
Retail REIT investors who crave a steady and growing income stream have flocked to Realty Income during the wild price swings and loss of value in global equities to ring in 2016.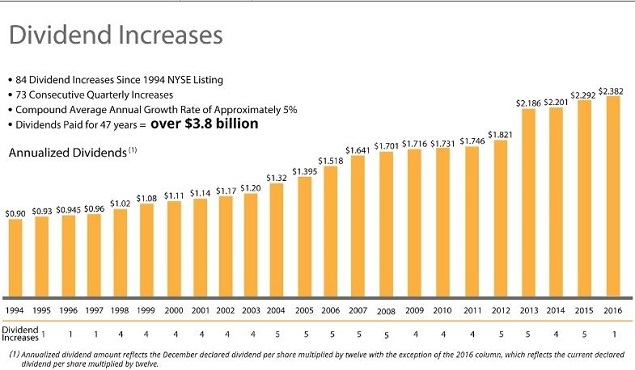 One main attraction is Realty Income pays a monthly distribution with a track record of 73 consecutive quarterly increases, growing faster than inflation with a 5% CAGR.
A Simple Business Model
The freestanding/single-tenant, or triple-net REIT business model, is easy to comprehend. In addition to monthly rent, tenants also pay for taxes, insurance, utilities and almost all of the facility maintenance.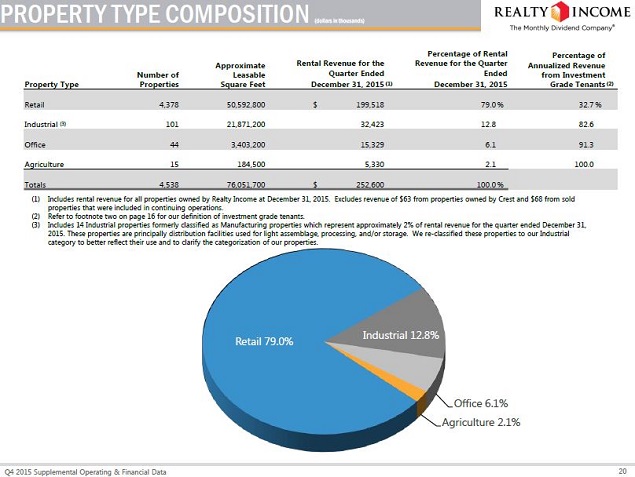 The vast majority of the Realty Income portfolio is leased to over 4,300 retail tenants. While only 32.7% of them are investment grade, well-located retail buildings are fungible, making them relatively easy to re-lease to another tenant. Notably, the industrial, office and agricultural facilities are predominately leased to investment grade tenants, as shown on the slide above.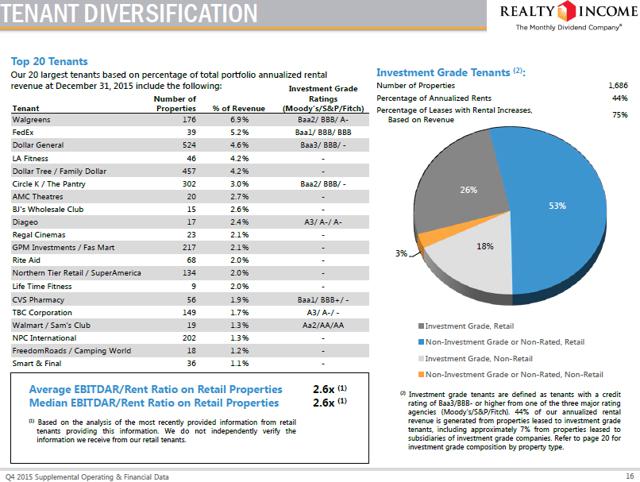 The Realty Income portfolio also is diversified by geography, industry and tenant.
Tale Of The Tape - O Shares Sell-Off On Downgrade
Realty Income reported earnings on February 12, and expects to grow FFO by a solid 5% during 2016. However, at $60.48 per share, O shares were trading north of 21x 2016 FFO/AFFO estimates at the midpoint.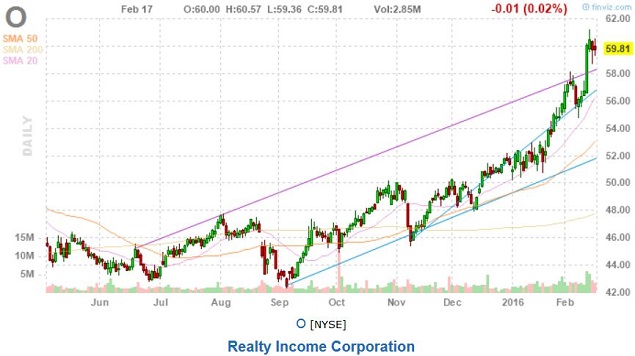 During the past 52 weeks, Realty Income shares have traded in a range of $42.34-$61.26 per share.
Realty Income shares had gained close to 16% in just the first six weeks of trading to kick off 2016.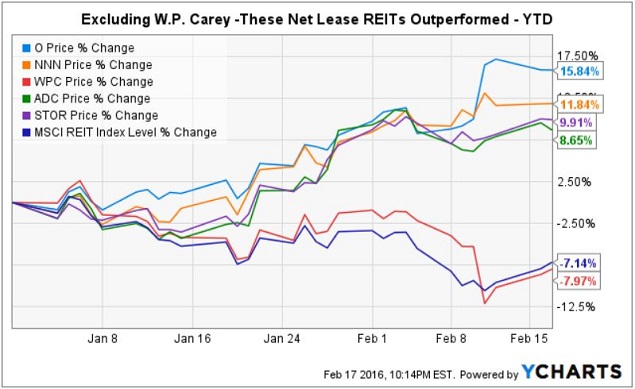 Realty Income 2016 guidance includes about $700 million of granular property acquisitions, net of planned dispositions. Barring a large accretive portfolio acquisition, frankly the good news is already baked into the shares.
Yesterday, Brad Thomas published an SA focus article on Realty Income, "No Margin Of Safety But A Strong Hold For Realty Income," where he discussed the potential for major acquisition. Additionally, on February 17, RBC Capital Markets reaffirmed a Sector Perform rating on O shares, with a $58 target price.
On February 15, SA author Casey Hoerth wrote: "I Think It's Time To Sell Realty Income," which is basically a valuation call. He concluded by mentioning W.P. Carey (NYSE: WPC) as an alternative for investors.
However, regarding W.P. Carey as an option, I feel that there are too many moving parts and unanswered questions right now. I recently wrote "W.P. Carey Drops A 'Bond-Shell' On Investors Along With Some Guidance," which lays out my reasoning.
Notably, this is a short-term aberration in a company with a great track record. Once the dust settles, and investors have a better idea of what the strategy will be going forward, I plan to write-up WPC again for SA readers.
So, if you have exited your position in Realty Income, or have a pot of money that you had hoped to allocate to O shares: Is there a good alternative investment right now?
Agree Realty - A Solid Balance Sheet
REITs below a $1 billion market cap rarely, if ever, receive a formal rating from S&P or Moody's. However, that does not preclude them from operating in a conservative manner, and managing balance sheet metrics in a similar fashion.
This is exactly what Agree Realty (NYSE:ADC) CEO Joey Agree has been doing, as shown in the exhibits below.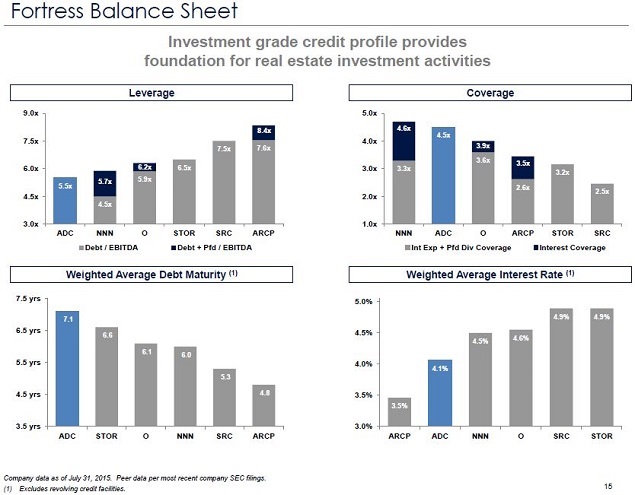 Source: Agree Realty - 3Q'15 Earnings presentation (for all slides below)
Last year, Agree was able to lock in 4.1% senior debt financing for a weighted-average remaining term of ~11 years.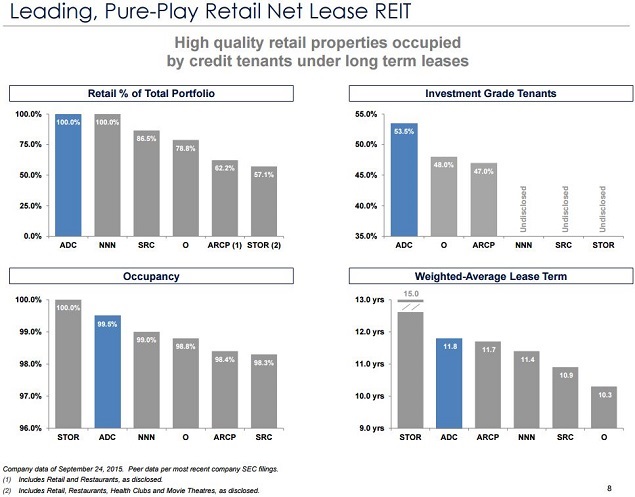 The Agree Realty portfolio is 100% retail, with a very large percentage of investment grade credits in its portfolio, as shown above.
I have previously written:
"The Agree Realty net-lease portfolio is over 53% leased to investment grade tenants. Walgreens at 18.5% is the only tenant which accounts for over 5% of total average base rent (ABR). The next three tenants: Wawa, CVS (NYSE:CVS) and Wal-Mart (NYSE:WMT), account for 3.7%, 3.7% and 3.1% of ABR, respectively."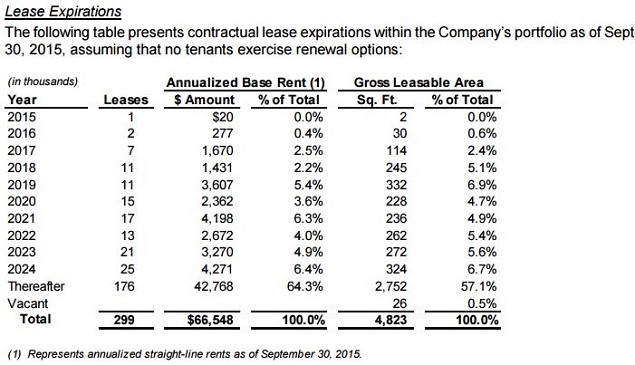 Source: Agree Realty - 3Q'15 Earnings
The total ADC portfolio, as of Sept. 30, 2015, had a weighted average remaining lease term of ~12 years."
Last September, I wrote an SA focus article where I pointed out Agree Realty as a rising star with plenty of room to run. Agree shares were trading at $30.25.
I followed up with a piece in November, after Agree reported earnings for Q3 2015. Agree Realty was trading at $33.01 per share, with a 6% yield. That article can be found here.
I chose Agree Realty as my highest confidence small-cap REIT pick in early January, "My Top REIT Ideas For 2016: Good Things Come In Small Packages," when ADC shares were trading at $34.17 per share.
As of this writing, Agree Realty is trading at $37.39 per share.
Agree Realty - Secret Sauce
Agree Realty is the only freestanding retail triple-net lease REIT with a full range of in-house development capabilities.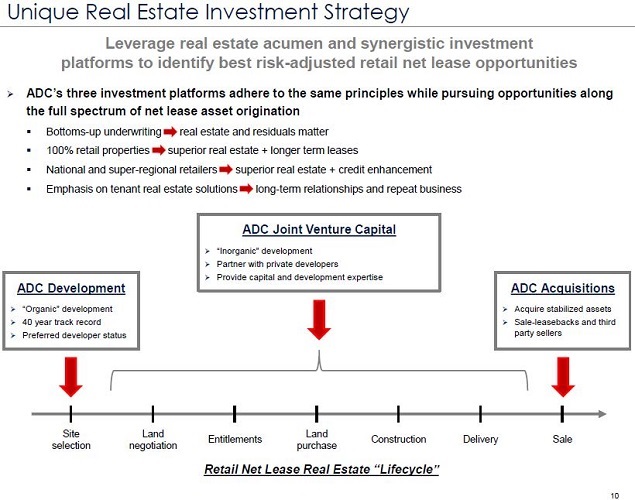 Given a market cap of $700 million, it is much easier for Agree to move the growth needle than its larger cap peer National Retail Properties (NYSE: NNN). Realty Income and NNN are essentially spread investors, using a strong balance sheet and low WACC to make accretive acquisitions.
Agree Realty is able to sharp-shoot markets and leverage relationships built over a 40-year history of retail shopping center development, to acquire off-market assets at ~8% cap rates. In addition, Agree also develops build-to-suits with a ~9% going-in cash yield.
Notably, Agree Realty has a similar WACC, despite being a much smaller REIT.
Investment Grade Rating
Many retirees and dividend growth investors utilize investing rules of thumb to help safeguard their nest egg. Investors who depend upon dividend income to supplement social security are typically risk adverse, and often will not even consider a REIT without an investment grade rating of BBB/BBB- or above.
Brad Thomas pointed out in an SA article last year:
"The rating agencies evaluate a REIT's credit based on 2 primary criteria: (i) business risk of its operations - basically how risky is the income from its properties and (ii) financial strength - a REIT's balance sheet strength including its leverage and liquidity. The rating agencies then assign each issuer with a rating which falls into two general categories - investment grade and (ii) sub-investment grade or historically "junk." Within these categories, there are specific alphabetic ratings with investment grade falling between AAA and BBB- (S&P ratings scale) and sub-investment grade being anything rated BB+ or below."
Realty Income has a BBB+ investment rating from S&P and a Baa1 rating from Moody's, which puts it among the highest rated equity REITs. While A/A- rated balance sheets do exist in the REIT universe, including: Simon Property Group (NYSE: SPG) and Public Storage (NYSE: PSA), frankly, they are quite rare.
Investor Takeaway
If you are willing to include some non-investment grade REITs in your income portfolios, Agree Realty is a small-cap REIT with investment grade balance sheet and portfolio characteristics.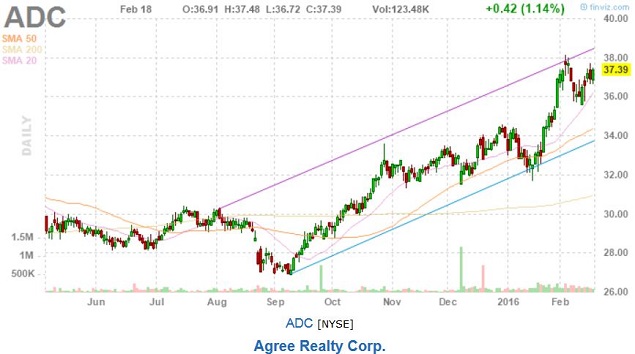 During the past 52 weeks, Agree Realty shares have traded in a range of $26.94-$38.17 per share. As of this writing, ADC shares closed at $37.39 per share, and are yielding just under 5%.
Since last September, when I first suggested Agree Realty, ADC shares have grown 23.6%, in addition to regular quarterly distributions.
Agree shares are currently priced at a multiple of 15.7x FY 2015 estimated FFO of $2.38 per share, and the $1.86 annual distribution is well covered at 78% of FFO.
Obviously, in early March, when CEO Joey Agree releases initial guidance for 2016, that FFO multiple will look even better.
REIT investors looking to replace the income from selling Realty Income can get a boost in income, while owning shares in a single-tenant net-lease REIT with plenty of runway for accretive growth.
Disclosure: I/we have no positions in any stocks mentioned, but may initiate a long position in ADC, SPG, WPC over the next 72 hours.
I wrote this article myself, and it expresses my own opinions. I am not receiving compensation for it (other than from Seeking Alpha). I have no business relationship with any company whose stock is mentioned in this article.