In business, I look for economic castles protected by unbreachable 'moats'

Warren Buffett
An economic moat is a widespread investment concept that was popularized by Warren Buffett.
What is an economic moat? It's a company's ability to maintain competitive sustainable advantages over its competitors. A sustainable competitive advantage is very significant, since it allows the company to increase profits and market share in the long term.
A sustainable competitive advantage can come in many forms. One of the most basic examples is an easily recognizable brand name. Other examples include patents, network effects, etc.
Companies that have an economic moat can be potentially beneficial for investors, as they have a stable position on the market and good growth prospects.
A truly great business must have an enduring 'moat' that protects excellent returns on invested capital.

Warren Buffett
A high ROIC is typical for a company that has an economic moat. This makes sense, since a company with a stable competitive advantage can afford to invest less, but still make more money than their competitors.
It is important to take into account that companies who have an economic moat must have a high ROIC over a long period of time - not just for one year.
However, no matter how sustainable a company's competitive advantage may appear, it can always be lost down the road. All companies want a high ROIC, which is why companies with sustainable competitive advantages are frequently attacked by competitors seeking to replace them. At some point, one of these competitors can be successful.
Of course, a company with a sustainable competitive advantage is unlikely to lose it overnight. It will most likely be a lengthy process - the company will gradually lose its privileged position and will either be knocked down to the level of its competitors or will be replaced by one of them.
We are going to analyze historical data to check the profitability of a portfolio that included stocks of companies that lost their competitive advantages.
We are going to select stocks from the universe of American companies traded on US markets.
As noted above, a company with a stable competitive advantage usually has a high ROIC. It stands to reason that if a company's ROIC steadily declines over a long period of time, this company is losing its sustainable competitive advantage.
In order to pick out these companies, let's look at RIOC values over the past 20 quarters (5 years) and set up a linear regression that looks like this:

The value of the b coefficient will be negative for a company with a declining ROIC. We are going to select companies with a b coefficient value of less that -0.4.
We will also select companies with an R2 value that is higher than 0.6. This criterion is necessary to pick out companies with steadily declining ROIC and eliminate the influence of outliers.
Finally, the last requirement we are going to apply to the selected stocks: Minimal ROIC for the past 20 quarters should be greater than 10%. This requirement will enable us to select shares that had a high, but declining ROIC.
Thus, our portfolio should only contain high ROIC companies with an ROIC that fell no less than 8 percentage points over the past 20 quarters.
We are going to rebalance the portfolio once per quarter in order to make sure that it only contains stocks that match our criteria.
This is what the result looks like.

Click to enlarge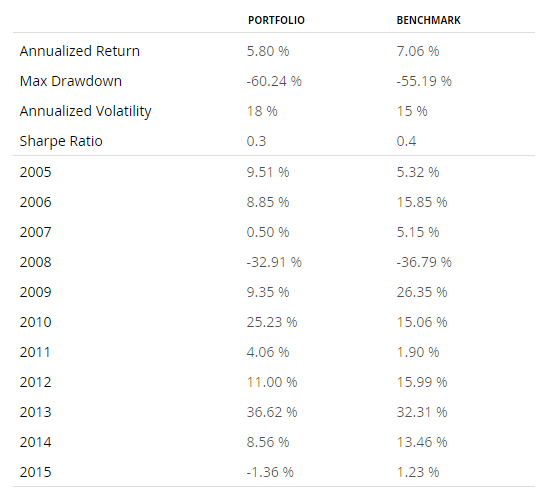 During the period from 2005 to 2015, the portfolio posted a yield below the S&P 500 index for 6 out of 11 years. The total return of the portfolio amounted to 91.68% over 11 years, while the S&P 500 posted a return of 112.87%.
Thus, companies with an ROIC that steadily declines over a long period of time - companies that are losing its economic moat - tend to underperform the market.
Coca-Cola's Case
If we build a portfolio according to our criteria for the beginning of Q1 2016, Coca-Cola's (NYSE:KO) shares will be in it. This company's shares made it into the portfolio in the beginning of 2015 and have remained there since. It is commonly thought that Coca-Cola has an economic moat in the form of a strong brand name. Moreover, Warren Buffett invests heavily in the company.
But let's take a closer look at Coca-Cola.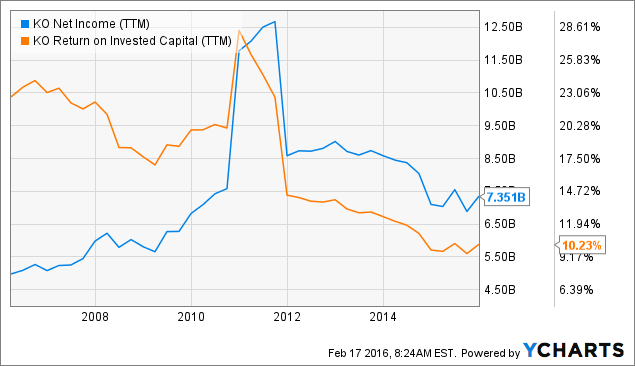 KO Net Income (NYSE:TTM) data by YCharts
The company's ROIC has been steadily declining over a long period of time. Over the past 5 years, ROIC has been declining due to drops in Net Income, but the company's ROIC was declining even while Net Income was growing (2006-2012). That is, when all other things are equal, Net Income growth could break a downward ROIC trend, but it's unclear whether or not the company will be able to overcome revenue and earnings issues without additional Invested Capital.
The table below shows Coca-Cola's ROIC values next to other comparable companies over the past 5 years. We compare Coca-Cola to PepsiCo (NYSE:PEP), Dr Pepper Snapple Group (NYSE:DPS), National Beverage Corp. (NASDAQ:FIZZ), Monster Beverage Corp. (NASDAQ:MNST).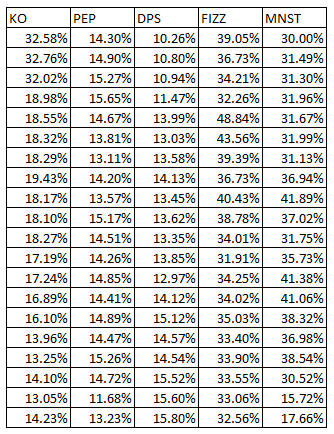 We can make the following conclusions from this table:
Coca-Cola's competitors are posting consistently high ROIC values, which means these companies have an economic moat. As with Coca-Cola, the economic moat for these companies is a strong brand name.
Coca-Cola is posting the worst trend among these companies.
The ROIC for other companies either fluctuates with a certain range (PEP, MNST, FIZZ) or increases.
Bottom Line
The test we conducted illustrates that companies with a steadily declining, but high ROIC underperform the market. Coca-Cola is an example of such a company.
Steadily decreasing but high ROIC values indicate that a company has an economic moat, but that this moat is shallowing.
Coca-Cola competitors also have high ROIC values, but the ROIC trends for these companies look a lot better than those posted by Coca-Cola. In other words, these companies also have economic moats that are in better shape.
Investors aiming for total return (capital appreciation plus dividends) or mainly for capital appreciation should avoid investing in Coca-Cola, since companies with such ROIC dynamics tend to underperform the market.
However, Coca-Cola still has a large economic moat, as well as an outstanding history of increasing dividends. This is why for investors who are interested in income, this company may be a good choice - it has what is required for income investing:
Low probability of a big price decline
Constant dividend growth over the course of many years
Good dividend yield (3.06% at the time this article was written).
Nonetheless, we recommend looking into other candidates with similar features before purchasing KO. PEP, for example, has similar features but has better ROIC trend.
Disclosure: I/we have no positions in any stocks mentioned, and no plans to initiate any positions within the next 72 hours.
I wrote this article myself, and it expresses my own opinions. I am not receiving compensation for it. I have no business relationship with any company whose stock is mentioned in this article.