In an article on Chevron (NYSE:CVX) earlier this month, I had focused on why the company is capable of making a comeback due to possible improvements in oil pricing and aggressive cost reductions in the upstream business. Now, it looks like Chevron is already on the comeback path, as its stock has gained close to 7% since my article on February 9.
The reason behind this resurgence is the positive chatter in the oil industry, with heavyweights such as Russia and Saudi Arabia ready to control their output in a bid to prop up prices. Now, this could be the beginning of a move toward balance in the oil & gas industry, as higher demand and lower production will lead to a reduction in oversupply.
But another key factor that could help the company do well is its downstream business, which performed impeccably last year.
Downstream is a source of strength for Chevron
Chevron's earnings had dropped from $19.2 billion in 2014 to almost $4.6 billion in 2015 on the back of lower realizations in the upstream business. But as shown in the chart given below, the company's downstream business was a pillar of strength as margins in the segment increased: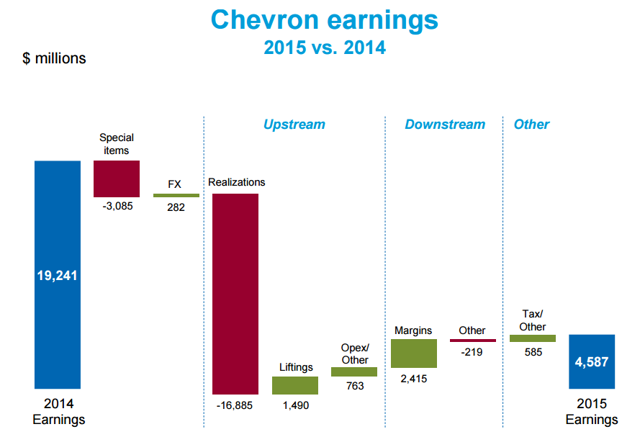 Click to enlarge
(Source: Chevron)
As shown above, Chevron's margins in the downstream segment increased over $2.4 billion during the year, and this contributed positively to the company's earnings performance. However, of late, there are certain negatives emerging in the downstream segment. For instance, in the final quarter of 2015, global refining margins dropped 34%, negatively impacting Chevron's U.S. downstream earnings.
In fact, its U.S. refining margins were down $310 million on a sequential basis last quarter, though the company did see an increase in Asian downstream margins to the tune of $105 million. Now, the weakness in the U.S. downstream segment was driven by a milder-than-expected winter that impacted the demand for refining products such as diesel and heating oil.
Additionally, gasoline inventories in the U.S. increased as more cars were off the roads, driven by the winter season. More specifically, U.S. gasoline inventories have shot up to highs last seen in 1995, driven by a higher-than-expected increase in stockpiles. But in my opinion, the weakness is temporary, and Chevron should see an increase in its downstream earnings going forward. Let's see why.
Why downstream margins will improve
This year, gasoline consumption in the U.S. is expected to increase by 70,000 bpd, reaching a record level of 9.3 million bpd achieved nine years ago. In comparison, gasoline consumption in the U.S. was 9.2 million bpd last year, driven by a 3.7% increase in highway travel. Additionally, demand for other refinery products, such as distillate fuel, jet fuel, and hydrocarbon gas liquids, is anticipated to improve 60,000 bpd, 20,000 bpd, and 130,000 bpd next year, respectively.
As the demand for these downstream products increases, the refinery output will also rise. Additionally, the stockpiles will also start coming down, thereby leading to a drop in prices. As shown in the charts given below, it is expected that the prices of diesel and gasoline will start increasing going forward: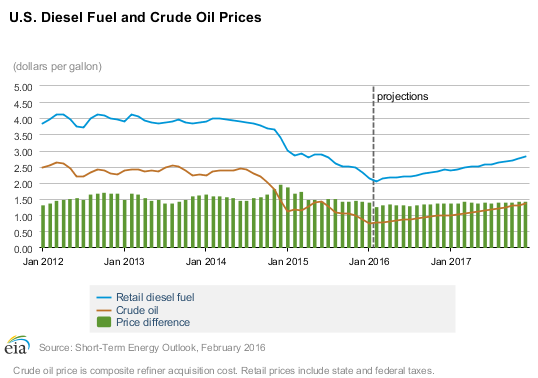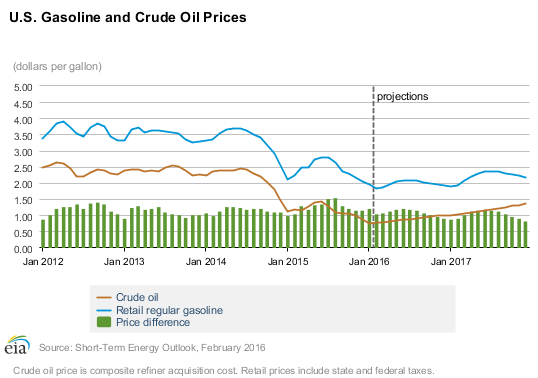 (Source: EIA.)
Driven by this improvement in gasoline and diesel prices, refinery marker margins will start getting better, thereby allowing Chevron to improve the downstream business. Additionally, in Asia, the company should continue seeing strong refining margins, as gasoline demand in China will accelerate by 200,000 bpd in 2016 after rising 7% in 2015. In fact, over the next 10 years, gasoline demand in China will grow at a compounded annual rate of 6.2%.
Thus, the slowdown in demand for refining products is seasonal in nature, which is why the company's downstream business will make a recovery going forward. More importantly, Chevron is well positioned to make the most of an increase in refining demand, as it has bolstered the capacity of its refineries in key areas.
For instance, it recently concluded the development of a new refining facility in Pascagoula, Mississippi, last year. As a result of this development, Chevron has now eclipsed Exxon Mobil (NYSE:XOM) and Shell (RDS.A, RDS.B) as the biggest producer of base oils globally. This is good news for Chevron investors, since the demand for base oils is anticipated to increase at a consistent pace going forward, as shown in the chart given below:

(Source: Shell)
Additionally, not very long ago, the company had upgraded its Singapore refinery by constructing a cogeneration plant and a gasoline desulfurization facility so that it can produce higher-margin gasoline and increase the efficiency of its operations.
Conclusion
Chevron has been making the right moves by investing in the downstream business, which will allow the company to benefit from an improvement in demand for refining products. Of course, it has seen some weakness in this segment of late, but as discussed above, a turnaround cannot be ruled out going forward due to higher demand. Thus, apart from upstream growth, an improvement in the downstream segment will be another growth driver for Chevron going forward.
Disclosure: I/we have no positions in any stocks mentioned, and no plans to initiate any positions within the next 72 hours.
I wrote this article myself, and it expresses my own opinions. I am not receiving compensation for it (other than from Seeking Alpha). I have no business relationship with any company whose stock is mentioned in this article.