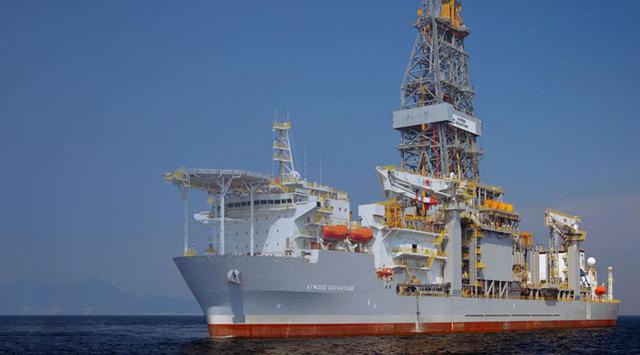 Click to enlarge
Source: Atwood Advantage - ATW website
This article is an update of my preceding article on Atwood Oceanics (NYSE:ATW) published on February 3, 2016.
Yesterday, February 18, 2016, the company announced the following:
Its Board of Directors has acted to eliminate the payment of quarterly cash dividends, most recently in the amount of $0.075 per share of common stock, effective immediately.

Rob Saltiel, President and Chief Executive Officer, stated, "The Board of Directors recognizes that our dividend is important to many shareholders. However, in light of the current extremely challenging market conditions, the Board believes the best way to reward shareholders is to preserve liquidity and strengthen our balance sheet. The elimination of our dividend provides the company with greater flexibility to weather the current downturn."
It was not a real surprise, especially after the last 1Q'16 results and conference call, that took place two weeks ago. Basically, the offshore drilling industry climate has deteriorated to a point where the business paradigm has definitely changed, from a low expectation outlook to now, a basic survival.
Until recently, we were hopeful that this bear cycle was not affecting the normal replacement process of the contract backlog, which is the backbone of any offshore driller, needless to say.
ATW was expected to survive and add a few short-term contracts that will be used as a bridge to reach the next bull cycle. We were talking about a new trend called "blend and extend" well under way.
ATW already cut by 70% its quarterly cash dividend on November 19, 2015, from 0.25 to 0.075 per quarter.
However, December last year, things turned even worse. Pushed by the unwillingness to cut overproduction by the main oil producers, such as Saudi Arabia and Russia, the price of oil dropped under $30 a barrel to reach a low of $26 in February.
M. Al Naimi representing Saudi Arabia said in December that his country was not willing to cut production, and will let the market decides what will be the price. When journalists asked him what will be the price that should be expected, he answered the famous "Only Allah knows". The market did not like it, and sent him a stern message.
This situation had a chilling effect on the big oil operators who decided frantically to freeze capital expenditure onshore and offshore as well. This new trend was even more dramatic because we recently experienced a "termination" trend where big oil and medium oil operators are cancelling projects that have been started or will be started recently.
One example among numerous recent ones, is the decision by ENI to cancel the OR Olympia, six months earlier due to "a dramatic fall" in the price of oil -- I commented on this issue on Seeking Alpha, on January 21, 2016.
A quick look at the backlog for the next four years is showing the main weakness for the company, and why it is urgent to eliminate the dividend and reduce costs as much as possible while maintaining a high-standard work.
The contract revenue backlog is currently $1.41 billion as of February 2, 2016, with 66% of available days contracted for fiscal 2016.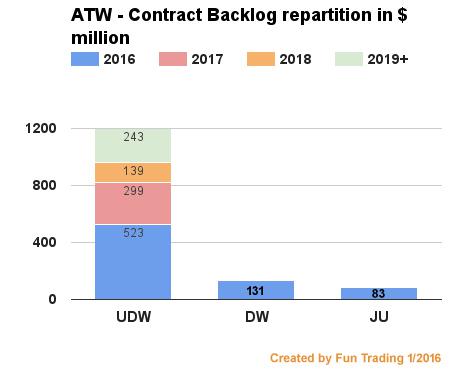 As we can see on this simple graph above, ATW will have a dramatic plunge in operating revenues in 2017. If we assume little to no contract to replace the normal revenue erosion, then ATW will be faced with a delicate situation next year.
The company is aware of this situation and is trying coop with it the best it can. Thus, it was a good move to delay delivery of the Atwood Admiral and Atwood Archer, because it pushed the final payment ($398.9 million) late 2017 and mid-2018, at which time the oil drilling business may present more opportunities.
We are still waiting for news regarding a long-term contract for one of the two UDW being built, by Petrobras?
Conclusion:
This move is unfortunate, but not really a surprise again. The situation cannot allow ATW such luxury where every dollar counts. Only a tiny handful of offshore companies are still paying a cash dividend, such as Noble (NYSE:NE) that already cut its dividends last year but still pays about $144 million in cash per year. NE should be the next one on the chopping block.
Disclosure: I/we have no positions in any stocks mentioned, and no plans to initiate any positions within the next 72 hours.
I wrote this article myself, and it expresses my own opinions. I am not receiving compensation for it (other than from Seeking Alpha). I have no business relationship with any company whose stock is mentioned in this article.
Additional disclosure: I trade ATW