India's WPI fell 0.9% YoY in Jan. (-0.7% Dec., -0.13% consensus) as a fall in fuel and food (cereals and vegetables) prices weighed down producer prices. On a sequential basis, prices continued to fall at -0.62% (seasonally adjusted). Deflation has been prevalent for a while now, with Jan. marking the 11th month India has spent in the deflationary zone (within the -1.5% and -2.1% range).
Fuel & power prices continue to be the key drag on producer prices, falling 9.2% in Jan. (vs. -9.1% Dec.). Stripping out the more volatile components, core prices fell to -2.0% YoY. Food WPI momentum also tracked lower at -1.1% MoM in Jan. (vs. +0.2% Dec.) despite January CPI data surprising to the upside.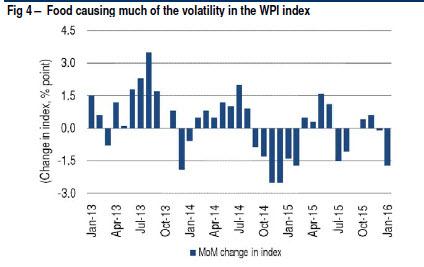 Within food prices, primary food products suffered disinflationary pressures, manufactured food prices rose (5% MoM). Vegetable prices (13% Jan. YoY vs. 21% Dec. YoY) were also key drivers of PPI deflation. Pulses meanwhile, provided some cushion to deflationary pressures at 45% YoY (down from 58% Nov '15 peak). Stripping out the inflationary effect of pulses would pull WPI down a further 47bps (based on 72bp WPI weight), pulling WPI deeper into deflation at -1.4%. The downward trend in food prices should filter through to CPI numbers going forward.
Input prices (-2% YoY) and output prices (+1% YoY) have diverged though, which tells us a different story - margins are improving for corporate India.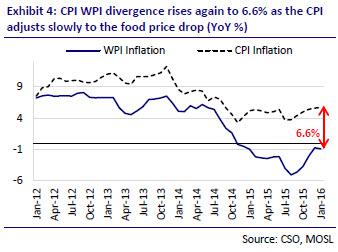 Deflation remains entrenched on the producer side in India as a vast majority of goods remain in deflation or are disinflationary. In other words, there is less than 5% inflation in ~90% of goods. Minerals for instance, carry a 1.5% weight but has posted a -18% fall in Jan. (vs. -22.5% Dec.). Mineral oils (9.4% weight) and basic metals (10.7% weight) have further contributed to WPI deflation, printing at -15.9% YoY and -9.1% YoY respectively in Jan. Deflationary pressures could ease going forward, depending on whether global crude and commodities can post a sustained recovery.
PPI-CPI Divergence
Like in much of Asia, there is a marked divergence between CPI and PPI trends as excess capacity and the continued demand slowdown affect primary goods producer prices. Due to the different weights and composition of the Indian CPI and PPI baskets, the indicators have diverged even further, widening 30bps to 6.6% in Jan.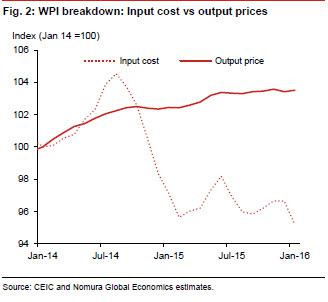 Lower inflation = rate cut?
The RBI should have ample room to cut rates as CPI is likely to be weighed down by lower oil, lack of winter rains and a persistent food oversupply. WPI should continue to be weighed down by deflationary pressures.
Policy rate = CPI inflation + 150bp (real rate) - 25bp (adjustment for the target 91 day T-bill spread)
Using the formula above should give a fair idea of the likelihood of a rate cut by the RBI. If the CPI continues its downward trend, expect 25-50bps of rate cuts in 2016. Taking WPI into account, most components have fallen markedly from prior peaks, which should further build the case for a rate cut. As we get more clarity on CPI inflation (next target of 5%) and the Budget outcome, we will likely have a clearer idea of how the rate cut cycle should pan out going forward. A commitment to further fiscal consolidation and continued demand slack should augur well for a rate cut.
The RBI will however likely wait until the April monetary policy meeting before seriously considering a rate cut.
Disclosure: I/we have no positions in any stocks mentioned, and no plans to initiate any positions within the next 72 hours.
I wrote this article myself, and it expresses my own opinions. I am not receiving compensation for it (other than from Seeking Alpha). I have no business relationship with any company whose stock is mentioned in this article.