It has been a tumultuous year for Whiting Petroleum (NYSE:WLL) so far with the stock already down almost 50%. The decline in the company's stock price so far this year is attributable to two reasons - the decline in oil prices and Whiting's high debt levels. In fact, Whiting was recently downgraded by Stifel due to the balance sheet risk that the company faces.
But, in my opinion, there's a fighting chance that Whiting could turn the tide in its favor by way of its aggressive cost reductions and a possible improvement in oil prices, which could allow it to beat estimates when it releases its results next week.
What's expected?
Analysts expect that Williston will witness a steep decline in the top line, which will go down almost 30% year-over-year in the upcoming fourth-quarter results due on February 24. Considering the fact that oil prices dropped tremendously in the fourth quarter of 2015 as compared to the prior-year period, the expected decline in Williston's top line is not at all surprising.
However, one area where Williston can spring a surprise is the bottom line. The company has beaten the bottom-line estimate in three of the last four quarters, and that too by comfortable margins. Now, consensus estimates forecast that Whiting will post a loss of $0.30 per share in the fourth quarter, down from a profit of $0.44 per share in the year-ago period. While a loss in the fourth quarter cannot be ruled out due to a steep drop in the revenue, I believe that Whiting will be able to beat the estimate.
This is because Whiting has managed to keep its gross margin decline under check relative to the decline in oil prices. This is shown in the chart below: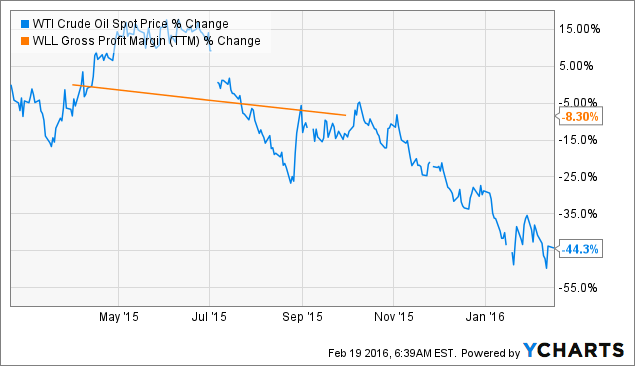 WTI Crude Oil Spot Price data by YCharts
Whiting's cost-reduction moves have been key to the company being able to keep the rate of decline in its gross margin under check despite an adverse oil market, so we will take a closer look at its cost-control initiatives.
What's working for Whiting
Whiting Petroleum is a key player in the Williston Basin, where the company has made impressive production gains and reduced costs by deploying efficient techniques. For instance, during the last reported quarter, Whiting's production in the Williston basin increased 44% sequentially on the back of the implementation of a new completion method.
Whiting has elected to use more frac sand to complete its wells, as a result of which it can manage to increase production and maintain less number of rigs. In fact, Whiting had used 43% more frac sand during its well completions in the last reported quarter, as a result of which it can generate higher internal rates of returns in the Williston despite keeping the capital expenditure consistent. This is shown in the chart given below: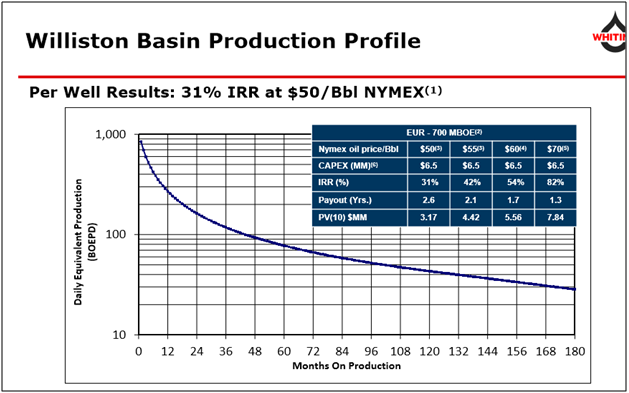 Source: Investor presentation
More importantly, the Williston Basin is not the only area where Whiting is making moves to lower costs. In the Redtail Niobrara play, Whiting has constructed another phase to increase the gas inlet capacity of the plant from 20 Mcf of gas daily to 50 Mcf per day. As a result of this increase in the inlet capacity, Whiting can now reduce its operating expenses as it can process more gas in a single day without increasing expenses significantly. This is the reason why Whiting's Niobrara assets can generate 22% returns in a $50 oil environment, with the return profile increasing exponentially at a constant cost structure.
A manageable debt profile
There is no imminent danger to Whiting's balance sheet. This is because Whiting's notes will start maturing from 2018 onward. Till then, Whiting should be able to conserve more cash flow by reducing its spending and cost profile. In fact, over the past year, Whiting has generated $1.37 billion in operating cash flow, which should be enough to satisfy its interest obligations. This is because Whiting's interest expenses for the first nine months of 2015 were $248 million, while its operating cash flow was $901 million.
Hence, if Whiting elects to reduce its capital expenses and focus on areas such as the Williston where production can increase at lower costs, it will be able to preserve its cash flow profile. Additionally, Whiting had also retired $798 million worth of senior notes that were due in 2019 in December last year, as a result of which its interest expenses will decline further. The company did this by tapping its unused credit facility of $3.5 billion, which is a smart move in my opinion.
Conclusion
Whiting Petroleum has a good amount of time to bring its balance sheet back into good shape. The company has made good progress as far as cost reductions are concerned, which will allow it to beat bottom-line estimates next week. Thus, in my opinion, investors should not rule out a comeback by Whiting Petroleum as it can turn the tide going forward.
Disclosure: I/we have no positions in any stocks mentioned, and no plans to initiate any positions within the next 72 hours.
I wrote this article myself, and it expresses my own opinions. I am not receiving compensation for it (other than from Seeking Alpha). I have no business relationship with any company whose stock is mentioned in this article.