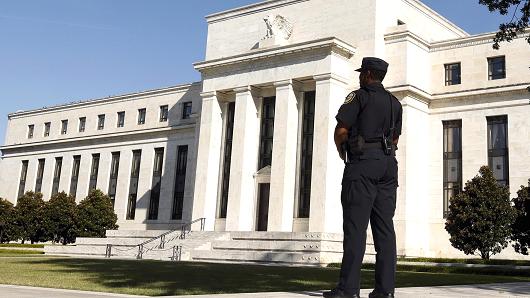 On what has been a relatively calm week for financial markets, with the VIX dropping down to 22.85, could things be about to end with a bang? It's almost the weekend but the data doesn't stop, with Friday being a potentially big day for the U.S. dollar (NYSEARCA:UUP) and financial markets around the world. At 8:30 am New York time, U.S. inflation levels will be announced to the markets.

Click to enlarge
Sourced from tradingeconomics.com
Economists are expecting year-over-year Core Inflation to come in steady at 2.1 percent, but for a jump in the U.S. Inflation rate to 1.3 percent, which is 60 basis points ahead of the previous reading, as shown in the chart above. Consistent with consensus, we are also expecting consumer inflation month over month to come in at negative 0.1 percent. Food and energy prices look set to continue to be a drag there.
We want to see rate rises this year if inflation allows.
We are firmly in the camp of those wanting to see rate increases this year and a clear breakaway from the ZIRP days. In our opinion, for that to happen, inflation will have to show that it has the ability to pick up. The Federal Reserve has stuck with the view that it has confidence that, despite the obvious current downward pressures, inflation is actually on a longer-term trajectory towards its 2 percent target. We agree with this view, and if 1.3 percent is reported today, have every confidence it will reach the milestone. Which is good news, because it does seem unlikely that rates would increase if the 2 percent target is not surpassed, as raising rates would most likely strengthen the U.S. dollar and put pressure right back on inflation by effectively importing deflation. We feel that if inflation does come in on consensus, it will get markets thinking rate rises are possible after all this year.
Our bullish and bearish U.S. dollar index forecast.
For this reason, we feel all eyes will be on the inflation report this morning. We would expect strengthening of the U.S. dollar index, which pits the U.S. dollar against a basket of key currencies, should inflation come in above expectation. But of course, should it come in weaker than expected, we would almost certainly see declines in the index.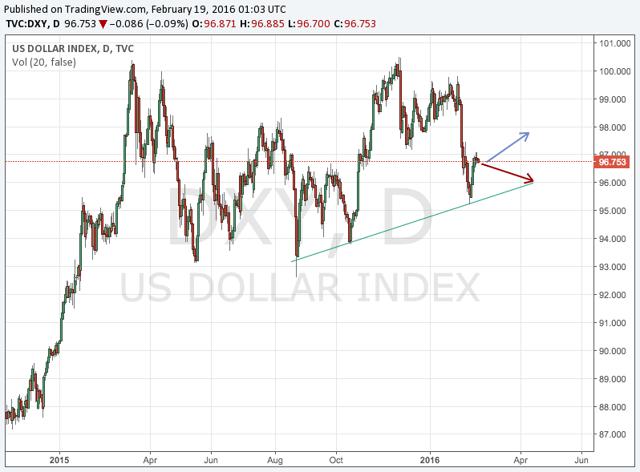 Click to enlarge
Sourced from tradingview.com
Above, we have laid out our U.S. dollar index forecast as we see it. Our bullish view, where inflation shows enough signs of breaking through 2 percent this year, allowing for the possibility of rate hikes, sees the U.S. dollar index rise to approximately 98.000 by the first week of April. Our bearish view, where inflation shows no signs of hitting the two percent target in 2016, has a drop to 96.000 for the same period. We are bullish on the USD and although we constantly wrestle with the rates-no rates argument in our heads each week, we still feel there has to be at least one rate rise this year. We would ideally like to see more, but acknowledge that there is a lot of resistance.
On Tuesday, Fed President Eric Rosengren said in a speech that "Recent global events may make it less likely that the 2 percent inflation target will be achieved as quickly as had been projected in recent forecasts by private economists or by Federal Reserve policy makers. If inflation is slower to return to target, monetary policy normalization should be unhurried."
The picture will become clearer today.
We feel today's inflation report has the possibility of becoming a key piece of data for establishing a clearer picture of the year ahead. For us, it is all about trajectory.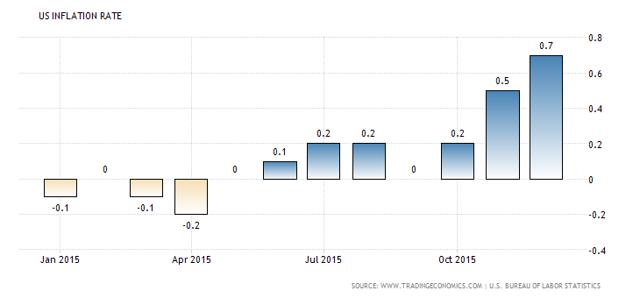 Click to enlarge
Sourced from tradingeconomics.com
December's inflation came in below expectation, the market was expecting 0.8 percent, which was very deflating. The consensus for January is 1.3 percent. If it does come in at this level, then the trajectory is incredibly promising, and right now, we think this is all we need for the U.S. dollar to begin to strengthen.
And finally…
We are long-term long the U.S. dollar as we see rate rises as being inevitable eventually. We do expect ups and downs along the way, but ultimately, use the downs as a means to average down our positions. We expect the U.S. dollar index to strengthen by around 2 percent in the next six weeks if inflation comes in as expected. The PowerShares DB USD Bull ETF is a great way to go long with the U.S. dollar in the same way in which the U.S. dollar Index does. It replicates the long performance of the U.S. dollar against the euro, yen, pound sterling, Canadian dollar, krona, and Swiss franc.
Best of luck with your trades today.
Disclosure: I am/we are long UUP.
I wrote this article myself, and it expresses my own opinions. I am not receiving compensation for it (other than from Seeking Alpha). I have no business relationship with any company whose stock is mentioned in this article.