Introduction
OceanaGold (OTCPK:OCANF) has been converting itself from an Australasian company to a gold-focused mining company with a worldwide presence after acquiring Romarco Minerals and taking a strategic stake in Gold Standard ventures (NYSEMKT:GSV). The current market capitalization has increased to $1.7B, but is this market capitalization warranted? Let's find out.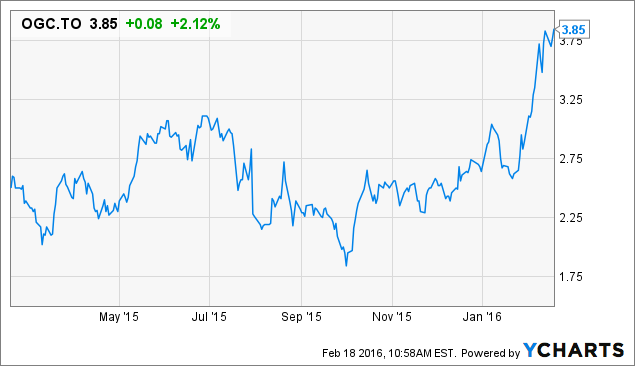 OGC data by YCharts
OceanaGold does have an American listing but for liquidity reasons, you might want to trade in the company's shares through the facilities of the ASX, where OceanaGold is listed with OGC as its ticker symbol. The average daily volume is approximately 850,000 shares.
Profitable and free cash flowing, what else do you need?
In the fourth quarter of 2015, OceanaGold has produced almost 120,000 ounces gold as well as 12 million pounds of copper. It was also able to sell some of the gold it was holding in inventory as of at the end of the third quarter. This good production result in Q4 results in a full-year gold production of almost 420,000 ounces of gold as well as in excess of 50 million pounds of copper. The all-in sustaining cost per ounce of gold was just $709/oz, reconfirming OceanaGold as a low-cost producer as even its most expensive mines had an AISC of less than $1000/oz.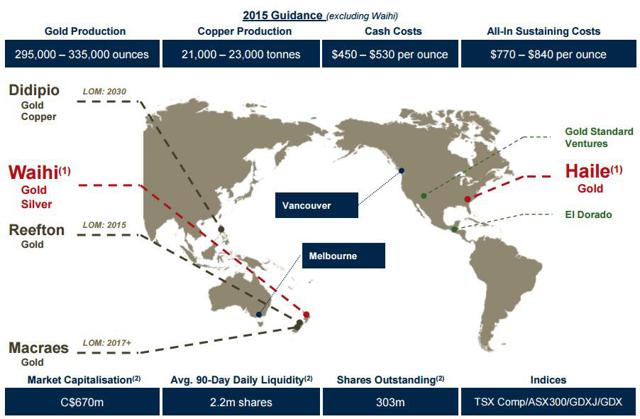 Click to enlarge
Source: company presentation
For the entire financial year, OceanaGold reported a total revenue of $508M and an operating profit of almost $73M, and that's a very respectable result for any gold (and copper) mining company considering the weak circumstances on the commodity markets in 2015. And there are no hidden surprises or impairment charges, resulting in OceanaGold being profitable. Yes, the net profit fell from $111M in 2014 to 'just' $53M in 2015, but remaining profitable is quite important as it will allow the company to retain the trust and confidence of its shareholders.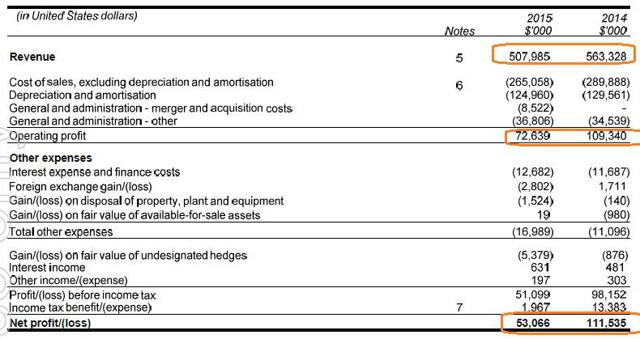 Click to enlarge
Source: financial statements
More importantly, OceanaGold's cash flow statements are also looking pretty good (and even better than the income statement). The operating cash flow was approximately $171M, but this does include changes in Oceana's working capital position. Once you isolate these WC changes, the adjusted operating cash flow increased to $191M. The total capital expenditures (including the growth capex!) were $142m which basically means OceanaGold had a positive free cash flow of $50M during 2015, despite having spent quite a bit of money on 'development assets' which can't really considered to be sustaining capex.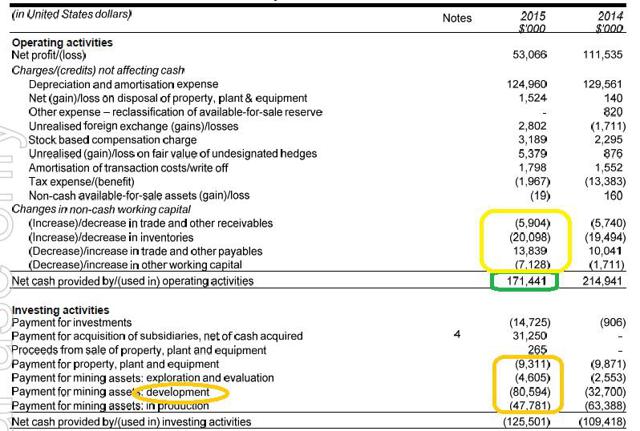 Click to enlarge
Source: financial statements
Despite having borrowed more cash (to make sure it can meet its funding requirements for the new Haile mine - see later), the balance sheet is still looking very robust. The working capital position as of year-end was approximately $190M with almost $200M in cash on the balance sheet. Yes, the long-term debt has increased, but this is linked to the construction of the Haile mine.
The Haile mine construction should be close to completion by the end of this year
In the fourth quarter of 2015, OceanaGold has completed the acquisition of Romarco Minerals. OceanaGold was operating in Australasia but wanted to increase its exposure to first-tier mining countries, and it's my understanding the company has been kicking quite a few tires in North America before 'settling' for Romarco which owned the Haile mine which should be one of the most profitable gold mines in North America.
The mine is currently being built and everything seems to be going as planned which means the Haile mine should produce its first gold in the first half of 2017. The average annual gold production will be approximately 150,000 ounces whilst Haile should also produce almost 200,000 ounces of silver per year. What's interesting is the fact Haile will have an AISC of just $814/oz which fits Oceana's bill of being (remaining) a low-cost gold producer. Even more interesting is the lack of regional exploration at and around the Haile gold mine, and OceanaGold is planning to kick off an 80,000 meter drill campaign which could add quite a few ounces to the resources, and ultimately to the mine plan.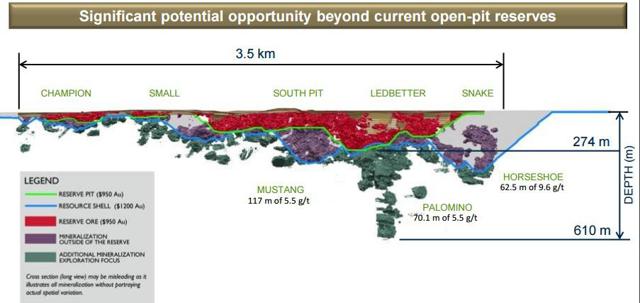 Click to enlarge
Source: company presentation
Haile isn't the only North American project OceanaGold is interested in, as it also elected to exercise its right to retain a 19.9% stake in Gold Standard Ventures which has made a new oxide gold discovery near Newmont Mining's (NYSE:NEM) Emigrant mine in Nevada. It looks like OceanaGold is already looking around to re-fill its development pipeline to continue its expansion plans.
Investment thesis
Long story short, boring is good for OceanaGold as the company remained profitable and free cash flow positive thanks to the low-cost nature of its gold mines. Everything is going according to plan, and the adjusted operating cash flow of $190M will be used to fund the development activities at Haile, as well as a substantial 80,000 meter drill program to expand the resources.
2016 will very likely be a boring year for OceanaGold as there won't be any 'special' catalysts this year. I do expect to see regular construction updates for the Haile project to make sure everything is progressing as normal.
Disclosure: I/we have no positions in any stocks mentioned, and no plans to initiate any positions within the next 72 hours.
I wrote this article myself, and it expresses my own opinions. I am not receiving compensation for it (other than from Seeking Alpha). I have no business relationship with any company whose stock is mentioned in this article.
Editor's Note: This article covers one or more stocks trading at less than $1 per share and/or with less than a $100 million market cap. Please be aware of the risks associated with these stocks.