Contributing Analyst: Eric Harding
Summary
Urban Outfitters, Inc. (NASDAQ: URBN) is a designer clothing company operating under the brands Urban Outfitters, Anthropologie, Free People, Terrain, and BHLDN. The Company opened its first store in 1970, growing to 238 stores under the Urban brand alone as of fiscal 2015. URBN has a market value of $2.91 billion and sales of $3.3 billion in 2015 (8% Y/Y growth; CAGR of 11% over past five years).

Click to enlarge
(Yahoo Finance)
URBN & The Retail Environment
URBN has continued to rebound off of its 52-week low in early January largely thanks to encouraging consumer data affecting the retail sector. Three things to consider from January affecting retailers: (1) optimistic ADP employment data, (2) forecasted economic growth over last quarter's gains, and (3) a jump in the Consumer Confidence Index.
The January ADP report revealed that jobs grew 8% more than expected by economists, adding 205,000 during the month. The Department of Labor also reported that the existing labor force saw an increase in their average hourly earnings by half of a percentage point. Albeit small, the increase in wages coupled with the increase in jobs means more money in the hands of consumers, which is critical for companies that rely on discretionary income such as specialty retailers like URBN.
Despite hitting what has been considered a deceleration point for the economy in January, economists still expect first quarter growth to round out near 2% - a nice increase over last quarter's 1.6%. This means that the labor market hasn't reacted negatively to nerves about the "China effect" on our economy, even though the sentiment in the financial markets has been somewhat infiltrated by the situation in China. With regard to sentiment: in January we saw a 1.8% increase in the CCI. The Consumer Confidence Index attempts to gauge consumer optimism regarding the current and future state of the economy.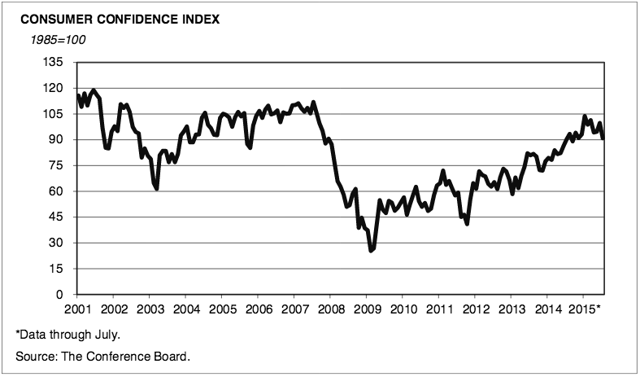 Click to enlarge
(Chart Source: S&P Capital IQ)
The index is based on a 60/40 split between two consumer survey categories: 60% of the survey regards expectations of the future of the economy and the other 40% regards current economic conditions. The increase in the survey confirms what we already know from the jobs data; there is still a good amount of optimism regarding the U.S. economy and the direction that it's heading (again, despite shaky global conditions and depreciation of the dollar against major currencies).
The influx of hopeful economic data certainly creates a lot of value for investors in the sector. This is where URBN comes in as a tool to capture this value. Simply put, more disposable income equates to higher retail sales. This makes it probable that URBN will beat Q1 earnings estimates (or at the very least fall in line). The mean analyst estimate (aggregated by Fidelity) for Q1 EPS is $0.26. All things considered, the optimistic economic sentiment will trickle down into the retail sector and boost earnings, likely allowing URBN to come in above this mark, consequently resulting in a rise in share price (or a continuation in the ongoing rebound for that matter - discussed in the technical overview below).
Growth Opportunity
The management team at Urban Outfitters has set the bar high, planning to reach $6 billion in sales by the end of fiscal 2020 (coined "Urban Vision 20|20"). The team plans to reach this goal by doing two things, expanding product offerings and growing distribution channels. Arguably Urban's greatest advantage over competitors is its relatively low risk of "self-cannibalizing." Competitors such as American Eagle (NYSE: AEO) and Abercrombie & Fitch (NYSE: ANF) have already expanded to an extent that has resulted in the need to shut down many locations. Abercrombie & Fitch alone recently completed the shutting-down of 180+ stores spanning from 2012 to 2015. On the other hand, while Urban Outfitters may lag behind in terms of store count, when you consider the overexpansion of its competitors, URBN may actually be in the perfect position to steal market share as other brands continue the cave in under their own weight.
Learning from the mistakes of its competitors, management is proceeding cautiously with domestic expansion, explicitly stating during the 2015 shareholder meeting that it will pursue domestic opportunities at a slower pace. This shifts the focus to the international market, which has proven a successful strategy. Despite holding just over 1% of the international market share, average annual revenue growth from international operations has been holding at a near-20% level over recent years, while domestic growth has been much lower, near 10%. This proves that there is value to be had. The market has been disappointed with URBN's recent results and lackluster earnings (rightfully so), but the punishing selloff has run its course and it seems the market is starting to realize the potential the Company has.
Risks
The obvious risk lies on the flip side of recent economic optimism; that is, Urban Outfitters would most likely miss earnings in Q1 if the economic outlook turns bearish. One indicator that provides some indication that a recession is a possibility in the near future is one of Warren Buffett's favorites: the market-cap-to-GDP ratio.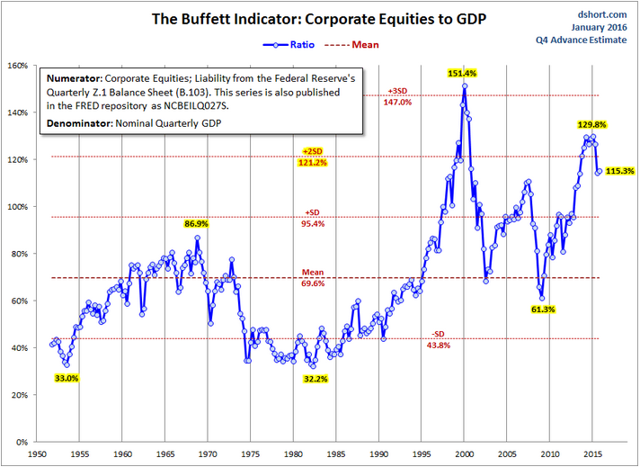 Click to enlarge
The chart shows an increasing gap between rising aggregate market cap and GDP, which is growing at a much slower pace. This ratio in itself does not provide much insight into the future of the markets, but it does tell investors that now might be a good time to proceed with caution. As the chart shows, the indicator plummeted during the recession of the early 2000s and during the housing crisis - just after reaching lofty peaks. One could argue that the ratio has reached an alarmingly high level, falling between the peaks just prior to the two major recessions.
Being a value play mostly based on favorable economic data, URBN is even more at risk when it comes to a change in market sentiment. However, for the time being, it seems that investors can capture some value during Q1 and beyond, once the earnings call takes place.
Technical Overview
Urban Outfitters recently broke it's previously downtrend after bouncing off of lows of 19.26/share. It's break and hold of the 22.5-24.00/share level is a key technical event going forward with the potential of Urban Outfitters trading through its key resistance level between 27.5-30.00/share. It is however trading into its current ascending resistance level just below 27.50/share. To the downside, we do see Urban Outfitters maintaining its ability to hold its current ascending support level between 23-24.00/share.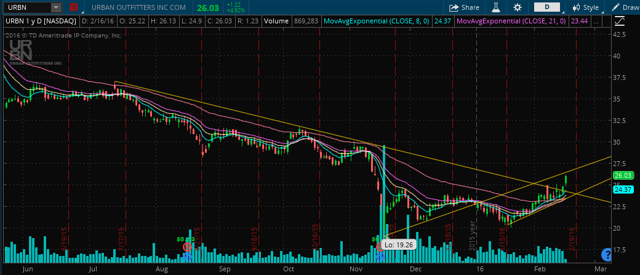 Click to enlarge
Conclusion
The sum and substance of URBN right now is this: oversold and undervalued. Economic data in conjunction with the technical overview show that the market is quickly correcting this disparity. Time is of the essence as shares will likely trade up to a comfortable range and hold pending Q1 results, which the market tells us should be favorable. As long as the retail sector remains strong, URBN should too.
Disclosure: I/we have no positions in any stocks mentioned, but may initiate a long position in URBN over the next 72 hours.
I wrote this article myself, and it expresses my own opinions. I am not receiving compensation for it (other than from Seeking Alpha). I have no business relationship with any company whose stock is mentioned in this article.
Additional disclosure: The contributing analyst as well as www.MainStreetTrading.net does not have any synthetic positions in URBN through options or other derivatives.