Since last Friday, the market has lit up and lifted off from some of the recent panic lows. From Friday through Wednesday, February 17, the Dow Jones Industrial Average has rocketed some 800 points, or 5.1%. This three-day display of good tidings was the longest string of advances since August of last year. You remember the last correction that took the market down 16%?
Well this correction had us down 2700 points, almost 15%. And as Yogi Berra was never tired of saying, it was déjà vu all over again. No end of newspaper, magazine, radio, T.V. and internet reporters/bloggers that came out of the woodwork, trotting out their negative headlines and their most heartfelt "sky is falling" warnings.
Even articles on Seeking Alpha turned decidedly bearish, calling for the next bear market right around the corner. Previously bullish authors pulled their horns in and warned readers the market trend was explicitly down and called for investors to be more defensive and conservative. Many of them told us this was no longer the time to buy the dips because now it had turned into catching a falling knife.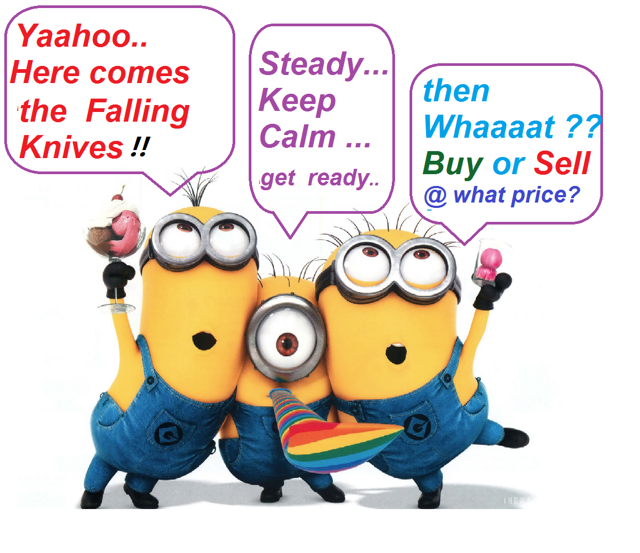 Click to enlarge
Gloom and Doom Turns To Boom
When the gloom and doom turns as thick as it had, you know it's time to re-evaluate. Usually, those are the best times to look around you and try to determine if the level of gloom is justified.
1. The major stories swirling the globe included China's GDP slowing down. It had slowed from 7.5% growth to around 7%. In the U.S. we'd be tickled pink to have such an elevated GDP growth. Did this represent a big problem for the world? I don't think so.
2. China's slowing growth would impact our exporters. Who would our multi-national companies export their goods to if the second largest economy in the world was contracting? It turns out that our exports to China comes to just about 1 ½% of America's total GDP. Another non-problem.
3. The strong American dollar would negatively impact our multi-nationals again as importing countries would cut back on their purchases because they were becoming more expensive in their home currencies. No large impact has been detected.
4. Crashing oil prices would cause oil company bankruptcies, defaults on loans, dominoe effects would crash the banks that lend them the money. Hasn't happened.
5. Business development companies that lend to the oil companies would crash based on even shakier loans to less credit-worthy energy companies. We see many of these BDC deleveraging and de-risking their portfolios, going from 15% energy loans outstanding to 5% or less. No crash there.
6. Low oil prices would cause more havoc due to the loss of over one hundred thousand jobs, capital cost reductions and slashed dividends. Well, the long-awaited "tax cut" conferred on gasoline consumers is finally beginning to filter through the economy in the form of booming auto sales that are hitting records, and housing sales that continue to be solid and rising. Housing inventory, at just 3.9 months worth, is the lowest it's been in over 8 years and way below the standard normal of 6 months inventory. This is contributing to the rise of housing prices on the order of 4% on an annual basis. Does this sound to you like an economy about to fall off a cliff and enter a recession?
Buying panics can be just as intense as selling panics
A few weeks ago, I authored a piece entitled, "The Next Panic: Fear Of Missing The Rebound And Being Left Behind". In it, I discussed my belief that the ongoing panic was irrational, and the next panic would transform from a selling panic to a buying panic as investors began to recognize the value that had been created by the 3000 point drop in the Dow. This understanding, and fear of missing out on the coming rebound would drive investors back into the market. It seems like the last three trading days would fit that bill nicely.
A few days after publication of that article, I chronicled what was then a strong two day pop. "They Stormed The Barricades: Has The Buying Panic Ensued?"
A couple days later, I made the case that investors could profit from the hyper manic panic in the markets, writing, "How To Profit From Bi-Directional Panic: Fill-The-Gap Active Portfolio Management". In that piece I discussed the fact that we were not sitting on the sidelines waiting for the dust to clear, or for the market to convincingly change direction before we would act. On the contrary, we illustrated the very active selling of ConocoPhillips (NYSE:COP) in order to de-risk the portfolio from the ongoing maelstrom in the energy space.
We invested the proceeds into two REITs and accomplished two important objectives. We preserved capital from depreciating a further 28% and saved the portfolio from a dividend slashing of 66% announced soon afterwards. In addition, we were able to wind up with more dividend income than before that sale by redeploying the remaining income into two safer, more reliable dividend payers, thereby killing two birds with one stone.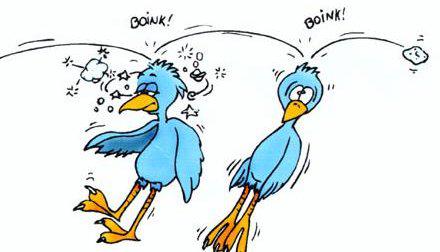 Thursday Morning's Catalysts
U.S. futures were moving higher again after the big three-day advance, the first 3-day rally in the new year. Industrial production data was coming in stronger than expected and lending some reassurance about the economy.
Crude oil rose another 3 ½% before the opening as Iran seemed to endorse a cap on oil output, put forth the day before by several OPEC members.
The minutes from the Fed's January meeting seemed to reflect a dovish tone in which FOMC members appeared hesitant about raising rates further. Here are the key sections:
"Developments in commodity and financial markets, as well as the possibility of a significant weakening of some foreign economies, had the potential to further restrain domestic economic activity."
"Participants judged that the overall implication of these developments for the outlook for domestic economic activity was unclear, but they agreed that uncertainty had increased, and many saw these developments as increasing the downside risks to the outlook."
This is a big departure from the recent optimism in their minutes which led them to raise rates back in December. And remember these are cautious and well-reasoned economists.
Stocks continued to rally on the news which is typical behavior. Meaning the first reaction to Fed news is one in reference to chances of a future rate increase. The odds of that now seem to be pretty slim.
Given time for deeper reflection, investors appear to have heard the increased caution in the Fed minutes which gave rise to greater caution and profit taking Thursday, taking .25% off the Dow's recent rally.
Initial jobless claims came in lower than expected. Lending further strength to futures gains was the Hong Kong and Shanghai markets rising more than 2% each.
We Have Not Been Sitting On The Shore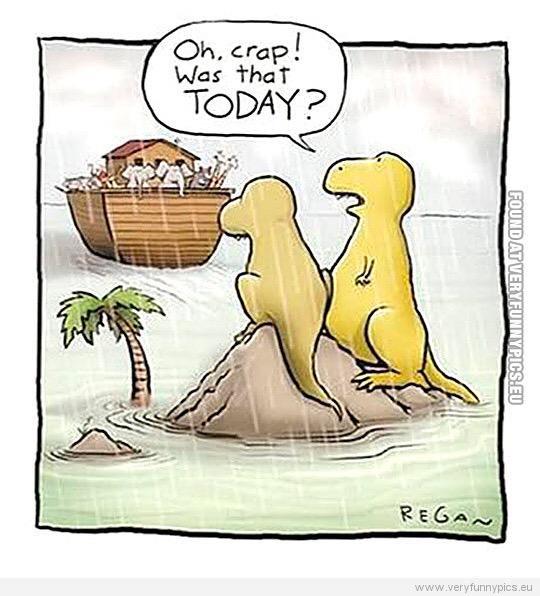 Because we actively manage the FTG portfolio and the RODAT subscriber portfolio to grow income, we have not been sitting idly by, sitting on our hands, wistfully watching as the ship began to sail.
We alerted our subscribers to several excellent opportunities that presented themselves over the past week.
Timing Entry Points For Higher Income
On February 16, I penned another piece, entitled "How To Time Your Entry Points For Higher Income". I discussed the concept that there's always a rotation among sectors going on in the marketplace. What is in favor in one particular period of time will be out of favor at another time, and vice versa. Therefore, there is always fertile ground for us to find good pickings in temporarily out of favor sectors or specific equities.
Here are the moves we made the past week to enhance equity and overall portfolio income.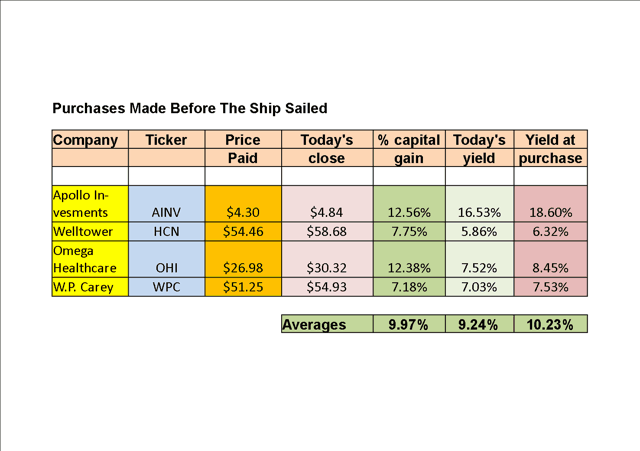 Click to enlarge
One glance at my Real Time Portfolio Tracker built specifically for this subscriber portfolio informs me that utilizing better-timed entry points yielded very good results.
As the market reversed course, each of these names benefited with capital appreciation ranging from 7.18% to 12.56%. If all four were bought in equal dollar amounts, the average capital gain achieved would be 9.97%.
Each of the dividend yields we received on our better-timed entry prices were significantly higher than if purchased today. Again, if they were purchased in equal amounts, this group conferred an average yield for us of 10.23%. This represents a betterment of almost one full percent in yield compared to if they were all purchased today. These results were achieved over the past week alone.
Real Time Portfolio Tracker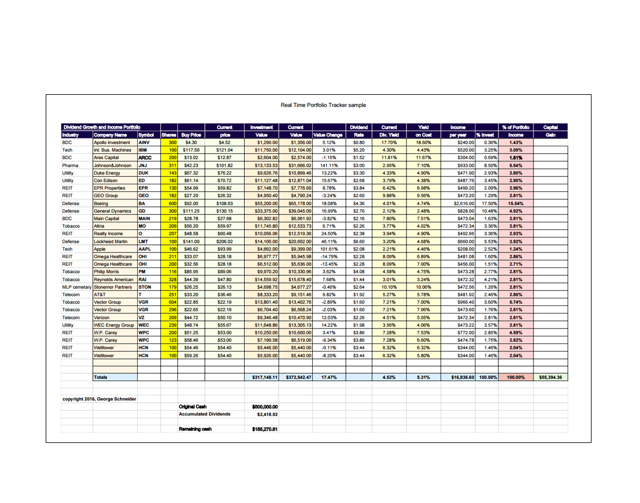 Click to enlarge
Announcing The New, Real-Time Portfolio Tracker
I am pleased to announce that I have recently completed work on the Real-Time Portfolio Tracker that will perform all of the following functions automatically, without any effort required of the user:
1. Once you enter your stock tickers, the tracker will automatically update the prices of each of your positions throughout the day.
2. It will display the current price of your equities, grabbed all day from a finance site.
3. It will display the amount you invested in each equity.
4. It will update the current total value of each position throughout the day.
5. This tracker will show you your percentage gain or loss on each position in real time.
6. The tracker will automatically grab the correct annual dividend amount from a finance site.
7. It will display your current yield based on the moment's price.
8. It will show you the yield you received based on the price YOU paid.
9. It will tell you how much annual income each position is paying you.
10. It will break down in percentage terms, how much value each position represents of your overall portfolio based on current prices.
11. Most importantly, it will tell you what percentage of total portfolio income each position pays to you.
12. It displays the total amount you have invested in your portfolio.
13. It gives you a total portfolio value, updated all day long.
14. The tracker will tell you, automatically, what percent your total portfolio is up or down from purchase.
15. It will display the current total portfolio dividend yield as well as the total portfolio yield on cost.
16. It will tell you your total portfolio capital gain or loss.
17. Lastly, it will display the remaining cash left in your portfolio available for investment.
This Real-Time Portfolio Tracker is a very powerful tool that will allow the investor to stay current and up to the minute on every important aspect of his portfolio. Used creatively, it can point to positions that need topping off or trimming in order to arrive at a portfolio that throws off equal amounts of income from each position.
If you think this new tool can help you in your planning, maintenance and management of your portfolio while everything is on auto-pilot for you, please send me a direct message. This tool is also available to readers for a very nominal amount and at a substantial discount for subscribers. I have already provided this tool to many readers and subscribers and the feedback has been extremely favorable.
When we first began the premium subscriber portfolio on November 1, 2015, just 3 months ago, our overall portfolio yield was 5.77%. The comparable figure to our yield on cost, based on all of our purchases has grown to 6.58%. Since the portfolio has increased considerably in capital appreciation, the current dividend yield based on Wednesday's prices is 6.14%.
The Real Time Portfolio Tracker allows us to see at a glance how our annual income on the portfolio has grown and what we have so far. We can also quickly learn that when we add this period's dividend income to our beginning commitment to this portfolio and subtract the amount we've already invested, we can see the balance still available to invest for upcoming opportunities that come our way.
As we see how the quarterly income has grown, we can infer our new annual income. You can also see from the dividend table that thirteen of our companies have recently increased their dividend payments. These increases and the payment of the dividends will form the foundation of our compounding of income based on their reinvestment.
The Portfolio Income Tracker Spreadsheet
To help my subscribers stay focused on income production, at no cost, I provide them with a spreadsheet I've created that allows them to track the exclusive subscriber portfolio we manage. It is available to non-subscribers for a nominal amount. It also allows investors to input their own portfolio holdings, share amounts and dividend amounts. The formulas I've built into it then figures their annual income from each component, shows the current yield and totals the portfolio income.
It looks like this:
Portfolio Income Tracker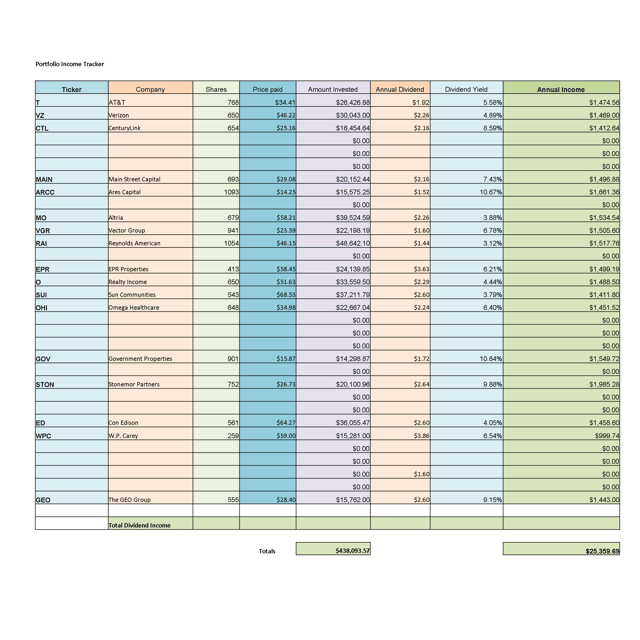 Click to enlarge
If you feel this spreadsheet would be a useful tool to track your own investments and income, and would like to have one, simply send me a direct message on Seeking Alpha, and ask for the Portfolio Income Tracker. It is free for subscribers and will be provided to other readers for a very nominal amount. I'll be glad to email you one for your use. Just send me your email address in a direct message.
Readers Asked For A Real Time Watch List Application
Many of my readers and subscribers asked me to build a Watch List Real Time Tracker. It has passed all tests and in fact I used it to determine the better-timed entry points discussed above and alert me when to execute and place those successful orders.
Here is a sample of what it looks like:
Watch List Real Time Tracker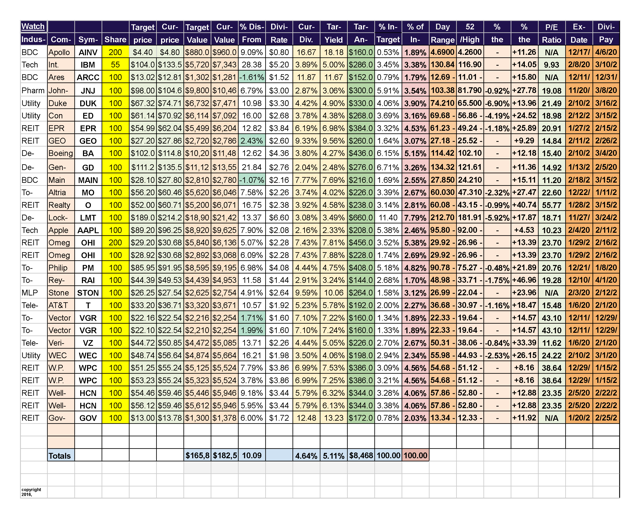 Click to enlarge
Like the Real Time Portfolio Tracker, this tracker functions in real time and is updated continuously throughout the day.
Functions:
Once you enter your ticker symbols, share amounts you'd like to buy and the target price you seek, this application will do everything else for you, automatically, including:
1. It will tell you the current price, all through the day.
2. It will display the target value of those shares based on your target price so you know how much the trade will cost you.
3. It'll display the real time, current value of those shares.
4. This tracker will tell you, in percentage terms, exactly how far away your target price is from the current price.
5. It will alert you, by turning green, when your target price is within 3% of the current price. This clearly focused alert will allow you to see at a glance when your targets are getting close, allowing you to decide to either execute an order, or watch in real time until it gets closer to your target.
6. Dividend amount per share.
7. Current dividend yield.
8. Dividend yield you'll receive if you buy it at your target price.
9. The annual income you'll receive from the position at your target price.
10. The percent the position will represent of total value of all your targets if bought.
11. The percent of portfolio income that the company will give you if bought at target price.
12. The day's price range, low to high, to help you monitor the range during the day.
13. The 52 week high/low range to help you see the relevance of your target price.
14. The percent your target price is from the 52 week high.
15. The percent your target price is from the 52 week low.
16. The current P/E ratio.
17. The ex-dividend date to clue you into when you must buy, before the ex-dividend date to secure the next dividend.
18. The dividend payment date, to give you information as to when you'll be receiving the dividend if you make the buy.
19. The average percent all of your watch list companies are from current prices.
20. The dollar amount you will save if all your companies hit their target prices.
21. Current average dividend yield of all watch list components.
22. Targeted average dividend yield of all watch list companies.
23. Total portfolio income if all targets are hit.
When used properly, this new tool allows you to play what if games with all of the relationships that are included. For instance, you can input any amount of target prices for all of your watch list companies and see how it would affect the dividend yield, the prices you'd pay on the number of shares you want to buy. You can change the number of shares to see the outcomes all across the data fields.
All you have to do is type different numbers into the cells and every imaginable outcome is displayed automatically for you on this interactive, live, updated, real time tracker.
You can compare P/E ratios of other companies in the same sector as your target to determine if your target company is overvalued or undervalued in relation to its peers. Just type in the tickers of some of their peers and see how it compares to your target company.
You can input any tickers, any number of shares you choose, and any target price to see the effects on any of the above 23 functions. The amount of data provided automatically will help you determine better-timed prices to yield the outcomes that YOU want to achieve.
Again, if you think this new watch list tool can help you in your planning, maintenance and management of your portfolio while everything is on auto-pilot for you, please send me a direct message. This tool is available to readers for a very nominal amount and at a substantial discount for subscribers.
The Fill-The-Gap Portfolio
I began writing a series of articles on December 24, 2014, to demonstrate a real live construction and management of a portfolio dedicated to growing income to close a yawning gap that so many millions of seniors and near retirees face today.
The beginning article was entitled, "This Is Not Your Father's Retirement Plan." This project began with $411,600 in capital that was deployed in such a way that each of the portfolio constituents yielded approximately equal amounts of yearly income.
The FTG Portfolio Constituents
Constructed beginning on 12/24/14, this portfolio now consists of 18 companies, including AT&T, Inc., Altria Group, Inc., (NYSE:MO), Consolidated Edison, Inc. (NYSE:ED), Verizon Communications, Inc. (NYSE:VZ), CenturyLink, Inc. (NYSE:CTL), Main Street Capital Corporation (NYSE:MAIN), Ares Capital Corporation (NASDAQ:ARCC), Reynolds American, Inc. (NYSE:RAI), Vector Group Ltd. (NYSE:VGR), EPR Properties (NYSE:EPR), Realty Income Corporation (NYSE:O), Sun Communities, Inc. (NYSE:SUI), Omega Healthcare Investors (NYSE:OHI), StoneMor Partners LP (NYSE:STON), W.P. Carey, Inc. (NYSE:WPC), Government Properties Income Trust (NYSE:GOV), The GEO Group (NYSE:GEO) and The RMR Group (NASDAQ:RMR).
These portfolio constituents represent an example of where retired investors with excess cash above what they need to pay the bills, near-retired investors and younger investors can constantly source cash to use as dry powder to make new investments. When stocks fall to better-timed entry points they can buy shares in order to grow portfolio income.
FTG Recap
The FTG Portfolio closed up .88% Thursday, far outperforming the broad market which pulled back .47% resulting in a year to date loss of 6.17% for the S&P 500 index, a loss of 5.81% for the Dow Jones Industrial Average and a 10.38% loss for the Nasdaq composite index. By comparison, I am pleased to report the FTG Portfolio is ahead, year to date, 3.51%. This means we are enjoying 9.68% of outperformance compared to the broad market, and we continue to be running solidly in the green while the rest of the market is awash in red ink. We have also achieved all-time highs for the portfolio since inception.
We began with $411,600 on December 24, 2014, added a $6500 IRA contribution in 2015 and another $6500 contribution in 2016, totaling $424,600 in invested capital.
As you can see from the chart below, the FTG Portfolio has grown to a record amount, $462,085, for capital appreciation of $37,485, or 8.83%. This compares very favorably to the Dow Jones Industrial Average which is down 8.97% and the S&P 500 Index which is down 7.88% in that same period, from 12/24/14 to date.
The FTG Portfolio Close, Thurday, February 18, 2016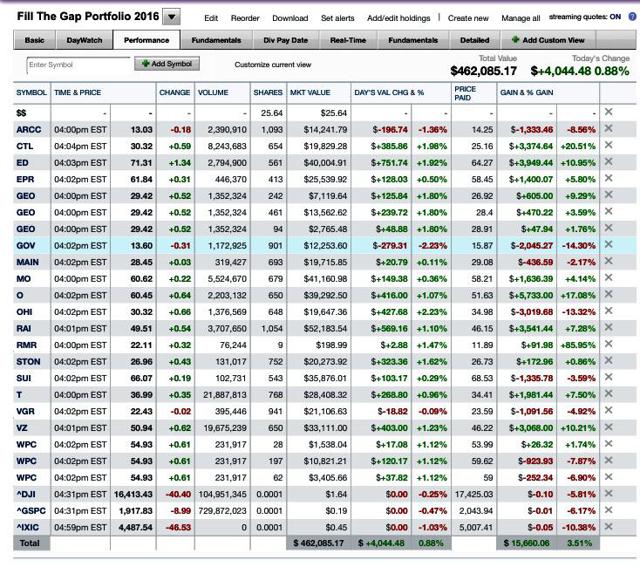 Click to enlarge
Plan of Action-Portfolio Management
Our aim is to get the most bang for our bucks. We will look toward any further weakening in the markets as our developing opportunities to buy more income for the portfolio at cheaper prices, gaining higher yield along the way.
We are in no hurry here. We will follow our playbook just as we did with the recent W.P. Carey and The Geo Group purchases on a 4% dip which yielded us 9% on this private prison REIT. We've done the same with our recent purchases of Omega Healthcare Investors, Apollo Investments, and Welltower. We'll pick our spots, and when those entry points arrive, we'll pounce. Thursday, additional positions were taken in W.P. Carey at a 9% sale giving us a 7.53% dividend yield.
Final Thoughts
The Fill-The-Gap Portfolio for 2016 presents a new beginning, an opportunity for retirees, near-retirees and new, younger millennial investors to start the process of making their transition to dividend growth investing in some of the safest, most predictable, long-paying, high-payout companies in America.
For younger millennial investors willing to be open to ideas to further their financial education, this portfolio represents a solid foundation. For them, and all pre-retirees and retirees, this model of portfolio construction is offered as a foundational way to build retirement income for the future that addresses inflation head on. The dividends in this portfolio will continue to grow in such a way that future income will not be degraded and decimated by inflation. On the contrary, purchasing power will be preserved, unlike what would befall an investor buying 0% T-bills today or negative interest rate T-bills next week as discussed in those articles I penned.
Author's note: Please consider following me in real time. This will enable you to receive an email the moment any of my articles are published on Seeking Alpha. Just click the down-arrow next to the "Follow" link above this article title, and check the boxes for "Follow this author" and "Real-time alerts on this author."
Please don't keep me a secret. I'd appreciate it if you forwarded this article to your friends, colleagues and family who you think might find this work interesting and something they might benefit from.
If you found this article, the concept and investment results interesting and intriguing, I invite you to read the other articles in this series. Stay tuned for further articles that will introduce additional sectors and names to further diversify a portfolio for continued ballast and mitigation of risks to any one sector.
Should you be interested in reading any of my other articles detailing various strategies to enhance your returns on a dividend growth portfolio, you will find them here.
As always, I look forward to your comments, discussion and questions.
To learn more about my premium subscription service, please click this link:
Retirement: One Dividend At A Time
Please feel free to ask me anything by typing your question into the "Ask Me Anything" box.
Disclaimer: This article is intended to provide information to interested parties. As I have no knowledge of individual investor circumstances, goals, and/or portfolio concentration or diversification, readers are expected to complete their own due diligence before purchasing any stocks mentioned or recommended.
Disclosure: I am/we are long ARCC, CTL, ED, EPR, GEO, GOV, MAIN, MO, O, OHI, RAI, RMR, STON, SUI, VGR, VZ, WPC.
I wrote this article myself, and it expresses my own opinions. I am not receiving compensation for it (other than from Seeking Alpha). I have no business relationship with any company whose stock is mentioned in this article.