Trinity Industries (NYSE:TRN) released results after hours yesterday. The earnings beat was typical and expected (as shown below), but guidance was absolutely horrible. In addition, some of the numbers in the press release do not entirely make sense when compared to the guidance given. The conference call is later today and investors can hear it here.


(Source: Yahoo Finance)
The only positive was recent results during which operating profit and EPS rose 7% and 50% respectively despite a 7% decline in sales. Operating margin was again higher with the annual figure at 20%. But that is where the fun ends.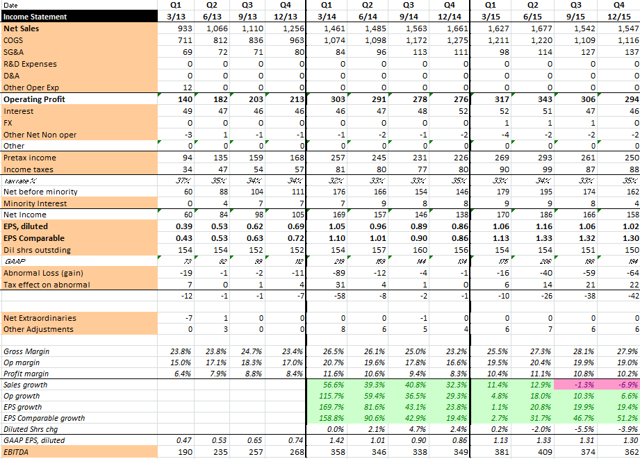 (Source: Bloomberg data, Author template)
For 2016, EPS is expected at $2-2.40. The company has provided some sales guidance but not for the entire company. I had initially mistaken the group revenues to mean company revenues. I don't see why the company published for certain groups but NOT for the entire company. The company expects revenues for the Rail Group of $3.1bn, and operating margin is expected at 15%, while railcar deliveries were guided at approximately 27,000 (from 27-30k guided for 2016 in 3Q). According to the company the "guidance assumes the current weak market conditions will continue throughout the year," and that:
Our outlook for 2016 reflects the weakening in the industrial economy that began broadly impacting our businesses late last summer.
Note the "late last summer," because the last conference call was at the end of October and so management should have provided some color. Furthermore, ZERO shares were bought back in 4Q15 despite shares being bought in 2015. So in October, management had some clue as to how bad things were getting. Not buying any shares when they were at their cheapest level is also telling. An observer could speculate that they suspected that the stock would tank further (based on their information) and decided to wait as they hoped things would improve.
Rail sales are expected to decline -30% to $3.1bn; however, backlog shows a much smaller decline. Is the backlog valued correctly? Because the value per car drops only -2%. Considering the -52% drop in sales, I expected this to be much worse...


(Source: Company Press Release)
The drop in margin is shocking. If we use the numbers in the press release and assume the others remain constant, then margin drops from 23% to 14% for the entire company. Again, I don't understand why the company did not come out with a firm-wide number... Anyway, assuming the construction and energy groups remain constant, then I calculate an EPS of $1.98.
Leverage is also higher with this new guidance. Previously, Debt/EBITDA was around 2.1x, but going forward, this will be higher. With $638m in operating profit and $266m in depreciation & amortization, we can assume an EBITDA of $905m, which implies a Debt/EBITDA of 3.5x.
I can only conclude that I was wrong to be so bullish (see here) about the company. As a value investor, mistakes are part of the game as we buy cheap stocks that Mr. Market may price wrongly but also correctly. As a result of my thoughts above, I will be reducing my position in TRN in half and will be re-evaluating the rest of the position after the conference call.
Disclosure: I am/we are long TRN.
I wrote this article myself, and it expresses my own opinions. I am not receiving compensation for it (other than from Seeking Alpha). I have no business relationship with any company whose stock is mentioned in this article.