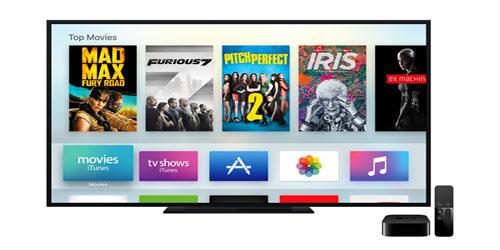 Credit: Apple
Last year Dish (NASDAQ:DISH) and Sony (NYSE:SNE) were among the big media companies to unveil "skinny" streaming packages of cable channels. These new bundles were a cord-cutters dream as it allowed their favorite channels to stream online and at a fraction of the cost of cable. Throughout everything though, the elephant in the room was always Apple (NASDAQ:AAPL), and the question of when it would make its move into the space. Now analysts are asking a different question.
Last week respected industry trade The Hollywood Reporter revealed Apple was shooting Vital Signs, its first scripted series. Loosely based on the life of hip hop mogul Dr. Dre, the drama was assumed to be Apple's entry into the marketplace. Signs is a drama consisting of six half-hour long episodes, each one supposedly tied to an emotion experienced by the lead character.
Although in the days since it has been speculated this series actually isn't tied to Apple's advancement into the streaming TV market, but as a continuation of its Apple Music roll-out. It is fitting Apple would use Dr. Dre to launch its new TV division as the musician is also co-owner of Beats Studio, which of course was previously acquired by Apple.
Keep in mind Apple (being Apple) has not confirmed any details. All of this is speculation, but the more you think about it, the more it makes sense. Apple is still trying to build its streaming music service and this is a big way to draw in new subscribers.
Eleven million users strong Apple Music is a rising force, but it does face heavy competition from Spotify (Private:MUSIC), Pandora (NYSE:P) and Google (NASDAQ:GOOG) (NASDAQ:GOOGL)/YouTube. Anything Apple Music can do to gain an advantage will be helpful. It's already teamed with Taylor Swift to release her 1989 documentary and is believed to have more deals in the pipeline. Granted its rivals have a lot in play also, but Vital Signs would be the most high profile and traditional in terms of scripted fare.
Now that's not to say Apple isn't going to make the leap to streaming TV eventually. Though after seeing talks with the major networks stall out this was the next logical step. Since it will air on Apple Music, that means the ideal way to view it is through Apple TV, which requires another consumer purchase … it's a cycle Apple users are quite familiar.
If this is the case and Vital Signs isn't the big entry play we all thought it would be, Apple is playing this very smart. The streaming field is crowded and the bundle field has a fair share of suitors as well, so to wait until the company feels the time is right to enter is the best play. One scenario Apple may be looking at is to merge the two types and give uses a place that has all the major channels plus a streaming network of sorts for its own programming.
Currently neither Dish's Sling or Sony's Vue have all of the major broadcasters on board. Dish has ABC and its family of networks, while Sony has the rest with some crossover from the cable channels between the pair. That type of division is what's keeping certain groups of people from ditching cable, specifically sports fans.
If you subscribe to Sling you get ESPN, but if you choose Vue (through PlayStation's network) you get NBC and Fox's sports networks. Either way, if you're a sports fan by choosing one over the other you're missing something big. Yes, you can subscribe to both, but that gets more costly, which defeats the purpose. It also requires extra (unneeded) steps.
If Apple could marry all the key channels into one service, it would be a game-changer. However there are two issues at play - namely how much it needs to pay for the rights and if they can convince the networks to un-bundle their channels.
One reported plan was for the service to cost $30 a month and include only a dozen or so of the major top tier networks, but to get ABC, CBS (NYSE:CBS), NBC and Fox (NASDAQ:FOX) (NASDAQ:FOXA), they would be forced into take all of their cable networks as well, which is a sticking point. All of a sudden a top 12 becomes a top 50.
For Sling and Vue, having those extra channels fills a need, but Apple would want to stand out and be different and more streamlined. We also know that Apple isn't going to do anything halfway and when its team saw negotiations weren't going the way they wanted, they walked away.
Now if Vital Signs takes off and provides a huge spike in subscriptions, it could embolden them to restart talks or create their own full scale TV service. That's a while down the road though … at least we think it is, as with Apple they play by their own rules and that's never going to change.
Disclosure: I/we have no positions in any stocks mentioned, and no plans to initiate any positions within the next 72 hours.
I wrote this article myself, and it expresses my own opinions. I am not receiving compensation for it (other than from Seeking Alpha). I have no business relationship with any company whose stock is mentioned in this article.