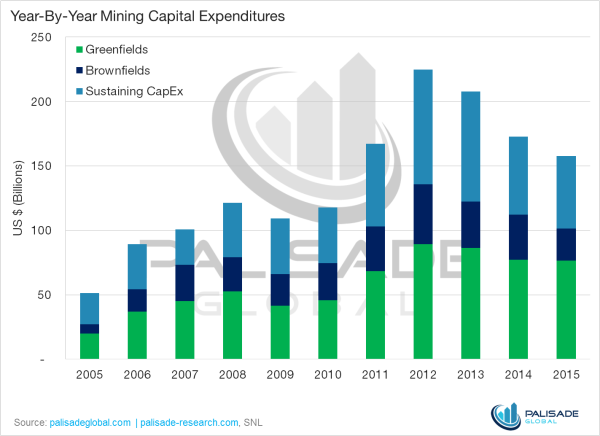 Since its peak in 2012, mining capital expenditures have decreased almost 25%. Greenfield and brownfield development has decreased in aggregate by 43%, while sustaining capex has gone down 34%. Intuitively, the decline is more prominent in growth spending, as companies are just trying to survive, resulting in major project delays and deferrals across the globe.
During the last major bear market, which lasted from 1996 to 2000, sustaining capex declined by almost the same ratio; however, growth capex continued to decrease into 2002 as companies took precaution and time before ramping up development again. Using previous cycles as a proxy, it appears there is at least another two years of growth capex cuts before the mining sector begins ramping up again.
Because less money is being allocated to growth and development, when the markets do turn, the producers will need a 'quick-fix' to replenish ounces. This mean they will need to acquire explorers and developers that have grinded through the decline to prove up reserves and resource. There is also an elite class of companies that are not only proving up ounces, but are also consolidating, picking up highly undervalued companies to pad their own portfolios. Naturally, these companies will be the first to be acquired when the buyers re-enter the market.
On The Way To The Top
One company that has been raising money and proving up its discovery is Kootenay Silver (OTC:KOOYF, and trading on the TSX-V under KTN). Kootenay made its mark with its flagship Promontorio silver resource in Sonora, Mexico. The company solidified itself as a consolidator when it acquired Northair Silver (OTCPK:INNHF), and speaking with KTN's chairman, Ken Berry, we have the feeling that this is the first of several acquisitions in the pipeline.
The acquisition bolsters Kootenay's portfolio with Northair's flagship La Cigarra project, located in the state of Chihuahua, Mexico, within the Parral Silver Belt. Here are the pro-forma numbers:
| | Kootenay Silver | | Northair Silver | | Pro-Forma | |
| --- | --- | --- | --- | --- | --- | --- |
| Projects | Promontorio | Resources (Ag m oz) | La Cigarra | Resources (Ag m oz) | | Resources (Ag m oz) |
| | M&I | 92.4 | M&I | 51.5 | M&I | 143.9 |
| | Inferred | 26.8 | Inferred | 11.5 | Inferred | 38.3 |
| | | 119.2 | | 62.9 | | 182.1 |
| | | | | | | |
| Shares (NYSE:M) | 88.5 | | 150.1 | | Shares | 141.1 |
| Mkt Cap (C$ m) | 21.7 | | 12.8 | | Mkt Cap (C$ m) | 34.4 |
| Cash (C$ m) | 2.8 | | 2.4 | | Cash (C$ m) | 5.2 |
Kootenay acquired Northair Silver for ~$9.2 million or paid $0.14 per oz Ag eq. It cost Kootenay $0.40 per ounce to get to where it is with Promontorio. Adding in all the work it has done on its other projects, this figure increases to $1.40 per ounce; the acquisition of Northair was accretive on all fronts.
In fact, looking at past silver/gold development deals in Mexico, it's one of the cheapest we can find. In February 2013, Coeur Mining outbid First Majestic Silver for Orka Silver and the La Preciosa projected located in the Durango, paying $1.30 per oz Ag eq. Also in Februray 2013, Alamos Gold acquired Esperanza Resources and its Esperanza project in Morelos State for $0.52 per oz Ag. And lastly, in November 2013, Argonaut Gold bought the San Agustín project from Silver Standard for $0.24 per oz Ag eq, a bit more comparable as the project was not as advanced as the others, but more of a gold project than silver.
Regardless, Kootenay's acquisition of Northair caught the eye of one of the greatest silver investors of all-time, Ross Beaty, who was an investor of Northair and gave his full blessing for the merger. Ross Beaty built Pan American Silver (NASDAQ:PAAS) the same way Ken Berry and company are doing at Kootenay Silver.
In fact, as we wrote this article, Pan American Silver invested C$2 million directly into Kootenay, and at the same time optioned the Promontorio mineral belt silver properties for $16 million in cash payments and exploration investments, carrying Kootenay to commercial production while leaving it a 25% interest in the properties.
This effectively secures PAAS's future acquisition of KTN if it decides to do so - and is also a shining endorsement of Kootenay as an investment.
Disclosure: I am/we are long KOOYF.
I wrote this article myself, and it expresses my own opinions. I am not receiving compensation for it. I have no business relationship with any company whose stock is mentioned in this article.
Editor's Note: This article covers one or more stocks trading at less than $1 per share and/or with less than a $100 million market cap. Please be aware of the risks associated with these stocks.