CVR Partners (NYSE:UAN) had a disastrous run during the second half of 2015. The company faced several major challenges related to operational issues at its Coffeyville plant and weaker than expected prices for its production. These events culminated during Q3 2015 which saw the company not pay a quarterly distribution for the first time in its history. Though, CVR Partners seems to have recovered somewhat during Q4 2015.
The return of the distribution
The first and most important thing about CVR Partners' results was the return of the distribution. The company declared a $0.27 per share quarterly distribution for Q4 2015 (payable in Q1 2016). This comes after no distribution for Q3 2015, as noted above.
Keep in mind that CVR Partners is a variable rate MLP and its distribution can and do vary greatly quarter to quarter. Since its IPO, the average quarterly distribution has been ~$0.42 per unit, but the range has been anywhere from zero to $0.61. This feast or famine situation is not ideal, but the nature of the business makes it necessary.
Operational results improve
As to why CVR Partners is able to pay a quarterly distribution, you'll have to look at its operations. Q3 2015 was plagued with several planned and unplanned plant outages. This was not the case during Q4 2015.
CVR Partners produced 116,100 tons of ammonia and 270,500 tons of UAN in Q4, up 75% and 77% versus 66,300 tons of ammonia and 152,400 tons of UAN last quarter and up 10% and 4% versus 105,900 tons of ammonia and 259,600 tons of UAN last year.
As a result of the increased production, adjusted EBITDA improved to $28.5 million, up considerably compared to just $3.8 million in Q3, but down 15% from the $33.5 million last year due to weaker prices.
Ammonia and urea ammonium nitrate prices have stabilized, but are below prior levels
As noted above, CVR Partners saw weaker prices for its UAN and ammonia production during Q4 2015. Prices at the gate for UAN were down 11% to $221 per ton while ammonia was down 13% to $479 per ton compared to last year. Compared to last quarter, prices were down $1 per ton for ammonia and down $6 per ton for UAN.
As for the outlook for prices so far in Q1 2016, UAN fell to as low as $200 per ton along the Gulf Coast before recovering to $230-$250 per ton, while ammonia was running from $450-$500 per ton in the Corn belt. This indicates that the Q1 2016 numbers are shaping up to be slightly to moderately better than the Q4 numbers.
Merger update
As for CVR Partners' proposed merger with Rentech Nitrogen Partners (NYSE:RNF), the later recently had its unitholders vote to approve the combination. This likely means that the deal will be getting done. The merger would nearly double the size of CVR Partners. Though, there is still the issue of the Pasadena facility owned by Rentech which is not part of the merger and instead will be spun out.
I have mixed feelings about adding Rentech as that company has much more debt and is less profitable compared to CVR Partners. Though, adding a second facility to the fold would reduce volatile from plant outages and help avoid a repeat of the Q3 disaster.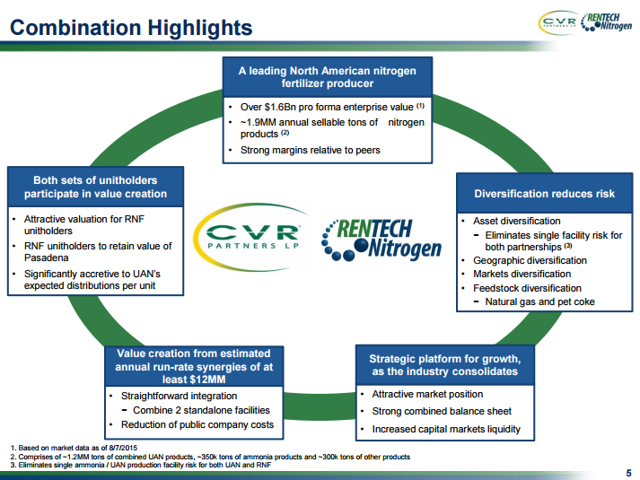 Click to enlarge
Conclusion
Overall, CVR Partners reported fairly good numbers. The return of the distribution and improved operational performance are major positives. At current prices, CVR Partners has a forward yield of over 17.5%, an insane level given that the distribution could actually be heading even higher in 2016. As for its valuation, CVR Partners is also extremely cheap trading at just 5x EV/EBITDA and ~5.5x TTM DCF, while net debt is extremely low at just ~$75 million versus ~$110 million in annual EBITDA.
Disclaimer: The opinions in this article are for informational purposes only and should not be construed as a recommendation to buy or sell the stocks mentioned. Please do your own due diligence before making any investment decision.
Disclosure: I am/we are long UAN.
I wrote this article myself, and it expresses my own opinions. I am not receiving compensation for it (other than from Seeking Alpha). I have no business relationship with any company whose stock is mentioned in this article.