Kinross Gold (NYSE:KGC) released its earnings last week and revealed some interesting points about its cost structure, which I'm going to highlight in this article. I have been long the gold miner since mid December 2015. And I continue to believe the company has tremendous opportunities in terms of share price appreciation given its cost structure and the future of gold price.
Last quarter, they reported revenues of $3,052.2 million for FY 2015 with a production of 2,594,652 gold ounces. The production cost of sales was $696 per ounce. Regarding the 2016 outlook, Kinross targets oil price of $45, gold spot of $1,100, 3.75 BRL/$ (Brazilian Real) and 55 RUB/$ (Russian Rubble). In my opinion the company is pretty conservative and they will surprise to the upside. The company will produce between 2.7 and 2.9 million ounces generating revenues between $2.97 and $3.19 billion, based on a gold spot of $1,100. They expect production cost between $675 and $735 per ounce.
However, this guidance takes into account fairly conservative assumptions regarding oil, foreign exchange and gold price. At the moment of this writing the ounce of gold is already above $1200 and should continue its run higher given the current market environment. I will come back later on this specific point.
The impact of foreign exchange rates
Regarding the foreign exchange rates, we can analyze the situation straightforwardly; Kinross has its cost mainly labeled in local currencies, where it operates the mines (in Russian rubles, in Brazilian reals, etc.) and their output is mainly sold in USD. Therefore, they benefit from the strong dollar against a basket of foreign currencies to decrease their operational costs. For FY 2015, they produce at an all in sustainable cost of $975 per ounce. For FY 2016, they expect a total cost of $890 to $990.
If we compare the foreign exchange rates provided in the guidance with future price we get a significant difference. In fact, a change of 10% in foreign currency exchange rates will result in a $15 decrease/increase on production cost per ounce. Currently, the rates used are undervalued in comparison with guidance. Average difference is around 9% (I didn't factor the impact of each currency with the local production cost because the company doesn't provide complete information on this matter). Therefore, we can expect a cost decrease of $13.5 per ounce produced (based on -9% difference between current and estimated foreign exchange rates).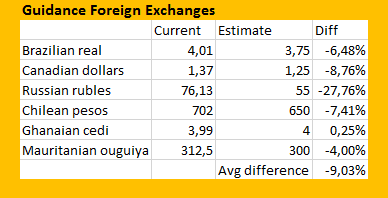 The impact of oil
Kinross expects an oil price of $55 per barrel for its 2016 guidance. If we compare with current price at $30, that's a difference of 45%, which meaningfully impact the production cost. In the 2016 guidance, Kinross expected a $3 dollar impact per $10 change in oil price. At current levels, the company can decrease its production cost by an additional $7.5 per ounce.
Regarding the oil future price, I do believe oil will stay lower for much longer than some analysts anticipated. To sum up, Saudi Arabia wants to crush US shale oil companies which are heavily indebted and cannot face their obligations with current spot price. The Middle East kingdom plays this short term painful game to oversupply the market, to stay the number one in oil producing and threaten the energy independence of America. But that's not the only reason, Saudi Arabia is in conflict with Iran (and his allies Russia) over Syria. To crush the Russian economy, bringing down oil is the best strategy. Furthermore, the decrease of China's economy add to the global glut. This is why I think oil will stay lower for longer and why gold miners in general will benefit from lower costs.
The impact of future gold price
While Goldman Sachs is bearish on gold ("officially"), it might not be a bad idea to take a different view. Gold has hit cycle lows recently until it bounces hard to break the key $1,200 level last week. With the current market conditions, I bet gold will move higher. In fact, Janet Yellen seems confused about the US economy in her latest minutes, which could abruptly put an end to the tightening cycle started in December. The Fed chairman will execute carefully and I do think a rate hike in 2016 is off the table given global economic situation. The market seems to agree seeing a second increase only in 2018.
In this regard, I provide the below table to point out the effect of a higher gold price on expected revenues. The upside is large and the company will surprise with such conservative assumptions. In my opinion, we can at least think of a spot price of $1350-$1400 per ounce for mid 2016.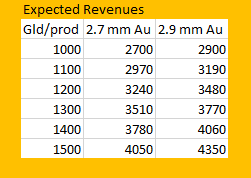 With production at 2.9 million ounces, the company could generate revenues of $3.77 billion at an average gold price of $1,300 per ounce. At current gold price ($1,200), they will generate $3.48 billion, which represents an increase of 9% in comparison with guidance (gold at $1,100).
Conclusion
Kinross could spare $21 per ounce produced given current foreign exchange rates and oil price. If we factor that into guidance, we get production cost of $654 and $714 per ounce for FY 2016, which represent a decrease of 3% from current estimate. Regarding revenues, they could report an increase of 9% in comparison with current estimate. If Kinross beats on both items, I have a feeling the share price will not stay at $3 for so long. In my opinion, the market has still to realize that the company provided a conservative guidance. I expect the company to beat both bottom line and revenue guidance's in the following quarters.
Disclosure: I am/we are long KGC.
I wrote this article myself, and it expresses my own opinions. I am not receiving compensation for it (other than from Seeking Alpha). I have no business relationship with any company whose stock is mentioned in this article.
Additional disclosure: I'm long KGC via Jan 2017 Calls