Cerner Corp.
Cerner Corporation (NASDAQ:CERN) is a worldwide supplier of healthcare solutions and services. The company provides solutions to optimize clinical and financial outcomes for a wide range of healthcare organizations.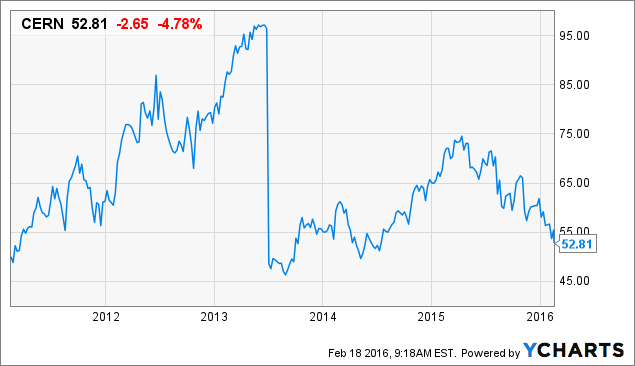 Since 2015, the market has not been great for the company and the recent heavy selling in the healthcare sector combined with strong-but-not-strong-enough earnings has both analysts and investors spooked.
In the past six months, institutional holders have dumped close to 10% of their shares. One reason for this is that margins have fallen 200 bps from five-year averages, so despite a 30% increase in YoY revenue growth the affect has not been as noticeable on the bottom line.
Given the drastic moves seen above, the company has a rather low standard deviation (which is a statistic used as a measure of the dispersion or variation in a distribution from the mean return) of 21.5%. As of writing this, the company trades at a 23% discount to its five-year EV/EBITA average and a 25% discount to its five year Price/Sales ratio. That being said, both the Price/Book and Price/Cash Flow ratio are trading within the first standard deviation range of the stock's performance.
For this reason, we consider the stock in limbo as it is unclear whether this is a value trap or if there is more downside to come.
Rackspace Holdings
Rackspace Holdings (NYSE:RAX) delivers websites, web-based IT systems and provides related services. The stock had a 52-week high of $56.20 and has drastically fallen to $15.05 as of yesterday.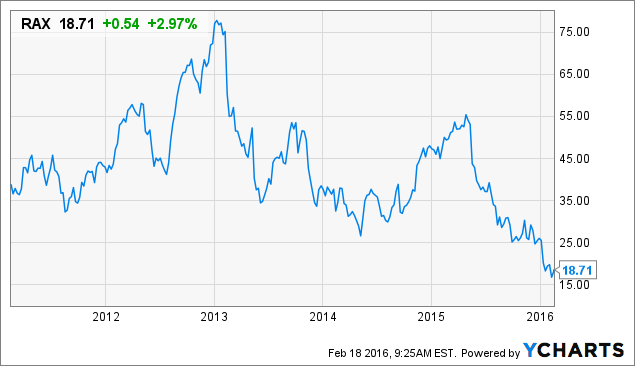 Given the roller coaster ride of the chart above, the company has a large standard deviation of 44.6%. The quick decline in stock value has led to a 3% decline in institutional shareholders. Profit margins have been relatively consistent from the five-year average of 6.72% to the current 6.31%, and in the past six months there has been a modest 200 bps increase in insider shareholder holdings.
The company is currently trading at a 37% discount to its five-year average EV/EBITDA, which is inside the stock's first standard deviation and thus does not outright imply drastic mean reversion.
That being said, Price/Book ratio, Price/Sales ratio, and P/CF ratio are trading at 64.6%, 70.6%, and 69% discounts to their five-year averages.
Given the ever-changing IT and web developing world, prior to assuming values in these assumptions it is very important to look at the refined competitive landscape.
Vasco Data Security International
Vasco Data Security International (NASDAQ:VDSI) designs, develops, markets and supports open standards-based hardware and software security systems. These systems manage and secure access to information assets for customers.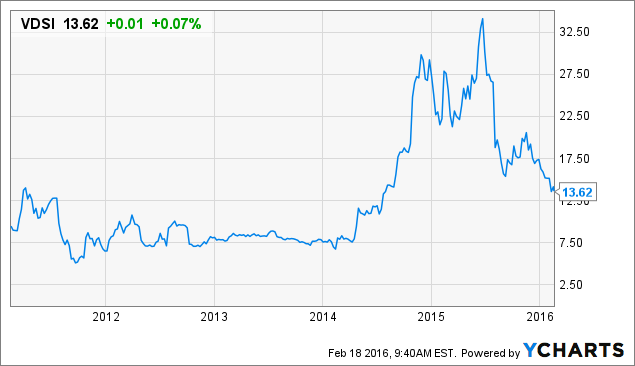 VDSI data by YCharts
As mentioned in the summary, VDSI has been a convincing short story for many investors since mid-2015. However, the recent lows hit yesterday were believed by some to be emotional selling and entirely irrational. Let's see what the numbers have to say.
Given the wide range of returns for this stock in the past number of years, the company has the largest standard deviation of the three companies mentioned in this article - 59%. For this reason, even if ratios were trading at very steep discounts, it is hard to trade outside of the first standard deviation of returns for the company.
In fact, none of the ratios we monitor are trading at 55% discounts to their five-year averages. Perhaps this is because institutional holdings have increased 8.4% in the past six months, along with a modest increase in insider holdings of 2.6%. Additionally, margins have increased from the 12.4% five-year average to the current 17.46% margins the company maintains.
Has this short story played its course? We'd love to hear your thoughts below.
Thanks for reading and have a good day.
The Risk Report attempts to give long-term investors a quantitative outlook on stocks featuring major moves to the upside or downside. To do this, we have designed a proprietary process derived from portfolio theory using a stocks annualized standard deviation to determine whether a company has gone sufficiently past their multi-year derived intrinsic value.
As firm believers in mean reversion, we simply highlight stocks that ding our criteria which is stated below:
The company must have a market cap greater than $1bn
The company must have a per-share price greater than $1
The company must have multiple years of positive earnings
The company must currently have positive earnings
The company must be publicly traded for enough time to properly determine an annualized standard deviation
Last but not least, we tend to define risk as described by legendary investor Howard Marks (our idol by the way) in the book The Most Important Thing. To be a great investor you must be an even greater risk manager. This means quantifying downside before even considering upside. We try and do that for you, thanks for reading and enjoy.
Disclaimer: Please note, we do not recommend buy, sell or hold ratings nor do we advise specific timelines for investment. We hope to simply open a narrative, through which historical valuation can give investors direction in their investment process. After reading our articles, we encourage significant due diligence about the potentially altering narratives that may cause permanent displacement of a company's valuation criteria.
Disclosure: I/we have no positions in any stocks mentioned, and no plans to initiate any positions within the next 72 hours.
I wrote this article myself, and it expresses my own opinions. I am not receiving compensation for it (other than from Seeking Alpha). I have no business relationship with any company whose stock is mentioned in this article.