The nature of First Solar's (NASDAQ:FSLR) operations can result in substantial marketable assets carried on the balance sheet at well below market value. Additionally, the variable treatment in the sale of project assets can result in fundamentally similar operating activities impacting the income statement in different ways. As such, I feel that certain adjustments are warranted when composing a TEV/EBITDA analysis, and that this adjusted ratio can offer some additional insights when considering FSLR's growth potential.
Adjusting TEV
I've attempted to estimate conservative market values for certain assets on FSLR's balance sheet, and incorporate them into the TEV calculation. Replacing current book values with higher market values for certain assets results in a lower calculated enterprise value, and a more conservative TEV/EBITDA multiple.
As detailed below, adjustments are made to the value of the 8point3 holdings, the remaining interest in Desert Stateline, and a valuation for the Kingbird project is also added to the calculation.
8point3
With the forbearance period poised to end on March 1, 2016, FSLR's common units in OpCo, which are entitled to the same distribution as CAFD's publicly held Class A shares, are valued at the market value of those Class A shares as of the February 17, 2016 close, or $15.18 per share/unit.
FSLR's subordinated units in OpCo are valued assuming an August 2018 end to the subordination period, a quarterly distribution at that time of $0.224, and a 6.50% yield, with the resulting value discounted back at a 10% annual rate. While assuming no growth in the distribution between 1Q16 and 3Q18 is conservative, using an estimated annual growth rate in line with the 12%-15% management guidance for 2016 does not have a material impact on the analysis. Additionally, any distributions received on subordinated units during the subordination period are excluded from the analysis.
Desert Stateline
Per management guidance, the 2016 sale of FSLR's minority interest in Stateline should yield $450 million in cash and produce a gain of approximately $200 million. This implies a market value of $450 million for the minority interest in Stateline, once complete. As of 3Q15, FSLR carried their minority interest in Stateline at $142.9 million, and I am estimating- extremely roughly- an additional cash outlay of $110 million associated with completing the portion that remains on FSLR's balance sheet.
Rather than allocate the entire value of the project to TEV, however, I'm assuming that the project is 75% complete at YE15, with the remaining 25% completed in early 2016. I'm therefore including 75% of the assumed $450 market value in the TEV calculation, but estimating a 2016 EBITDA contribution for the remaining 25% to reflect its impact if treated like a traditional sale. The $200 million gain represents a gross margin of ~44% on the $450 million sale price, and applying that percentage to 25% of the proceeds equals ~$50 million of gross margin, which I am using as an estimate of EBITDA.
Kingbird
Management also anticipates the sale of Kingbird in 1Q16. Per the 3Q15 10Q, Kingbird is a 40MW project that was 40% complete in 3Q15 and expected to be substantially completed in 2015. Using a revenue/MW measure that is somewhat conservative relative to FSLR's other recent project sales, I'm estimating a $170 million market value for the completed project assets, and an additional outlay of $60 million to complete. As the impact of this sale is expected to be excluded from 2016 operating results and EBITDA, I am including it in the TEV calculation.
Calculating adjusted TEV
Incorporating the above adjustments into a TEV calculation yields the following: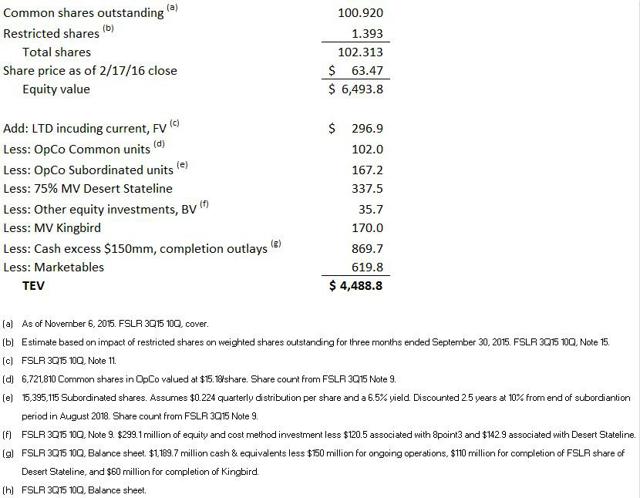 Click to enlarge
Projecting adjusted 2016 EBITDA
Management's 2016 guidance as of December 9, 2015 is incorporated into the EBITDA projection below. FSLR management does provide a specific operating income range that narrows down the range implied by the extreme ends of their revenue, gross margin, and opex guidance. Estimating a 2016 D&A amount and adding that back yields a projected 2016 EBITDA range from $520 million to $610 million before considering the impact of Desert Stateline.

Click to enlarge
Adjusting 2016 EBITDA to reflect different handling of the Desert Stateline sale boosts the range to $570 to $660. Incorporating the adjusted TEV calculated above indicates a TEV/EBITDA range of 6.8x to 7.9x.

Click to enlarge
ITC extension may bring down guided earnings range in 2016, boost 2017
The guidance used above is from management's December 9, 2015 guidance call, which was presented with the caveat that an ITC extension could adversely impact 2016 earnings, as some project completions could be pushed into 2017. With the subsequent announcement of the ITC extension, the adjusted 2016 EBITDA may be likely to fall closer to (or below) the low end of the range, resulting a less conservative valuation. This would, however, offer the potential for some growth moving into 2017 where some of the delayed 2016 EBITDA would emerge. With less impetus for YE2016 completions, the ITC extension may also allow for the earlier migration of production lines to lead line efficiency, which would allow for more margin capture on the projects that are delayed.
Capacity expansion would be a catalyst
Management has taken a conservative approach to growth, and has indicated they will reassess capacity levels in the first half of 2016. Absent any expansion, rollout of best-line efficiencies across the fleet in 2017 is expected to add 140 MW to capacity, which represents less than 5% of expected 2016 shipments. With idle equipment, an extremely conservative balance sheet, a cash position expected to exceed $2.6 billion by YE2016, and access to project level debt that could free up cash for other uses, FSLR appears to have ample resources to increase capacity. While an announcement may not be imminent, and while the product mix moving forward may result in earnings growth that lags capacity growth, there remains the potential, if not likelihood, for substantial growth here that may not be reflected in the current valuation.
Disclosure: I/we have no positions in any stocks mentioned, and no plans to initiate any positions within the next 72 hours.
I wrote this article myself, and it expresses my own opinions. I am not receiving compensation for it (other than from Seeking Alpha). I have no business relationship with any company whose stock is mentioned in this article.