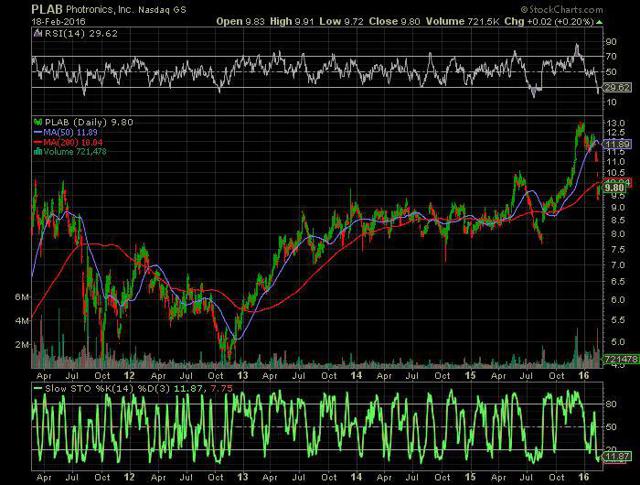 Click to enlarge
Photronics (NASDAQ:PLAB) is a great example of an undervalued company with above average growth. The company is a $780 million market-cap producer of photomasks, which are photographic patterns used to make semiconductors and flat panel displays (FPDs]). Photronics sells its photomasks to semiconductor manufacturers. Photronics has built a solid track record of exceeding estimates for both revenue and earnings over the past four quarters. The combination of an attractive valuation and strong growth make the stock a good buy for an investor or for another company to acquire.
Photronics is a trusted photomask supplier. One of the company's customers, United Microelectronics (NYSE:UMC), rated Photronics as a best partner. Another customer, integrated circuit manufacturer TowerJazz, awarded Photronics with the Best Mask Shop Supplier of the Year Award. So, the company is highly regarded as a reliable and trusted business partner. This will help Photronics retain new customers and to gain new ones going forward.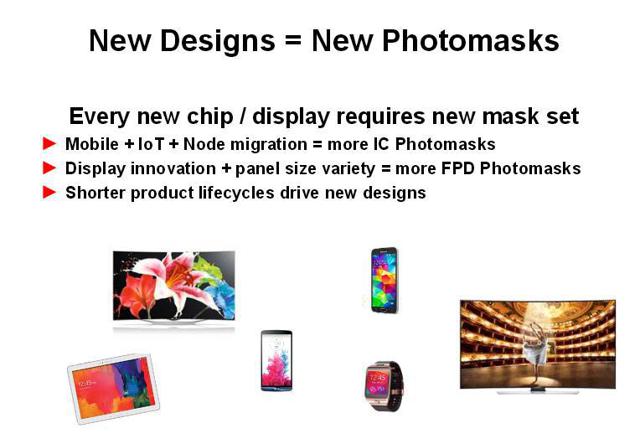 Click to enlarge
Image source: Investor presentation
Growth Catalysts
Photronics derives 80% of sales from ICs, with the remaining 20% of sales from FPDs. The gross margin increased from 22% in 2014 to 27.3% in 2015. The increase in gross margin was a result of increased high-end IC sales and reduced manufacturing costs.
The company is experiencing strong demand for high-end memory. This is due to the megatrend known as the Internet of Things. IoT refers to the increased use of products that are being connected to the internet. For example, thermostats, lighting, household appliances, traffic lights, the monitoring of potable and non-potable water, smart grids, air quality, vehicle applications, weather monitoring, and more. All of these things are increasingly being connected to the internet for quick real-time information and for more efficient monitoring and applications. Photonics pointed out in its Q4 earnings call that the semiconductor market for IoT is expected to grow by 30% on a compounded annual basis. That means there is likely to be a lot of new designs needed for Photronics' photomasks. Therefore, I would expect the company to achieve steady revenue growth going forward.
Although there has been plenty of competition among photomask producers, there has been consolidation in the industry which lessened the amount of total players in the industry. Some of the weaker independent photomask producers have stopped operating due to tight competition and low margins. This is expected to continue, which can help Photronics gain market share. Photronics remains a best of breed company in the industry with strong fundamentals and a solid reputation. Photronics has been able to increase revenue, EBITDA and EPS over the past two years due to the strong demand for its photomasks. The company also has increased its market share over the years.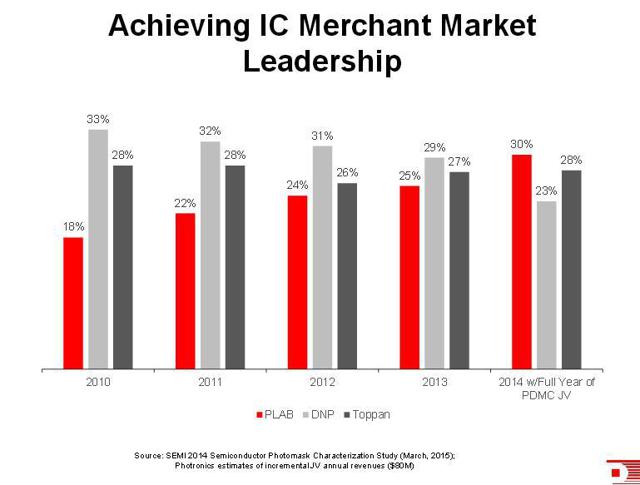 Click to enlarge
Another catalyst for Photronics is its drive for expansion into new regions. The company sees growth potential in China. This is a longer-term initiative where it may take a year or two for the company to generate significant revenue from China. Photronics recently opened a sales and application office in China for IC and FPD customers. China will represent another source of revenue for the company when its presence is well established there.
Undervalued Compared to the Industry
Photronics is undervalued compared to the Semiconductor Equipment and Materials industry. Here's how the company stacks up:
| | | | |
| --- | --- | --- | --- |
| | Photronics | SE & M Industry | Undervalued by |
| Forward PE | 10.6 | 14.3 | 26% |
| Price to Sales | 1.25 | 2.29 | 45% |
| Price to Free Cash Flow | 23.19 | 29.11 | 20% |
| Price to Cash | 3.19 | 4.73 | 32.6% |
Data source: finviz.com
As you can see from the table above, Photronics is undervalued by a significant margin as compared to its industry according to these valuation metrics. Consensus estimates show that the company is expected to grow earnings at 22% this year and by 24% next year. This makes Photronics a great combination of valuation and growth in my opinion.
The stock sold off recently due to worries about slowing demand for Apple's (NASDAQ:AAPL) iPhones in 2016. However, I think that is a short-sighted viewpoint. Apple will have a major upgrade with the iPhone 7 later in the fall of this year. Although some of the specs for the new model aren't official yet, the MacRumors.com website states that the iPhone 7 will have a thinner design, no headphone jack (corded headphones will use the lightning jack and wireless headphones can connect via Bluetooth), two screen sizes, a dual-lens camera for the 7 Plus (offering DSLR-like image quality w/ 2-3X optical zoom), and an upgraded processor. It also could be made out of a new composite material, which is more water resistant. These new features are likely to attract users of older model iPhones such as those still using the 5 and 5S models. Photronics stands to benefit as its customers will need photomasks to produce new chips.
The longer term view for Photronics looks positive. One of the key aspects of IoT will be faster, more powerful technology such as 5G. 5G networks are expected to be 66X faster than 4G. That will enable increased processing for self-driving cars, faster download speeds and bring virtual reality into the mainstream such as projecting data onto a windshield. The 5G technology is expected to be about four years away. As current and future technology evolves, Photronics is likely to have a role supplying photomasks to chip makers for the devices using this technology.
Since Photronics is an attractive small-cap company, it could be a takeover target for another photomask manufacturer or for a semiconductor company. The company would likely be taken out for a higher price because of its attractive valuation. Regardless of whether it ever gets acquired, Photronics is likely to be a winning investment for the long term. Given the valuation and expected earnings growth, the stock has the potential to rise between 25% and 30% annually this year and next year, driven by earnings growth and some PE expansion.
If you like my analysis, click on FOLLOW at the top of the article near my name. This will allow you to see my new articles on your homepage. If you choose to get real-time alerts, you'll get email alerts when my articles are published.
I would encourage readers to comment below with any thoughts or insights that they have about the company and industry.
Disclosure: I/we have no positions in any stocks mentioned, and no plans to initiate any positions within the next 72 hours.
I wrote this article myself, and it expresses my own opinions. I am not receiving compensation for it (other than from Seeking Alpha). I have no business relationship with any company whose stock is mentioned in this article.