Fastenal (NASDAQ:FAST) stock has been seen a huge rally as of late. The stock traded from $35.10 on January 15th to $45.02 today a $10 gain or 28% in less than a month.
The upward trajectory of the chart is way too steep given the weak earnings report on the last quarter.
Look at this Chart.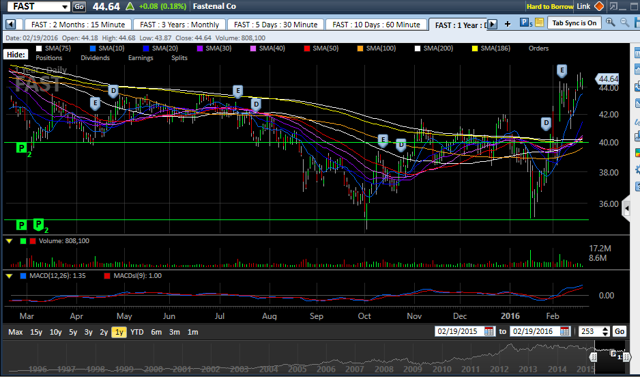 In my view at .39cents a share, the earnings report was a miss. Sales were decelerating in December, and the trend was clearly showing downward momentum. You can view sales numbers here.
The company had a net decrease in the number of stores opened during the year. Management continues to talk about opening more stores, but the reality is they had a net decline of 15 stores when compared to last year. You can view the document here.
The balance sheet incurred long term debt of $302M.
Investors seem to key on a two cent dividend increase that was basically financed.
The business model is dependent on energy growth. On the last conference call, the company admitted that they had little clarity on how much the business would decline because of the spending cuts in the energy space.
When one takes into account the share buyback; the company had what I see as zero sales and earnings growth.
Investors that have not read the 10k, may want to take a deeper look into the numbers.
Insider selling
Insiders are granting options and selling shares on multiple Form 4 filings that can be viewed from the company's website by clicking here.
Conclusion
Fastenal is at a 52 week high with zero earnings growth. The energy space of which they are reliant, is under severe pressure to cut spending. Sales declined double digits on fastener products last quarter and sales are likely to get worse. I see a retest of the $35 level in the next sell-off.
Disclosure: I am/we are short FAST.
I wrote this article myself, and it expresses my own opinions. I am not receiving compensation for it (other than from Seeking Alpha). I have no business relationship with any company whose stock is mentioned in this article.