Carry Trade Pairs
NIRP has and is spooking savers into CASH, globally. Banks and central banks involved are having to liquidate USD holdings to meet deposit demands in the local currency. Since Feb 1st, it's been a tsunami of dollars driving KING DOLLAR down from 100 to 96 DXY.
The Feb 5th BOJ NIRP announcement (only new excess deposits pay the negative rate tax, all previous deposits are grandfathered at the older positive rates), sent the yen sideways for one day, after which it continued an +8.2% ascent. Regarding the resulting decline in the dollar and rise in gold and oil:
"Gold and oil didn't rise, DXY (the dollar index), fell - reflecting un-regulated, carry-trade like (and Central Bank competitive devaluations), speculative and volatile, position-squeezing sorties." - Salmo Trutta
A potential nuance or subtlety... look at the Swiss franc CHF/USD and Japanese yen JPY/USD pairs since December, in which there would appear to be plenty of carry trade unwind in those appreciative moves vs. KING DOLLAR.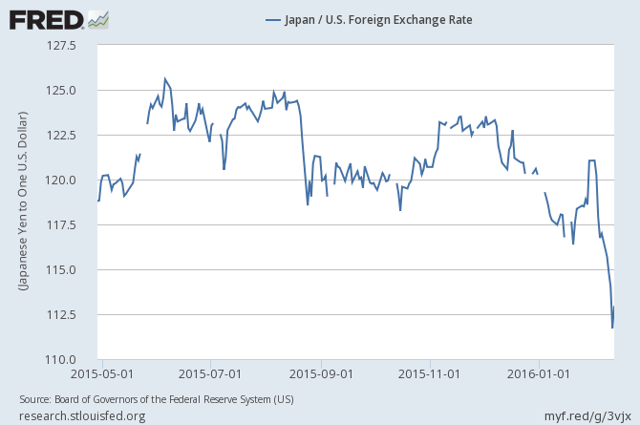 Click to enlarge
Above note, since Feb 1st JPY yen gaining 8.2%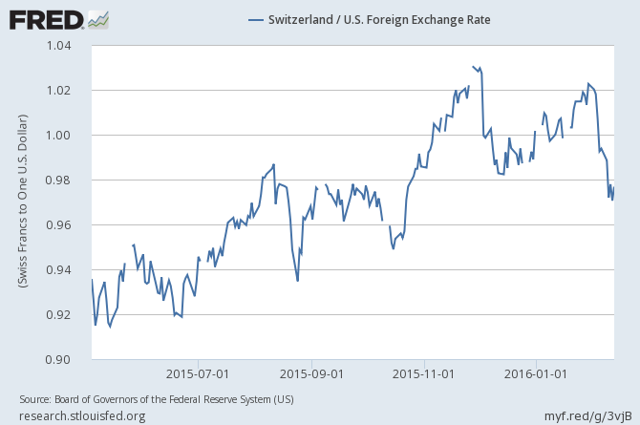 Click to enlarge
Above note, since Feb 1st CHF franc gaining +5.4%
Chinese NPL's and New Debt
As for Chinese capital flight controls, it is legal to lend in RMB and get paid in another currency. On Feb 15th mainstream media reported that:
"Nonperforming loans rose 7 percent from September to 1.27 trillion yuan ($196 billion) by December, the slowest quarterly increase in two years... Including "special-mention" loans, where future repayment is at risk but yet to become nonperforming, the industry's total troubled loans swelled to 4.2 trillion yuan, representing 5.46 percent of total advances. New credit surged in January to a record 3.42 trillion yuan, almost double the amount in December. The increase was linked to a seasonal binge as banks front-loaded lending and Chinese borrowers refinanced foreign-denominated debt." - Bloomberg
Indeed, China reported a 7% NPL increase to $196B, where special mention brings the at risk total to 5.4% of total advances or $650B and new RMB loans hit a monthly record in December $520B. Those headline figures were parroted across the blogosphere, while other subtleties and nuances went to the wayside...
Since Q1 2014 or over the last 24 months: Chinese Banking NPL+60% from 1.04 to 1.67%; special mention +56% from 2.5 to 3.9%; total at risk +54% from 3.54 to 5.46% and $520B in new loans in December is half of the US QE3 total; and finally, since Oct 2015; over $1T in new RMB debt.
China Japan Trade Balance
On Feb 15th, in real terms Yoy Chinese exports plunged 11.2% and imports 18.8%. One should note the contraction in China's import, export, PMI and GDP statistics. As stated, those declining numbers could already be falsely INFLATED due to their recent shopping spree on cheap shipping and commodities costs. What does this portend for the import, export, PMI, GDP and shipping numbers later this year?

On Feb 17th, Japanese exports fell by 12.9% in the 12 months to January, a result that was below the 8.0% contraction seen in December. To put that decline into perspective, it was the steepest annual contraction in exports since October 2009. By destination, exports to Asia plummeted by 17.8% from a year earlier, with those to China falling by 17.5%. Yoy from January 2015 they tumbled by 18.0%, unchanged from the drop registered in December. - Cheap Oil: Unhealthy?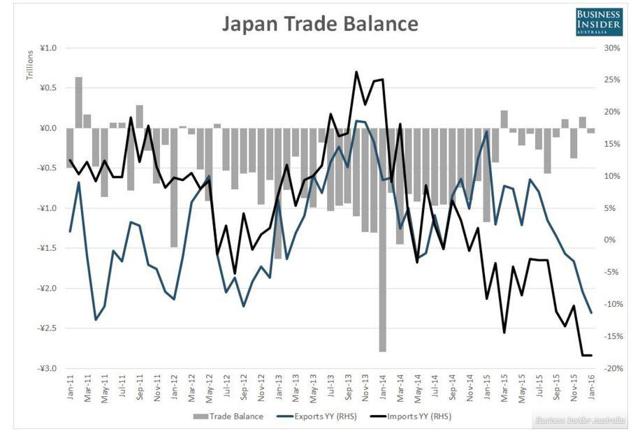 Click to enlarge
Given the above, the JPY/USD appreciation might not just indicate a carry or currency hedged unwind due to margin calls, in which rapidly rising yen (borrowed or short) causes a liquidation of dollar assets (purchased with the low cost yen). Leading to a chicken/egg or symptom cause dilemma, why did the Yen, on a rate cut to NIRP, surge to the UPSIDE vs KING DOLLAR?
Those who parrot that the Yen is an Asian "flight to safety", which even moi has fallen victim to in the past, better first review the above quoted economic releases, chart and decades old ZIRP hole that Japan is in, and can't get out of. Speaking of which...
"While economists try to determine if technical definitions for recession have been met, the plain truth of QQE is that monetary "stimulus" put Japan into recession almost immediately and it has never left.... By Japan's GDP figures alone, Japan is in a significant and sustained period of weakness or contraction even when compared to the unsatisfactory growth that prevailed before it." - Jeffrey P. Snider
China Hong Kong Trade Surge
"A surge in China's imports from Hong Kong has raised fresh concern trade invoices are being manipulated to get capital out of the country. January data released Monday show imports from the territory leaped 108 percent from a year earlier even as total imports dropped by 18.8 percent and inbound shipments from other major trading partners fell." - Bloomberg Feb 15th

"Chinese Exports to Hong Kong rose to $46 billion last month, that was the highest value in almost three years and the biggest amount for any December period in the last 10 years... Imports from Hong Kong surged 65 percent, the most in three years, to $2.16 billion." - Bloomberg Jan 13th
Keiretsu Bank Duplicity?
IMHO, another potential cause for the continuance of a rising Yen vs USD might be, that RMB are being lent to refinance dollar denominated debt, with repayment being made in JPY. This would result in higher dollar float and a lower Yen float.
Question: Who would engage in such activity? Answer: On and offshore Japanese banks involved in facilitating said capital flight conduit. Given the volume of new RMB loans $1T since Oct 2015, with $520B in January alone, I dunno, but I'll tell ya, its possible. And I'm not the only or first one to think the Keiretsu are duplicitous.
This is the 14th in a series of thematically related missives which will attempt to identify the macroeconomic forces with potential to adversely affect capital, commodity, equity, bond and asset markets.
I wish to dedicate this missive, to one of my mentor's Salmo Trutta, who is a prolific commenter on SA. Without Salmo's tutelage, and insistence in not masticating and spoon feeding the baby ducks, as in learning the hard way, by doing the leg work and earning it, this missive would not have been possible. To you "Proximo"... "win the crowd and win your freedom" - Spaniard
Since the market potential is broad in both scope and scale, our conclusion: more grief in the dollar "short" or squeeze and its associated liquidity issues, with the potential to adversely affect capital, commodity, equity, bond and asset markets. Will it happen? TBD, and forewarned is forearmed.
As for how all of the above ties into the potential and partial list of market plays below... the market as a whole could be influenced, and this would tie into any list of investments or assets. Those listed below happen to influence the indices more than most.
Would like to thank you folks fer kindly droppin in. You're all invited back again to this locality. To have a heapin helpin of Nattering hospitality. Naybob that is. Set a spell, take your shoes off. Y'all come back now, y'hear!
Investing is an inherently risky activity, and investors must always be prepared to potentially lose some or all of an investment's value. Past performance is, of course, no guarantee of future results.
Before investing, investors should consider carefully the investment objectives, risks, charges and expenses of an investment vehicle. This and other important information is contained in the prospectus and summary prospectus, which can be obtained from the principal or a financial advisor. Prospective investors should read the prospectus carefully before investing.
Below, recommended reading for those invested in mutual and bond funds, ETFs, REITs, HY, leveraged, EM, oil, energy, bonds and the broader markets. Why? There are many macroeconomic cross sector and market asset correlations involved that affect your investments. Economic conditions, the eurodollar, global dollar debt and monetary policy all influence the valuation of the above and market plays below, via King Dollar's value, credit spreads, swap spread pricing, market making, liquidity, monetary supply and velocity, just to name a few.
Market Warning: Reading not only those listed below, but also every installment of these multi-part missives could lead to a better understanding of the market forces in play and how to profit from them.
For a complete missive series listing, click here.
These global economic developments could affect numerous capital and asset markets, sectors, indexes, commodities, forex, bonds, mutual funds, ETFs and stocks.
A List of Potential Market Plays (Long or Short?):
Disclosure: I/we have no positions in any stocks mentioned, and no plans to initiate any positions within the next 72 hours.
I wrote this article myself, and it expresses my own opinions. I am not receiving compensation for it (other than from Seeking Alpha). I have no business relationship with any company whose stock is mentioned in this article.
Editor's Note: This article covers one or more stocks trading at less than $1 per share and/or with less than a $100 million market cap. Please be aware of the risks associated with these stocks.