As an investor with limited capital and a tough array of choices to make as far as what to invest in immediately, I did not opt to initiate a position on First American Financial (NYSE:FAF) when it was hovering at around $32.50. In hindsight, this is likely a mistake, because as of closing Wednesday, February 17th, a return would hover around a 11.66%. However, I do not think FAF has reached its price target yet, and still has a ways to go before it does. That being said, I will wait to try and initiate a position at a cheaper rate, because the stock will fluctuate over the next 2-3 months.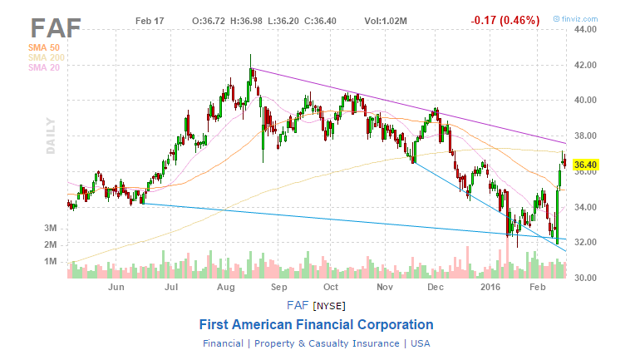 Click to enlarge
Post earnings, we've seen FAF make a huge jump, crossing its 50 day MA in a bullish manner, and approaching the 200 day before retreating from that resistance point today. This is not just because of the global macro and crude oil rebounding back above $31 today. The stock took earnings by storm in an unexpected way, beating both on EPS and revenue. Revenue was arguably more impressive, because the $50M they beat by compared to their estimated $5B last year is a large percentage of their annual sales. To boot, FAF also increased its dividend to $.26 per share, a 4% increase from 2015. Ex dividend date March 4th.
The primary explanation for doing so well? After a decrease in existing home sales in 2015 outlined in my previous article on FAF in December, the numbers for both existing and new home sales increased. FAF is a specialty insurance company and deals with both residential and commercial real estate insurance sales.
Wednesday the 17th harbored a great deal of telling housing information. If the consensus numbers of the housing market were below expected, policy makers and investors would both give even more credence to the thought that the U.S will join the rest of the developed world in a recession.
The results were mixed, but mostly positive. Housing starts were below the expected value of 1171k, instead hitting the 1099k mark. However, building permits, industrial production, and refinance figures all were higher than expectations. According to Econoday, the average mortgage interest rate dipped 8 basis points over the month of January. That means more refinance applications and more potential revenue for FAF.
Valuation and Risk
So aside from Warren Buffett recommending FAF, why else should the stock be issued a buy rating?

Click to enlarge
Note: I am not drawing comparisons in any way to Smith & Wesson Holdings (NASDAQ:SWHC). FAF is simply next to SWHC in my spreadsheet for risk analysis.
First off, we know that FAF has a BBB+ (investment grade) credit rating despite its limited sales, a show of good ability to pay off its liabilities compared to its small cap counterparts. Notice how FAF has a covariance comparable to that of JP Morgan and Chase (NYSE:JPM) and Visa (NYSE:V) as well (not shown). Covariance is modified to a degree here, using the price of the firm as the mean, or expected value, because during that time, the price is the market equilibrium of what the consensus of investors think the price is worth. And so, we can reasonably expect that to be expected value.
The standard deviation, a classic measure of risk, was computed using 2 year historical price data of the stock using Stata, a statistical analysis software.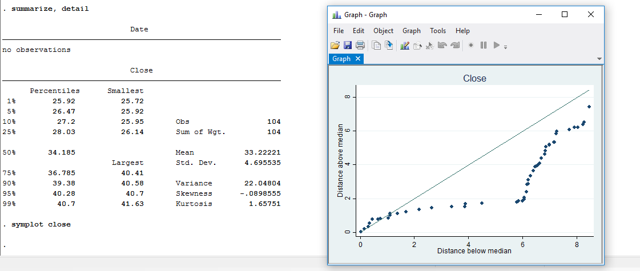 Click to enlarge
Above is a screenshot of the pricing data according to data as well as a symmetry plot to indicate how the pricing data is distributed in relation to the median. The pricing is approximately normally distributed, as the skewness, standard deviation, and kurtosis are all negligible especially compared to other stocks I have charted. The high number of observations also confirm the accuracy of the analysis.

Click to enlarge
Note: I am not drawing comparisons in any way to Stratasys Ltd. FAF is simply next to SSYS in my spreadsheet for valuation as is SWHC.
In terms of quantifying the valuation for FAF, I have a $39.72 price target set for over the next year based on the EPS guidance for the year 2016. This is due to an assumption of constant growth of 7.5 and adjusting the fair value P/e by adding on the dividend yield as well since those are profits being distributed directly to the shareholders. Current and forward P/e are undervalued in comparison to both the industry average and the fair valued P/E. FAF also has an abundance of free cash flow to utilize in raising dividends with a ratio of P/FCF of just above 12.
Two figures that could be better are the Sharpe ratio and expected rate of return, which are directly related. The expected rate can either be calculated by calculating the return between current price and my price target (9.12% as of Feb. 17th close), or by adding the growth factor as a percent to the dividend yield (10.3% at Feb. 17th closing). Either way, the expected versus required rate of return are almost nearly equal at the mid-$36 levels, which is why it is better to wait for the stock to retreat back to the 33-34 range ideally before buying.
Even if one bought the stock now, there are arguments that the $39.72 target could be seen as conservative due to the greater than expected housing number strength and unexpected revenues that could boost the earnings and/or sales over the next 4-6 quarters. Even with that being said, Barclays on earnings day downgraded their price target from $43 to $41, so a target higher than 40 could be considered as aggressive as well.
Conclusion
Until the stock goes lower due to decreased volume or expected macro factors bringing the broad market down, First American is seen more as an income generator and a safe haven to diversify and lower the risk of an overall portfolio with its beta of just 0.82. Over time, the stock should steadily grow at a decent pace, and reward patient investors looking for a safe haven.
Disclosure: I/we have no positions in any stocks mentioned, but may initiate a long position in FAF, JPM over the next 72 hours.
I wrote this article myself, and it expresses my own opinions. I am not receiving compensation for it (other than from Seeking Alpha). I have no business relationship with any company whose stock is mentioned in this article.