The Market Vectors Semiconductor ETF (NYSEARCA:SMH), which tracks the PHLX Semiconductor Sector Index (NASDAQ:SOX), topped out at $55.78 per share in early December and has been in free fall since the beginning of the year. Investors are reluctant to step in after Gartner said in early January that the outlook for PC shipments in 2016 is for a decline of 1% compared with 2015, with the potential for a soft recovery in late 2016. The PC market is still in the middle of structural change, which will reduce the PC installed base in the next few years, said Gartner in their report.
Notebook sales aren't doing so great either, according to Chris Danely of Citigroup, who downgraded the chip sector this week, citing that Taiwan notebook ODM shipments declined 38% month-over-month in January, below the three-year average of being down 14% on a month-to-month basis.
Investors may have a new worry besides PC and notebook sales as a data center server chip war looms. Qualcomm (NASDAQ:QCOM) announced in mid-January that it had entered into an agreement with the Chinese province of Guizhou to create a joint venture called Guizhou Huaxintong Semi-Conductor Technology Co. Qualcomm plans to enter the server CPU market that Intel (NASDAQ:INTC) dominates, with a customer processor chip built using the ARM architecture, which is less expensive and may also consume less power.
Intel immediately fired back several days later with an announcement of a new joint venture to design chips through a research partnership with Tsinghua University and Montage Technology Global Holdings. Intel will put $100 million into the venture.
Investing in ETFs, such as SMH or iShares PHLX Semiconductor ETF (NASDAQ:SOXX), should eliminate non-systemic risk, involving the ownership of individual securities. Nonetheless, investors may want to pay close attention to the SMH ETF top holdings, as their products and services overlap each other, which in turn impacts ETF performance.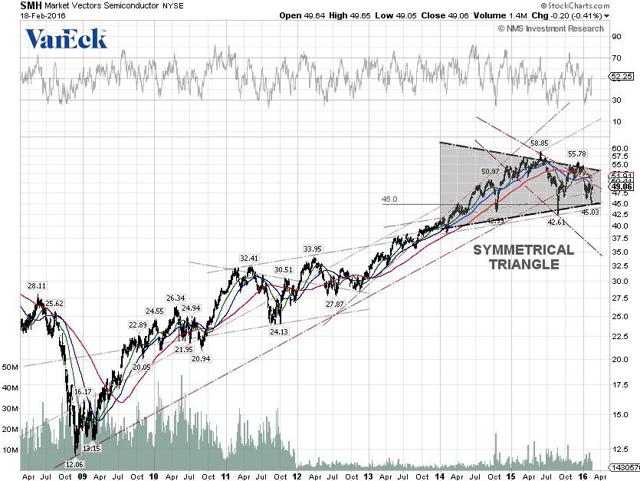 Technical Overview - About 54.98% of the holdings in the SMH ETF are the five big cap semiconductor companies Intel Corp., Taiwan Semiconductor Mfg. Co. Ltd. (NYSE:TSM), Qualcomm, Inc., Broadcom Ltd (NASDAQ:AVGO), and Texas Instruments Inc. (NASDAQ:TXN), with a combined market cap of over $427 billion, as of February 18.
Since early 2014, the SMH ETF has been trading in a symmetrical triangle chart pattern as investors can't decide in what direction the ETF will move next. Most of the gains in the SMH ETF in early 2015 came from speculative buying, driven by rumors that Intel was buying Altera, and that Avago Technologies was merging with Broadcom, with the new entity now called Broadcom Ltd. (BRCM).
The SMH ETF just bounced off the trendline support and continues to move higher as historically the semiconductor stocks perform well during the first quarter of the year. There are two trendline resistances at around the 50 and 53.50 levels that investors should be aware of.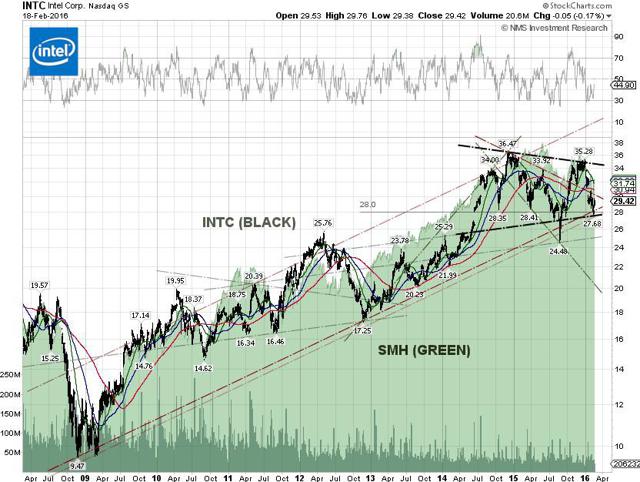 Intel - As of February 18, Intel has a weight of 17.68%, the largest holding in the SMH ETF. The company reported that the fourth quarter 2015 revenues from its lucrative data center group, DCG, which makes microprocessors, chipsets, SoC and multichip packages that are used in servers, storage and switches to power data centers and cloud computing, rose just 5.3% year-on-year, while most analysts had expected a double-digit percentage gain. Intel also said the average selling prices, ASPs, of their data center server chips declined 1% year-on-year, meaning the ASP per performance could drop even more.
The acquisition of Altera by Intel was completed in early fiscal year 2016 and Altera has emerged as a standalone unit called the Programmable Solutions Group. Intel once said that the company had a plan to create a hybrid Xeon-FPGA chip that will plug into a single processor socket. As competition in the data center business is heating up, it is highly critical for Intel to convince Google (NASDAQ:GOOG) (NASDAQ:GOOGL), Facebook (NASDAQ:FB) and others to switch from the graphics processor unit (GPU) chips to the Intel hybrid Xeon-FPGA chip to power their artificial intelligence tools, including speech recognition, image recognition and natural language processing.
Technically, INTC has been trading along with the SMH and shows a strong positive correlation (+0.88) with the SMH ETF over an eight-year period. The stock is under selling pressure lately, as analysts have raised concerns over PC and notebook sales during the first quarter 2016. Rumors that Google will start designing their own chips will not support Intel shares much either.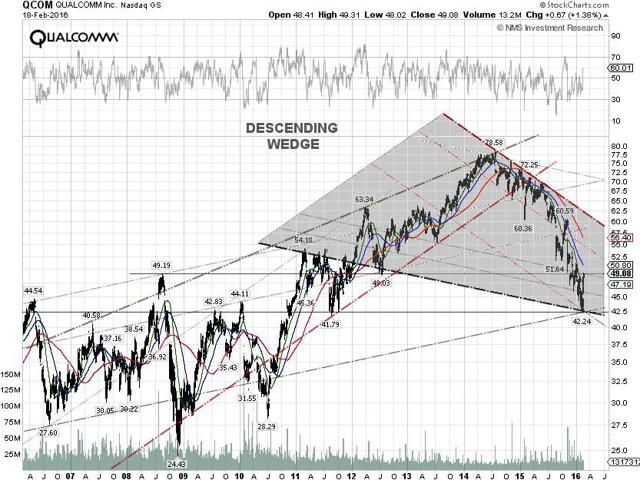 Qualcomm - Qualcomm has a weight of 9.18% in the SMH ETF. Qualcomm recently released its fiscal 2016 first quarter earnings report, which came in well above expectations, but a license dispute with LG surfaced and fiscal 2016 second quarter guidance disappointed due to the impact of a challenging macro environment. Qualcomm just confirmed via a tweet that their flagship Snapdragon 820 will power the latest LG G5 to be unveiled at the Mobile World Congress in Barcelona in late February.
Shares of Qualcomm remain a drag for the SMH ETF as they have performed poorly during the past 10 years. QCOM bounced off a four-year low at $42.24 a share last week and the stock is now trading at the $49 a share resistance level. The stock can make a breakout if it can close and stay above $58 a share. There are walls of resistances between now and the $58 a share level.
A Bloomberg report in early February that Google was poised to endorse Qualcomm's server chip efforts turned out to be a rumor. Hence, we expect that Intel will step up with their data center server chip innovations and pricing, which will put more pressure on Qualcomm shares.
Conclusions - SMH, the Market Vectors Semiconductor ETF, which tracks the PHLX Semiconductor Sector Index, has been in free fall since the beginning of the year but investors are reluctant to step in as the outlook for PC shipments and notebook sales are on the decline. Shareholders of the big-cap semiconductor companies may have a new worry as competition in the data center business is heating up and a server chip war looms between Intel and Qualcomm. Intel may escalate their data center server chip innovations and pricing, which will put more pressure on Qualcomm shares, which in turn, impacts the performance of the SMH ETF.
Disclosure: I/we have no positions in any stocks mentioned, and no plans to initiate any positions within the next 72 hours.
I wrote this article myself, and it expresses my own opinions. I am not receiving compensation for it (other than from Seeking Alpha). I have no business relationship with any company whose stock is mentioned in this article.