Embattled upstream player Chesapeake Energy Corporation (NYSE:CHK) will post its Q4 2015 earnings before the market opens on February 24, which will be followed up by its conference call. There are so many questions management has to answer, and here are a few investors should consider going into its earnings release.
Staying on top of a mountain of debt
The market is panicking over whether or not Chesapeake Energy will be able to make its $500 million debt payment in March of this year. That appears to be the case, as the company had $1.76 billion in cash and a $4 billion undrawn revolving credit line that matures in 2019. This is a line that has been used a lot, so I will go into what has negatively and positively impacted Chesapeake's cash pile since the end of Q3.
During Q4, Chesapeake most likely outspent its cash flow steams and ate into some of its cash pile. Management guided for the company to exit 2015 with ~$1.5 billion cash on hand a while back, but appears to have since walked away from that guidance by dropping it from Chesapeake's presentations. The company spent $524 million on capex (including $99 million on capitalized interest), $88 million on non-capitalized interest payments, and $43 million on its preferred dividend payouts during Q3 2015.
Chesapeake generated $318 million in net operating cash flow in Q3, $476 million when factoring in working capital changes. Assuming Chesapeake makes ~$400 million (as energy prices moved even lower) after working capital effects in Q4 as it spends $500 million on capex, $40 million on preferred dividends, and $90 million on non-capitalized interest payments, the company would have burned through an additional $130 million of Chesapeake's cash pile. These are very rough numbers that are primarily for conceptual purposes.
Another factor to consider is that Chesapeake paid back $394 million of its 2.75% Contingent Convertible Senior Notes due 2035, that had a holders' demand repurchase date on November 15, 2015 (every five years bondholders had the right to get their principal back from Chesapeake), with cash on hand. Add that on to its potential ~$130 million outspend in Q4, and Chesapeake could have burned through ~$525 million. That would bring its cash pile down to $1.235 billion by the end of 2015.
To prop up its liquidity, Chesapeake guided for $200 million - $300 million in non-core asset sales by Q1 2016. That would plug the difference between the $1.5 billion forecast and the rough estimation above, but some of those deals might not have closed by the end of 2015 and there are a lot of variables to consider. For the sake of simplicity, let's assume that Chesapeake has $1.5 billion in cash as of Q1 2016, while keeping in mind that it could easily be a bit lower than that if its cash flow streams were really light last quarter.
That will imply that Chesapeake should be able to easily pay off the $500 million it owes in March 2016, leaving the company with $1 billion in cash to cover its outspend this year. This is why the $4 billion revolving credit line is so important. The borrowing base may get reduced this Spring, but as it is undrawn, it will still provide much needed liquidity for the company.
Now the debt payments after that is where it starts to get tricky for Chesapeake Energy. Before the company's bond swap, the company had $2.214 billion that could potentially come due in 2017, $1.044 billion in senior debt and the other is its $1.168 billion in 2.5% contingent convertible senior notes due 2037 that has a holders' demand repurchase date of May 15, 2017.
Below is a look at Chesapeake's debt maturities at the end of Q3 2015, and keep in mind it doesn't include the recent bond swap or the recent debt repayment. When including that, Chesapeake's convertible notes due 2035 outstanding principal drops down to around $2 million (basically nothing) and its senior notes due in 2017 comes in $253.5 million lighter (meaning the move bought the company a bit of leeway). Overall the bond swap reduced Chesapeake's total debt by just under $1.5 billion, cutting $23.9 million in annual interest payment liabilities in the process, but only a significant amount of longer dated bonds were tendered.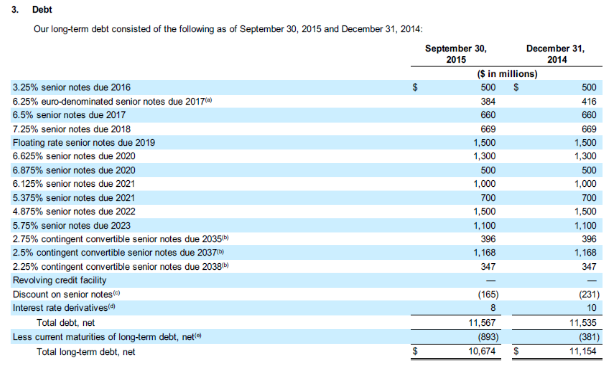 Source: Chesapeake Energy Corporation Q3 2015 10-Q
To pay the ~$1.95 billion off, Chesapeake needs to either enter into a big JV agreement in one of its core assets, which will raise cash as it reduces its stake and capital requirements, or sell off an entire operation. Short of a major rally in energy prices, Chesapeake Energy just simply won't have the liquidity by then to service that debt load.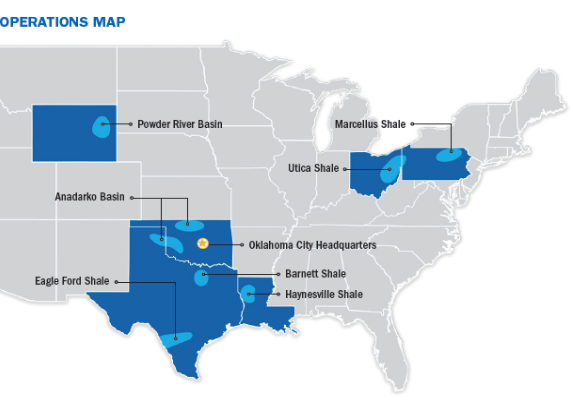 Source: Chesapeake Energy Corporation Fact Sheet
By 2017, if things don't change, Chesapeake's borrowing base has a high likelihood of getting cut down while its $1 billion cash pile gets depleted to cover a potential cash flow shortfall this year. While one could envision a scenario where Chesapeake maintains its borrowing base and covers its 2017 maturities, it could still have to deal with plenty of additional debt maturing in 2018-2019 (including its revolving credit line). In order to survive beyond 2016, Chesapeake needs either to sell off a core asset or to establish a JV, even if it is at unfavorable prices.
Freeing up cash flow
During 2015, Chesapeake Energy spent an estimated $3.5 billion on its capital expenditures. By Q4 2015, management guided to bring that down to a $500 million quarterly spend rate. Expect that to be pushed much lower this year, as Chesapeake's cash flow streams would come short of a $2 billion capex budget at current prices. Chesapeake will be forced to sacrifice part of its production base in the form of output declines as it dramatically curtails drilling activity. It's possible the company will spend around $1 billion on capex, maybe even less, this year.
In order to further enhance its financial position, Chesapeake suspended quarterly dividend payments on its preferred stock. That will free up $170 million in annual cash flow that management plans to use to buy back debt that is trading well below par. Keep in mind its common dividend was also cancelled back in 2015. This is a good move, but will only marginally help solve Chesapeake's liquidity problems.
Final thoughts
When rumors swirled regarding Chesapeake Energy Corporation's ability to pay off its March 2016 debt maturities, the market aggressively punished the stock and sent shares below $2. Those fears may be somewhat misplaced, but the market's reaction is a sure sign that management needs to make major moves in order to have enough cash to service its debt load. Investors should pay close attention to any comments regarding further capex cuts and the expected decline in production, another senior secured bond swap, and above all the chance of a significant asset sale in the near future.
For now, Chesapeake Energy Corporation will survive, it has its revolving credit facility, cash on hand, and a large asset base to fall back on. However, 2016 is the year where something has to happen in order for this company to remain solvent. Chesapeake Energy Corporation could be a multi-bagger investment if it finds a willing buyer/partner and is able to find a way to keep to lights on until prices materially recover, but on the flip side, the market is pricing its shares so low because of the very real risk the company will go bankrupt.
Disclosure: I am/we are long CHK.
I wrote this article myself, and it expresses my own opinions. I am not receiving compensation for it (other than from Seeking Alpha). I have no business relationship with any company whose stock is mentioned in this article.