Record TIC Flows
"There was a record monthly amount of "selling USTs" in foreign channels, a dearth of private "dollar" activity and, perhaps most important of all, bank liabilities for the last quarter of 2015 shrinking again at a troubling rate.... If foreign official channels are being forced to respond in such dramatic fashion, such reactivity is clearly due to bank balance sheet reductions..... The sum total of the TIC estimates provides another cumulative confirmation that the "dollar" problem is huge, widespread and originating with banks that no longer wish to act as money dealers." - Jeffrey P. Snider
Click to enlarge
Above note, the ongoing contraction with December being by far, the largest one month decline on record. Central banks and governments are having to shift dollar assets to fill the gap in market making left by the "disintermediated" banks, while at the same time foreign bank balance sheet dollar liabilities are contracting (read eurodollar).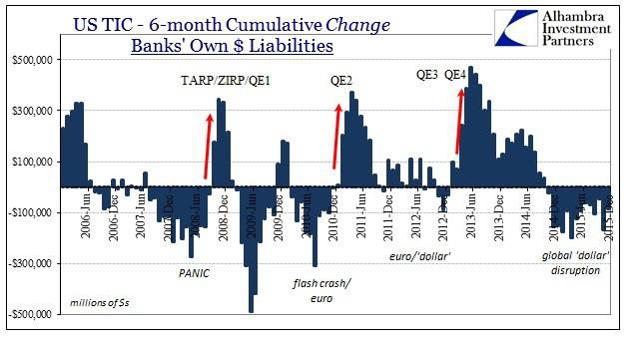 Above note, since June 2013 a cumulative negative $600B shift in bank dollar liabilities. And what of the other side of the ledger?
ED Liquidity Contracting?
As Mr. Snider aptly points out, to paraphrase, this "shift" is concomitant with two global liquidations and ongoing long term contraction in the unregulated credit based Eurodollar market. All of which speak to bank balance sheet positions (the composition of vis a dearth of HQLA and less dollar liabilities) and the concomitant contraction in petrodollars. Going one step beyond, consider the resulting contraction in eurodollar leverage and velocity which affects overall shadow banking, market making and systemic liquidity. Speaking of which...
Above note the June 2018 ED (eurodollar) contract, all last year +70bps, since Jan 1st +104bps, a constriction in credit based eurodollar market liquidity? On a chart that spike is concomitant and matches these items mentioned in Macronomics comprehensive missive: Coco, HY and breakeven whole loan spread spikes and DB's (NYSE:DB) (Deutsche Bank) cost for capital...
DB NIM and Working Capital Compression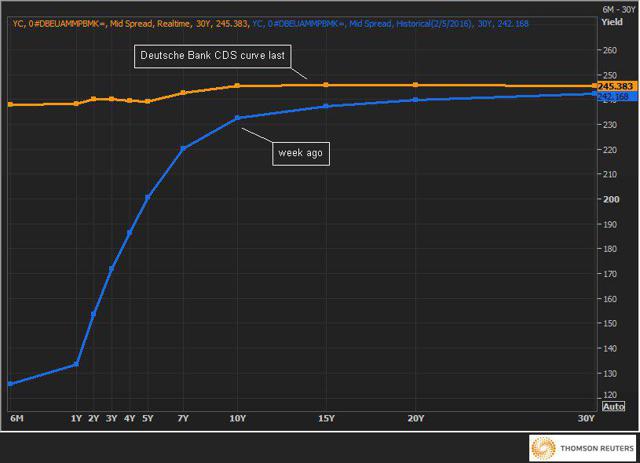 Click to enlarge
Above note, in only one week, short end of the curve 6M tenor +120bps with everything 10yr and less doing a full tilt boogie to pancake their lending cost curve at 240bps. With already uber thin NIM and deeper NIRP?
"Credit always lead equities... the "savings glut" theory of Ben Bernanke and the FED is hogwash... Asset price inflation in general, is not a phenomenon which is limited to one specific market but rather has a global impact... a strong decline in asset prices effects on all risky asset classes due to the reduction of liquidity. This is a very important finding, as it explains the mechanism behind a global crisis. Spillover effects are liquidity-driven and liquidity is a global phenomenon." - Martin at Macronomics
Under the right circumstances, I don't know if a "rogue wave" as Martin would put it, may be necessary to capsize that listing ship. TBD. What happens if the covenants on their Coco's are invoked? Those bonds convert to shares, diluting the existing pool, driving the "value" down further.
The Convergence or Nutcracker Suite?
In any event, DB, many banks, EM's, the oil patch, and anyone holding leveraged or HY debt are all sounding a bit "soprano like" because they are caught in a convergence which commonly occurs during recessions and bubble deflations.
While equity valuations fall, debt to equity valuations rise; while the non cash asset to equity valuations fall. Read, the valuation of the stock buybacks and in some cases, what are now credit liabilities (bonds, debentures or debt incurred) for the buybacks, caught going both ways or double whammy.
The resulting squeeze on working capital, cash and non cash, ouch, could put some of these already dancing on thin ice borrowers and equity/debt holders noix in a proverbial vice. So you could call that convergence, the Nutcracker Suite? Yeah, Tchaikovsky roll over, and who might like that?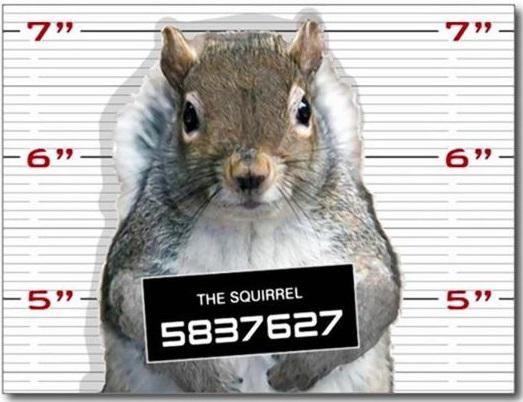 This is the 15th in a series of thematically related missives which will attempt to identify the macroeconomic forces with potential to adversely effect capital, commodity, equity, bond and asset markets.
I wish to dedicate this missive, to one of my mentor's Salmo Trutta, who is a prolific commenter on SA. Without Salmo's tutelage, and insistence in not masticating and spoon feeding the baby ducks, as in learning the hard way, by doing the leg work and earning it, this missive would not have been possible. To you "Proximo"... "win the crowd and win your freedom" - Spaniard
Since the market potential is broad in both scope and scale, our conclusion: more grief in the dollar "short" or squeeze and its associated liquidity issues, with the potential to adversely effect capital, commodity, equity, bond and asset markets. Will it happen? TBD, and forewarned is forearmed.
As for how all of the above ties into the potential and partial list of market plays below... the market as a whole could be influenced, and this would tie into any list of investments or assets. Those listed below happen to influence the indices more than most.
Would like to thank you folks fer kindly droppin in. You're all invited back again to this locality. To have a heapin helpin of Nattering hospitality. Naybob that is. Set a spell, take your shoes off. Y'all come back now, y'hear!
Investing is an inherently risky activity, and investors must always be prepared to potentially lose some or all of an investment's value. Past performance is, of course, no guarantee of future results.
Before investing, investors should consider carefully the investment objectives, risks, charges and expenses of an investment vehicle. This and other important information is contained in the prospectus and summary prospectus, which can be obtained from the principal or a financial advisor. Prospective investors should read the prospectus carefully before investing.
Below, recommended reading for those invested in mutual and bond funds, ETFs, REITs, HY, leveraged, EM, oil, energy, bonds and the broader markets. Why? There are many macroeconomic cross sector and market asset correlations involved that affect your investments. Economic conditions, the eurodollar, global dollar debt and monetary policy all influence the valuation of the above and market plays below, via King Dollar's value, credit spreads, swap spread pricing, market making, liquidity, monetary supply and velocity, just to name a few.
Market Warning: Reading not only those listed below, but also every installment of these multi-part missives could lead to a better understanding of the market forces in play and how to profit from them.
For a complete missive series listing, click here.
These global economic developments could affect numerous capital and asset markets, sectors, indexes, commodities, forex, bonds, mutual funds, ETFs and stocks.
A List of Potential Market Plays (Long or Short?):
Disclosure: I/we have no positions in any stocks mentioned, and no plans to initiate any positions within the next 72 hours.
I wrote this article myself, and it expresses my own opinions. I am not receiving compensation for it (other than from Seeking Alpha). I have no business relationship with any company whose stock is mentioned in this article.
Editor's Note: This article covers one or more stocks trading at less than $1 per share and/or with less than a $100 million market cap. Please be aware of the risks associated with these stocks.