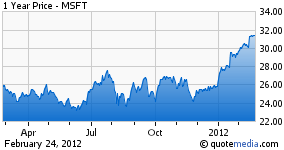 Microsoft (NASDAQ:MSFT) is a giant company, at over 263 billion market cap. For years, Microsoft was a tech growth stock, best known for their Windows operating systems. For people who haven't been watching Microsoft stock lately, it has changed from a no dividend tech stock to a formidable dividend payer.
Microsoft began to offer a dividend in 2004 with a special dividend of 3 dollars a share, then a quarterly dividend of 8 cents a share. Since then, the dividend has increased to 20 cents a share quarterly. While today this is only a 2.56% yield, there is considerable room for growth in this dividend.
EPS for Microsoft per year, is as follows, per diluted share:
2004: $0.75
2005: $1.12
2006: $1.20
2007: $1.42
2008: $1.87
2009: $1.62
2010: $2.10
2011: $2.69
2012: $2.68 - projected
2013: $3.00 - projected
Currently the dividend payout is only about 30% of the EPS. If Microsoft keeps to this payout, expect a dividend of 90 cents per year for 2013, which would be closer to a 3% payout at the current stock price. This isn't a dividend to get rich on, but I also believe this stock has some possibility for appreciation.
I believe stock appreciation will happen after the release of Windows 8. Microsoft is not just building another operating system for PC's, this OS is going to be more geared to mobile devices like tablets, smartphones and PC's. I know it's hard to get excited for another version of Windows, when they usually need a service pack shortly after release, but Windows 7 has been quite solid from the start, and I expect more of the same from Windows 8. Microsoft will gain tablet market share, as HP (NYSE:HPQ) is already planning a tablet with the new software on it, and I can imagine other companies aren't far behind. This may also breathe new life into the Windows Phone, which is nothing to write home about today.
Microsoft is up over 20% since the start of the year, but many other blue chips are as well. Microsoft is trading in a range which they have for the past 2 and a half years. In conclusion, I believe Microsoft has the abilities to show stock appreciation as well as dividend appreciation.
Disclosure: I have no positions in any stocks mentioned, and no plans to initiate any positions within the next 72 hours.