By Charles Kaplan
It's hard to find a company with an upbeat earnings report. It seems almost every other company is cutting guidance or reporting disappointing results. Most are pinning the blame on China, a strong dollar, weak demand, falling commodity prices, changes in consumer trends and even the weather is used to explain away earnings shortfalls. It nice to come across a company that seems to be bucking the trend with improving earnings and strong guidance. The company I am referring to is BioTelemetry (NASDAQ:BEAT) which just reported a good Q4 and strong 2015 results.
One of the nice things about BioTelemetry- it's not widely followed by analysts and trades under the radar on NASDAQ. Most investors are unaware it even exists. In today's volatile market less coverage is better and not being widely followed a plus.
Just to fill you in here is a brief background sketch on BioTelemetry. Company was formed from CardioNet, Inc. a cardiac monitoring company with state-of-the-art technology. BioTelemetry was organized in 2013 as a holding company acquiring shares in CardioNet through an exchange of shares on a one for one basis (one share of CardioNet exchanged into one common share of BioTelemetry) . Since its inception BioTelemetry has grown through a series of timely acquisitions in the remote cardiac monitoring field.
In recent years, revenues have been trending higher. Revenues in 2015 totaled $178.5 million up 7.2% from $166.5 million in 2014. Net income appears to be on the same trajectory moving higher. BioTelemetry reported GAAP net income of $7.4 million in 2015, a milestone for the company. This compares to a GAAP loss of $9.0 million for 2014. GAAP earnings for 2015 came in at $0.26 per diluted share compared to a loss of $ (0.37) per diluted share in 2014. Results for 2015 are much higher on a Non-GAAP basis where other charges have been added back as income after being subtracted out for GAAP calculations. Non-GAAP earnings came in at $0.46 per diluted share vs. $0.10 per diluted share in 2014. A record for the company.
More specifically, Q4 was a good quarter for the company with revenues for the three months ended Dec. 31 climbing 7.1% to $46.7 million up from $43.6 million in the like quarter of 2014. Results from its newest service- CardioKey boost Q4 results. Gross profit margins for Q4 rose to 60.4% up from 56.2% in the like quarter of 2014. For the fourth quarter the company reported its highest quarterly EBITDA in its history totaling $10.1 million. For 2015 a record EBITDA of $33.0 million was reported. GAAP earnings for Q4 totaled $0.10 per diluted share compared to a loss of $(.06) per diluted share for the like quarter in 2014. Non-GAAP Q4 earnings came in at $0.15 per diluted adjusted share vs. $0.05 per diluted adjusted share in the like period of the prior year. All told, quarterly and yearly results were ahead of previous targets.
Presently, BioTelemetry serves several high growth markets in the mobile cardiac telemetry field commonly referred to as Telehealth. A generic term that defines numerous remote applications transmitting a wide range of medical data. The company's remote cardiac monitoring telemetry systems transmit heart beats , heart rates and cardiac events looking for irregular heart beats- arrhythmias to receiving centers that diagnose heart problems and potentially fatal episodes like irregular heartbeats. The telemetry monitoring field appears to be on the cusp of some significant developments that could expand the scope of its services to detect a wide range of illness far beyond cardiac problems.
U.S. Reps. Mike Thompson, Gregg Harper, Diane Black and Peter Welch have recently introduced H.R. 2948, the Medicare Telehealth Parity Act of 2015. This bipartisan legislation will expand coverage of Telehealth services under Medicare by putting them on the path toward parity with in-person heath care visits. If passed by Congress this bill could have a dramatic impact on the business plans of BioTelemetry. Telehealth services allow physicians to greatly expand the scope of their services to patients who cannot come into their office on a timely manner. It could also give 24 hour coverage to people with critical illnesses who need constant watching. In theory Telehealth services could raise our life spans a notch or help improve our quality of life. Not such a bad idea.
Just a short review of the company's operations. BioTelemetry has carved out a unique niche providing mobile cardiac monitoring services as well as performing cardiac related research for FDA drug and medical testing. The company's operations are divided into three distinct business segments: patient services, the manufacture of cardiac monitoring devices and research services. Its patient services represent the bulk of its revenues and are focused on the diagnosis and monitoring of irregular heartbeats and related disorders that could be fatal if not properly diagnosed. This business segment offers cardiologists and electrophysiologistics a full range of solutions for all their cardiac monitoring needs. As our population ages and baby boomers retire they will require the cardiac monitoring services of BioTelemetry. Such services can improve their quality of life and keep them ticking for many years past their prime.
Aging populations and the willingness of Medicare to pay for its monitoring services will boost the fortunes of BioTelemetry. A positive sign- BioTelemetry just received an 8% Medicare rate increase for its mobile cardiac telemetry telehealth monitoring services. Another plus, management is forecasting low double digit revenue growth for 2016 and a 20% adjusted EBITDA margin for the year.
I would like to add a word of caution. The Telehealth field is only in its infancy and it is too early to predict who the final winners will be. The company faces stiff competition from some of the leaders in the healthcare field who have the financial resources to outspend it ten to one. Also, newly emerging technologies could change the playing field in short order. I would like to make this crystal clear BioTelemetry is not for risk adverse investors who are prone to heart palpitations when stocks decline. Another caveat, this stock is not immune to business and financial risk- despite what you learned in business school. Healthcare stocks are also affected by market conditions and volatility. In conclusion, BioTelemetry looks well positioned at the starting gate of the newly emerging Telehealth services field, but a long arduous race with many challenges must be won before any winners are announced.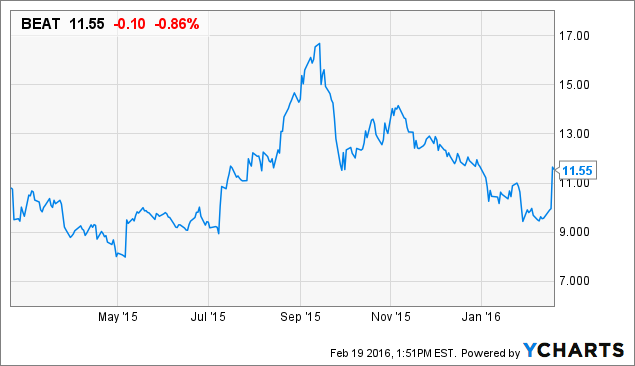 Disclosure: I/we have no positions in any stocks mentioned, and no plans to initiate any positions within the next 72 hours.
I wrote this article myself, and it expresses my own opinions. I am not receiving compensation for it (other than from Seeking Alpha). I have no business relationship with any company whose stock is mentioned in this article.