Overview
We are putting together a weekly podcast that is dedicated to learning as much as we possibly can from investors primarily focused in the dividend investing space. Each show starts off with some recommendations on articles or other content that we found interesting and think is worth your time to check out to further your dividend investing education. We then will move to the main part of the show, which is an interview with various folks in the Dividend Investing world.
Articles of the Week
DGI Guy used a quote instead of an article in this episode. The quote comes from an article that Robyn Conti had written back at the end of 2015 that quoted the book Super Forecasting (for clarification, Tim Plaehn actually read and quoted the book in his response in Robyn's article). It speaks to the idea that "experts" are not really experts and thus we should not listen to them:
"Few experts saw this coming. And yet it wasn't long before most of those who didn't see it coming grew convinced they knew exactly why it had happened, and what was coming next."
Also, Dr. Dividend's article: By using some very simple line items from the balance sheet and income statement, one can determine very quickly how healthy an MLP is and to look from a trending perspective if it is getting stronger or weaker over time.
Guest
Our special guest in this episode is Ted Leach. Ted goes by the name Dividend Sleuth on Seeking Alpha. In this first part of our two-part interview, we explore the following topics:
Who got Ted into investing?
What metrics does Ted use to evaluate a stock?
By using these metrics, what was a recent purchase Ted made?
How much do the ethics of the business play into Ted's investing decision?
Stock Mentioned In This Podcast
In the answer to the second to last question, Ted talks about Nucor (NYSE:NUE). For those of you unfamiliar with Nucor, Reuters provides the following introduction: Nucor Corporation (Nucor) manufactures steel and steel products. The company also produces direct reduced iron (DRI) for use in the company's steel mills. It also processes ferrous and nonferrous metals and brokers ferrous and nonferrous metals, pig iron, hot briquetted iron (HBI) and DRI. Nucor operates in three segments: steel mills, steel products and raw materials. In the steel mills segment, Nucor produces and distributes sheet steel, plate steel, structural steel and bar steel. In the steel products segment, Nucor produces steel joists and joist girders, steel deck, fabricated concrete reinforcing steel, cold finished steel, steel fasteners, metal building systems, steel grating and expanded metal, and wire and wire mesh. In the raw materials segment, the company produces DRI; brokers ferrous and nonferrous metals, pig iron, HBI and DRI; supplies ferro-alloys, and processes ferrous and nonferrous scrap metal.
You can see below that their earnings are a bit rocky. You can also see what Ted highlights in his interview - the dividend growth rate of the past 5 years is not great, but if you expand the window to 10 years, then it is reasonable.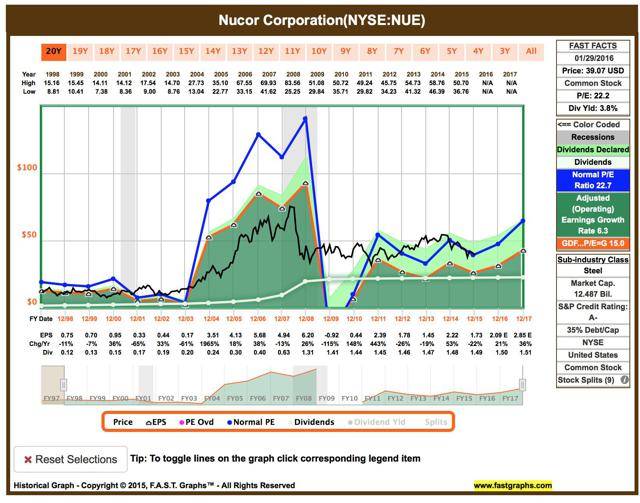 Click to enlarge
The F.A.S.T. Graph chart below details the dividend performance over the past 20 years.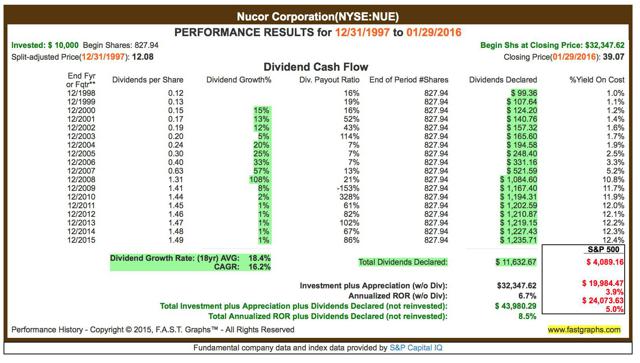 Click to enlarge
Future Shows
If you have specific questions or want to be a guest on the show, please feel free to reach out to us on Seeking Alpha or email us at dividendhealthcheckup@gmail.com. This will be audience driven. We want to create a show that helps you be better dividend investors and to do that, we need to know what you want. We look forward to exploring the journey together.
As a reminder, we will be bringing you a new episode each week where we will be discussing topics within the dividend investing space. If that sounds like something you are interested in, then I encourage you to please subscribe to our podcast on iTunes, sound cloud or your favorite podcast app. We would also appreciate you taking the time to rate and review our podcast in iTunes. The feedback to us is very helpful!
To Your (Dividend) Health.
Disclosure: I/we have no positions in any stocks mentioned, and no plans to initiate any positions within the next 72 hours.
I wrote this article myself, and it expresses my own opinions. I am not receiving compensation for it (other than from Seeking Alpha). I have no business relationship with any company whose stock is mentioned in this article.