As everyone knows, if businesses were to collude on prices that would bring down the hammer from the Federal Trade Commission. It isn't allowed in any industry I can think of, except of course in the oil and gas industry.
Put aside for the moment that the Organization of Petroleum Export Countries (OPEC) actually discusses, on a regular basis, how much oil to produce, which consequently, has massive ramifications for the magnitude and direction of changes in oil prices. Yes, that is certainly blatant. But driving down the boulevard in any major city is probably the most blatant price collusion I've seen that affects you and me directly.
Think about what you see at the corner of most major intersections. If you still don't see it, imagine looking down at the dashboard of your car and noticing a certain arrow pointing at the letter "E" in one of your instruments. If you still haven't figured it out, you're out of gas, literally and figuratively.
Gas stations are on the corners of most major intersections and they have huge signs advertising the price you'd pay for a gallon of gas if you stop there to fill up. But are they really advertising to you or are they signaling to their competitor across the street what they intend to set their price at. I don't know about your town, but in my town, the price of gas for two gas stations across the street from each other on a major intersection are surprisingly ... exactly the same. Coincidence, maybe, maybe not. I'll leave that discussion for another day.
Returning to OPEC, earlier this week Saudi Arabia and Russia decided to freeze oil output in order to stabilize the declining price of oil. Up until now, Saudia Arabia had refused to cut production in favor of maintaining market share, but with oil prices having been on a slippery slope (no pun intended), it seems the Kingdom had had enough.
With the announcement, I got to thinking -- I wrote an article on oil last year highlighting Ring Energy (NYSEMKT:REI) and its focus on digging in the Permian Basin, which, I argued, was a much better play than the Bakken or Eagle Ford basin. Unfortunately, the price of oil continued to collapse and it turned out it was not a good call -- at least not yet. In that article I also mentioned Exxon Mobil (NYSE:XOM) as being one of the largest companies in the sector. At the time it had a market capitalization of over $400 billion. I was curious as to how it had performed relative to Ring Energy so I did some comparisons. As you could see from the chart below, Ring Energy tanked, down 63% since I wrote the article. (Don't worry, I didn't ride it all the way down -- I have stop losses on all of my positions.) Meanwhile, Exxon Mobil held up pretty well with only a 10.5% decline.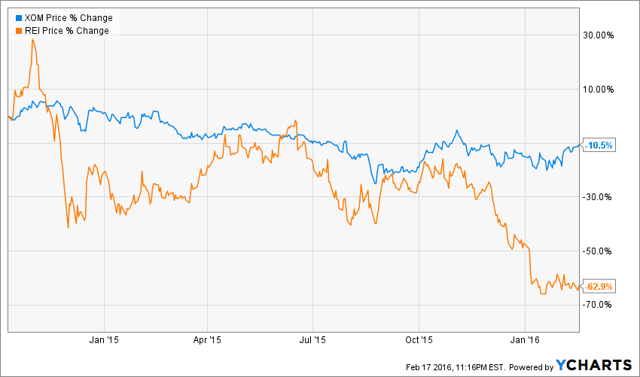 Click to enlarge
Ring Energy, on the other hand, continued to decline right along with the decline in the price of WTI Crude.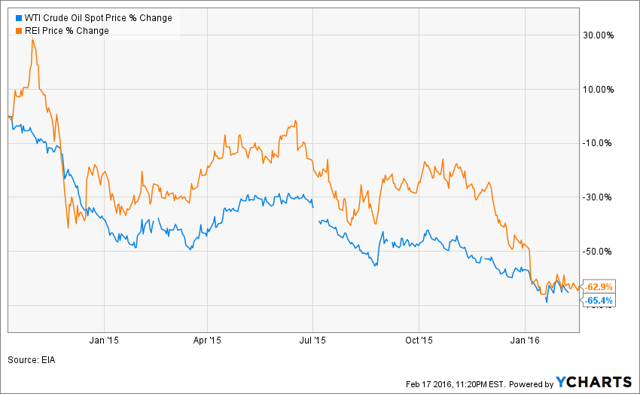 Click to enlarge
But Exxon Mobil initially started tracking the decline in oil, albeit at a less dramatic pace, but it stopped falling in the latter half of 2015 and stayed relatively flat until it began to rise in January. Always looking for new ideas to consider, I thought it was worth a look.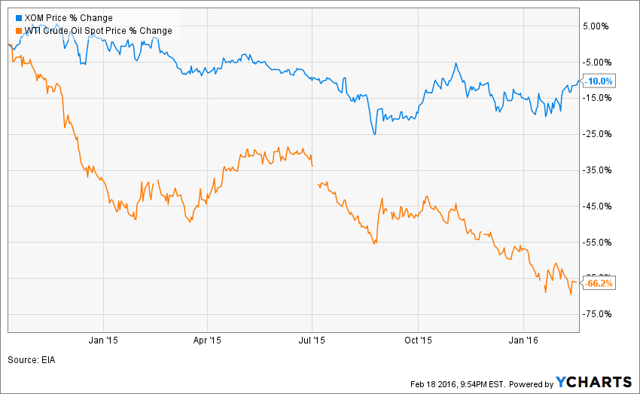 Click to enlarge
Not one to focus exclusively on charts and technical analysis, I needed to understand a bit more about the fundamentals and what the rationale would be to invest in a sector that many consider to be akin to the black plague -- not black gold. For starters, Exxon Mobil has a market cap of $340+ billion so unlike Ring Energy or other wildcat companies, I could feel certain that at least for the foreseeable future, the company will be around.
The second metric that jumps out at me is the decent dividend yield of 3.56%. That isn't bad, but with dividend stocks under the gun during times of interest rate rises (what interest rate rise?), the more important thing to consider is dividend growth and sustainability. Over the last 10 years, Exxon Mobil has increased its dividend from $1.19 per share to $2.88 per share. At least historically, it has shown a propensity to reward shareholders through increases in its dividend.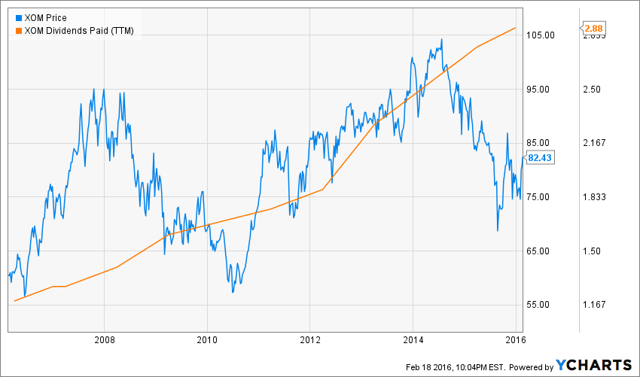 Click to enlarge
But with the price decline from over $100 to a recent $82.43, and earnings per share hitting a five-year low, it is important for me to understand the underlying cash flows financing that dividend and how well it could continue to drive dividend growth.
On both counts, it seems investors should be safe. While the payout ratio has reached 61% -- a level not seen since 2002, the payout ratio for Exxon Mobil has been as high as 86% and dividends continued to increase.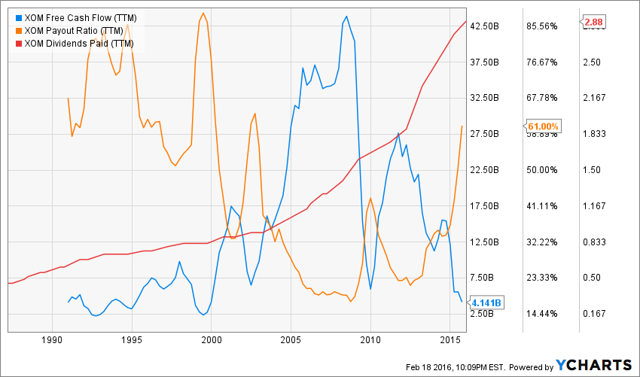 Click to enlarge
This is about the spot where I must add that historical performance is not indicative of future results, but we could certainly refer to history to get a gauge of the company's tendencies -- even if management has changed over the years. And based on recent cuts in capital expenditures to compensate for lower oil prices and lower net operating profit, I don't see why dividends cannot continue to grow.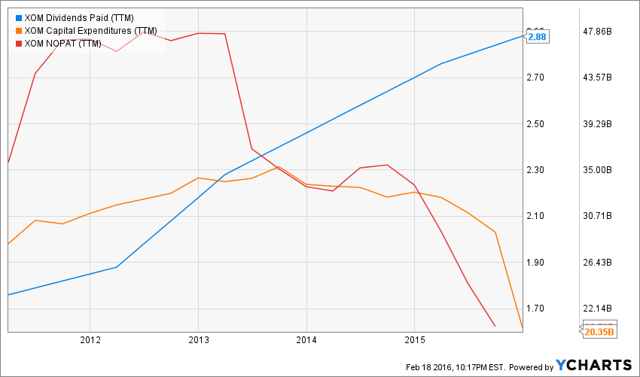 Click to enlarge
The stock does look a bit rich with a P/E ratio of 21.4 -- a multi-year high and a level the stock hasn't reached since the early 2000s. The attractiveness of the stock, however, is its dividend and dividend growth potential. Any price appreciation would be gravy, but oil prices and oil stocks in general would have to recover before that happens. In the meantime, getting paid 3.56% to wait for a price pop isn't a bad option when the 10-year Treasury is under 2%.
Disclosure: I/we have no positions in any stocks mentioned, and no plans to initiate any positions within the next 72 hours.
I wrote this article myself, and it expresses my own opinions. I am not receiving compensation for it (other than from Seeking Alpha). I have no business relationship with any company whose stock is mentioned in this article.