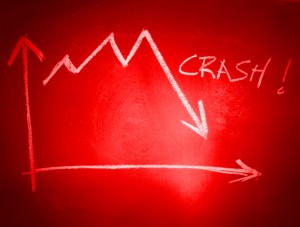 Source: ©iStock.com/bofotolux
There is always the possibility of recession at any point in time and in any country. However, we must understand the difference between possibility and probability. Therefore, using Google Dictionary, we can define these two words as:
Possibility: An event that may happen.
Probability: The likelihood of an event happening.
Lately, there is a lot of fuzz about a possible recession in the U.S. economy. Several analysts interviewed in major media channels such as CNBC, CNN, and FOX Business claim that the U.S. economy is a possible recession path. Analysts suggest that low crude oil prices evidence the slowing in the manufacturing sector, and that China is on the verge of a significant slowdown. Other opinions claim that earnings revised downward, economic data miserable, and increasing interest rates have doomed the U.S. economy and stock market is bound to enter into a bear market. However, are we truly heading into a recession? This manuscript analyzes two significant gauges in search for the answer.
Are we heading towards a recession?
The Treasury yield curve
The Treasury yield curve has been a good barometer to forecast recessions. For instance, during the financial crisis of 2008, the Treasury yield inverted in August 2006 and remained inverted for two years until June 2008. Shortly after, the markets heard about Lehman Brothers, and the market crashed. The market bottom in March of 2009 happened nine months after the Treasury yield curve reversed to its normal shape. The inversion of the yield curve in 2006 signaled that there was something wrong, and that investors needed to pay close attention to their portfolios. Just as in 2006-2008, the Treasury yield curve inversion preceded every recession since 1970.
If investors are looking for hints regarding a possible slowdown or recession, we must observe the Treasury yield curve. As it can be seen, the Treasury yield curve is in its normal phase where short-term bills have lower yields than long-term notes. Therefore, the possibility of a recession is very low. Personally, I am using these dips as buying opportunities in quality stocks that have outperformed the S&P 500.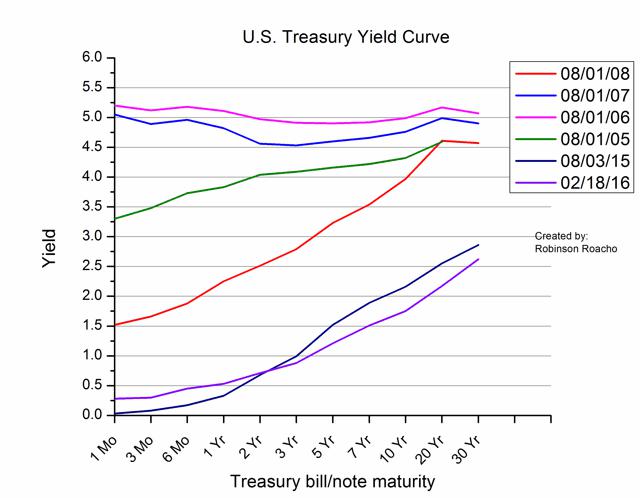 Click to enlarge
Another example of the yield curve
To illustrate the Treasury yield curve further, we can turn to Brazil. The Brazilian BOVESPA has been hit severely over the last two years. The iShares MSCI Brazil Capped is an investment vehicle (NYSE: EWZ) that may be used to gain exposure to the Brazilian stock market. Over the past twelve months, EWZ has lost 42% while the SPDR S&P 500 ETF (NYSE: SPY) has lost 6%. The clear underperformance was due to worries about the economic slowdown that Brazil experienced over the past few years.

Click to enlarge
By looking at the Brazilian Treasury yield curve, we can see that the yield curve was inverted last year signaling trouble in the near-term. However, during the last twelve months, the yield curve has returned to its normal phase where the yield of short-term Treasury bills is lower than the yield of long-term maturity notes. This movement suggests, at least to me, that the worst is over and there is only improvement from this point on. As Warren Buffer has said, "Be greedy when others are fearful". It may not be a bad idea to start building a position in EWZ to catch the rebound of the Brazilian index.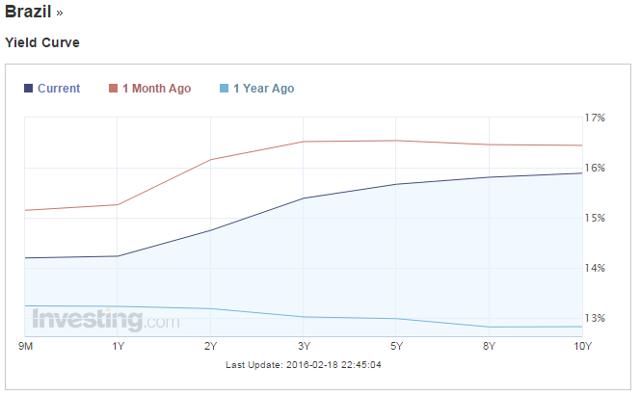 Click to enlarge
Retail sales increased YoY
Returning to recession indicators, retail sales is another gauge that we could use to predict economic slowdowns. If consumers spend money, the government collects taxes which are used to invest in infrastructure, education, health, etc. Also, as consumers spend money, companies gain profit which is used to improve products, provide services or fund new projects.
Last week, the U.S. census bureau released the retail sales for the month of December 2015. Overall, retail sales increased for the year even when discounting the 2015 USD dollars by 2% due to inflation. I believe that as the unemployment rate decreases and working hours increase, consumers will spend more money.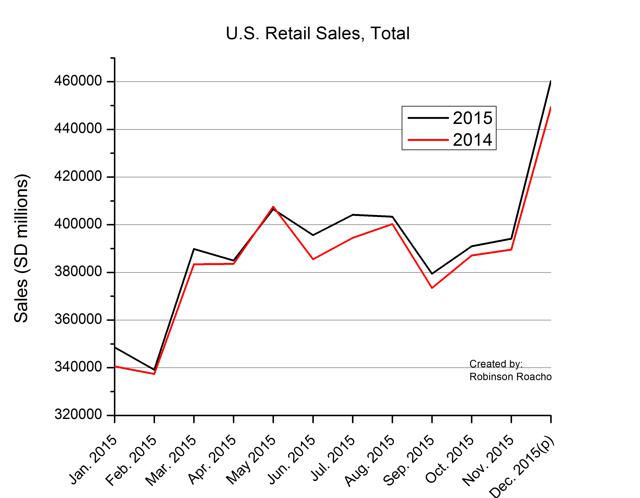 Click to enlarge
The take home message
The Treasury yield curve has been an indicator of recessions in the past. Therefore, investors must analyze the Treasury yield curve now in search for hints that would point to an economic slowdown or recession. Presently, the Treasury yield curve is in its "normal" phase where short-term maturity notes have lower yields than long-term maturity bills. This indicates that the risk of recession is very low. Moreover, retail sales for the month of December 2015 confirm that consumers have confidence in the U.S. economy and they are spending money. Therefore, in my opinion, the risk of a recession is very low. I agree that perhaps not all of the companies will participate in future rallies due to sector rotation. Hence, if investors want to reduce the unsystematic risk, a plausible idea is to acquire a long position in the SPY.
Disclosure: I am/we are long EWZ.
I wrote this article myself, and it expresses my own opinions. I am not receiving compensation for it (other than from Seeking Alpha). I have no business relationship with any company whose stock is mentioned in this article.