By Brendan Gilmartin
Overview
Lowe's (NYSE:LOW) is scheduled to report 4Q 2011 earnings before the bell on Monday, February 7. The results are typically available at 7:00 a.m. EST and will follow with a conference call at 9:00 a.m. EST. The earnings report from Lowe's comes after an impressive report on Tuesday from rival Home Depot (NYSE:HD), reflecting the improving health in the housing and retail segments.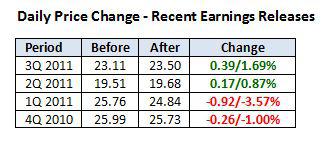 Outliers and Strategy
In its prior release, Lowe's provided the following guidance for the 4Q 2011 period:
Earnings Per Share: Diluted earnings per share of $0.20 to $0.23 are expected. The Street consensus is $0.24, with some estimates running as high as $0.28. (Source: Yahoo Finance)
Comparable Store Sales Guidance: Flat to 1.0%.
Total sales are expected to increase approximately 8% y/y. That equates to $11.318 bln. The consensus is $11.34 bln.
Keep an eye on the outlook for FY2012. The company has yet to offer formal guidance on 2012. The estimate is $1.79. The outlook for the 1Q 2012 period will also garner close scrutiny, given the importance of the spring selling season.
Given that Lowe's telegraphs its guidance in advance, the actual results for the quarter tend to fall within the boundary of investor expectations. The forward guidance will therefore be watched very closely and may dictate price movement.
Key takeaways from Home Depot's fourth quarter earnings release to watch for:
Net earnings were $774 million, or $0.50 per diluted share, topping the Street estimate of $0.42.
Comparable store sales were 5.7%, and comp sales for U.S. stores were positive 6.1%.
Earnings for FY2012 are expected to come in at $2.79 per share, above the consensus of $2.76.
Warm weather helped customer traffic in the U.S. with steady recovery in markets like Florida and California.
The Canadian business had positive comps, while the Mexican business had another quarter of positive comps, marking 33 consecutive quarters of positive comp growth.
Recent News
02/17: Jefferies raised its price target on Lowe's from $22 to $25 in anticipation of improving housing data, according to a post on Benzinga.com.
02/14: Bill Ackman of Pershing Square Capital Management cut its 21.2 mln share stake in Lowe's during the 4Q. 13-F filing.
12/06: Lowe's reiterated its outlook for FY 2011, saying total sales are expected to increase 2%-3%, with diluted earnings per share in the range of $1.37 to $1.40.
Technical Review
Lowe's shares recently touched a 52-week high of $28.46 (2/21), responding to the stronger than expected earnings from rival Home Depot that very same day. Since then, however, the shares broke the 20-Day SMA (~$27), a key support level going back to mid-November. Should earnings disappoint, look for support near the 50-Day SMA at $26.35, followed by $26 and $25. Resistance is at the recent highs near $28. (Chart courtesy of StockCharts.com)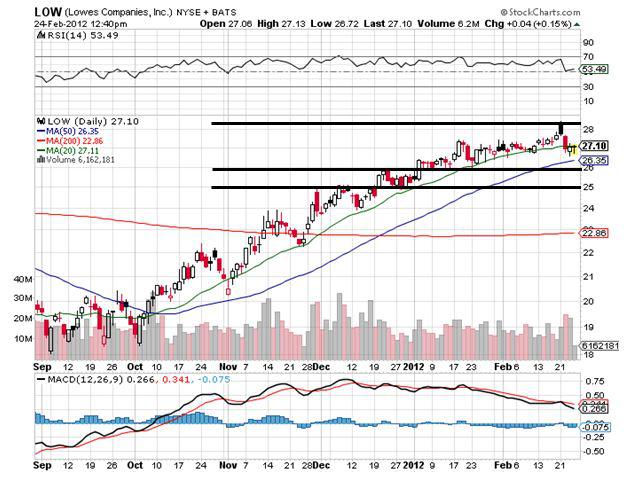 Click to enlargeSummary
Lowe's shares recently spiked to a 52-week high in reaction to the strong results from rival Home Depot, coupled with the improved outlook for housing, more favorable weather across many parts of the U.S. and early start to the Spring selling season, and an improved macroeconomic backdrop. Despite the positive backdrop, however, the recent pullback suggests much of the positive news could be priced in, leaving Lowe's shares vulnerable to any missteps. Guidance for 1Q and FY 2012 will be watched closely for clues entering the new fiscal year.
Disclaimer: By using this report, you acknowledge that Selerity is in no way liable for losses or gains arising out of commentary, analysis and or data in this report. Your investment decisions and recommendations are made entirely at your discretion. Selerity does not own securities in companies that they write about, is not an investment adviser, and the content contained herein is not an endorsement to buy or sell any securities. No content published as part of this report constitutes a recommendation that any particular investment, security, portfolio of securities, transaction or investment strategy is suitable for any specific person.
Disclosure: I have no positions in any stocks mentioned, and no plans to initiate any positions within the next 72 hours.