Looking for high dividend stocks with well-covered payouts? In this new era of dividend slashing, it's refreshing to find a stock that is maintaining its payouts. You would think that such a solid citizen would've been amply rewarded by the market, but it hasn't...until the past month.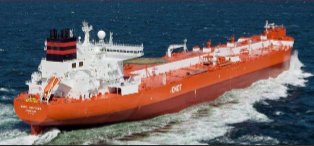 We've written about some other shipping stocks in recent articles, many of which have begun to get some respect from bargain hunters.

Profile: KNOT Offshore Partners LP (NYSE:KNOP) is a limited partnership formed in February 2013 to operate and acquire shuttle tankers under long-term charters. KNOP owns and operates 10 shuttle tankers under long-term charters in the North Sea and Brazil.
KNOP's sponsor, Knutsen NYK Offshore Tankers AS (Knutsen NYK), is a market leading independent owner and operator of shuttle tankers, which is jointly owned by TS Shipping Invest AS - TSSI, and Nippon Yusen Kaisha - NYK. TSSI is a private Norwegian company with ownership interests in shuttle tankers, liquefied natural gas tankers and product/chemical tankers. NYK is a Japanese public company with a fleet of approximately 800 vessels, including bulk carriers, containerships, tankers and specialized vessels. As of September 30, 2015, Knutsen Group owned a 30.7% limited partner interest in KNOP and a 2% general partner interest in KNOP, as well as the incentive distribution rights.
The company provides crude oil loading, transportation and storage services under time charters and bareboat charters. The company is headquartered in Aberdeen, the United Kingdom.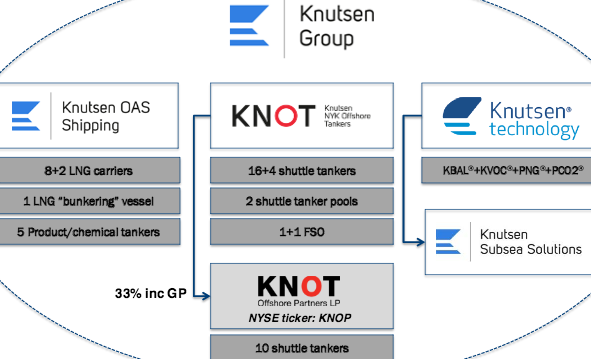 (Source: KNOP website)
Distributions: KNOP has a very attractive yield of 15.31%, with strong trailing 12-month distributable cash flow coverage of 1.22x.
Our High Dividend Stocks By Sector Tables track KNOP's price and current dividend yield (in the Energy section):

KNOP's distributions have increased by 39% over the minimum quarterly distribution in the 10 distributions since the 2013 IPO: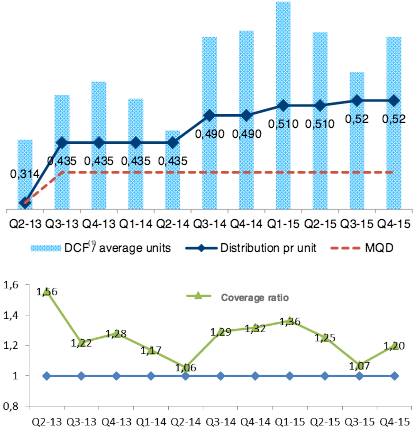 Taxes: Here's another attraction - KNOP's distributions are reported to unitholders on a 1099, and qualify for the qualified dividend tax treatment in the US.

Click to enlarge
(Source: KNOP website)
Options: KNOP currently has an attractive July 2016 put option available. The $12.50 put strike sells for a bid of $1.20, a 9.6% yield over around five months, or 23.68% annualized.
You can see more details for this and over 30 other put-selling trades in our Cash Secured Puts Table:

Click to enlarge
KNOP's call options aren't currently that attractive, but you can find many other trades in our Covered Calls Table, which tracks over 30 income-producing trades.
Earnings: Although its Q1 and Q2 2015 growth percentages were the most robust, KNOP has had steady quarterly growth over the past four quarters and just reported an outstanding Q4 2015.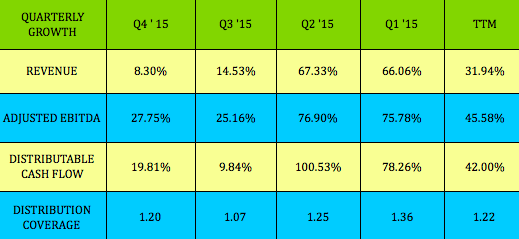 KNOP reported record revenue, EBITDA and DCF in Q4 2015: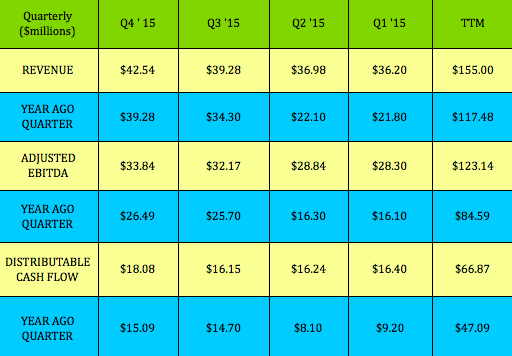 2015 vs. 2014: These are heady growth numbers for a non-tech stock, eh? Even with the unit count rising over 27%, EPS still rose nearly 17%, revenue grew 37%, EBTDA rose 45%, and DCF was up nearly 42%.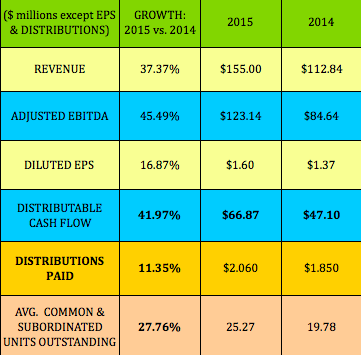 KNOP's numbers really ramped up in late 2014 and in 2015 as it added vessels. It has grown its fleet by 150% since its 2013 IPO: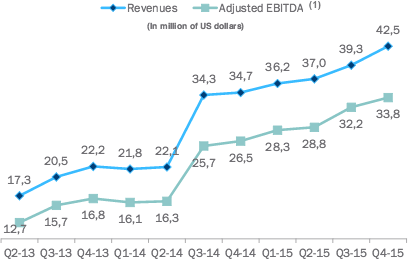 KNOP's fleet has an average remaining contract length of 5.6 years, with 2.5 years average extension. It also has the option to acquire five more dropdown vessels from its sponsor, all of which have long-term contracts, with extension options, with strong counterparties, such as Royal Dutch Shell (NYSE:RDS.A) (NYSE:RDS.B), Exxon Mobil (NYSE:XOM), Statoil (NYSE:STO) and ENI, among others: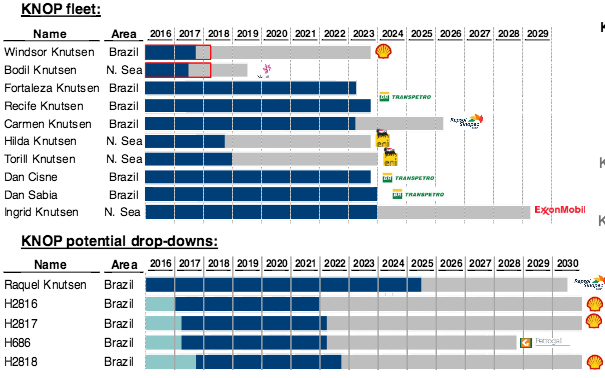 Shuttle tankers occupy a small, vital niche market - shippers/producers can't monetize their oil or LNG unless they get it from the transport ship to the mainland, and it's way more expensive to build a pipeline to do this, than to contract with a shuttle company like KNOP.
(Source: KNOP website)
2016 Guidance: On the 2/17/16 Q4 and full-year 2015 earnings release, KNOP's management issued guidance ranges for 2016, projecting good growth for revenue, EBITDA and DCF.
Although DCF should grow by 12% to 18%, they're currently being conservative, and forecasting a steady distribution of $.52/quarter, which would be 2.46% above the 2015 distribution.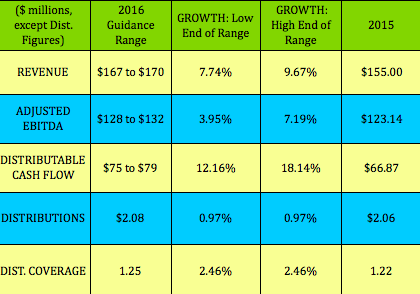 Analysts Estimates and Price Targets: Analysts raised their consensus earnings estimate from $1.77 to $1.85, which would represent 15.6% growth in EPS vs. $1.60 in 2015.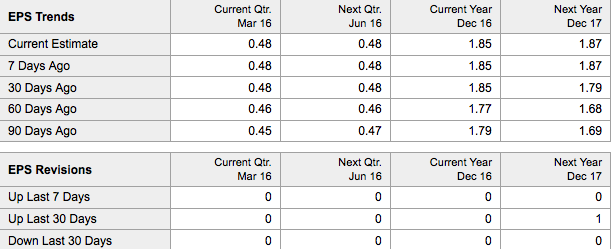 (Source: Yahoo Finance)
Even though KNOP is up over 23% in the past month, it's still 39% below analysts' mean price target of $18.90: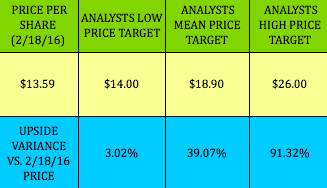 Valuations: We put together a comparison valuation chart which also includes some other stocks we've covered recently, including Golar LNG Partners, (NASDAQ:GMLP) and Dynagas LNG Partners, (NYSE:DLNG), in addition to Teekay LNG Partners, (NYSE:TGP) and Teekay Offshore Partners, (NYSE:TOO).
These stocks all have very low price/DCF/unit valuations, and KNOP and DLNG have the additional attraction of selling below their book values. KNOP is selling at just 66% of its book value.
TGP and TOO may have the highest distribution coverage, but they also slashed their distributions in Q4 2015, TGP went from $.56 to $.11, and TOO dropped from $.70 to $.14, respectively.

Click to enlarge
Financials: Although its ROE is the lowest, and its ROA is lower than most of the group, KNOP has the lowest debt/equity ratio of this group.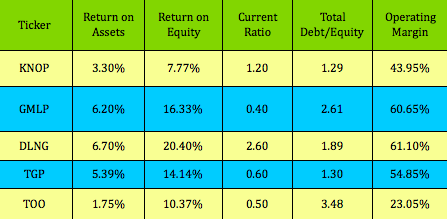 Debt: KNOP's current EBITDA/interest expense ratio is a strong 7.2x, much higher than its bank's required 2.5x ratio. Even adding in depreciation, its EBIT/interest expense ratio is still 4.7x.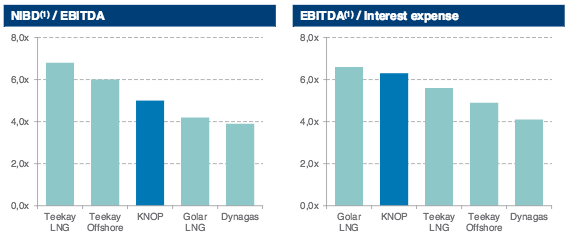 (Source: KNOP website)
All tables furnished by DoubleDividendStocks.com, unless otherwise noted.
Disclaimer: This article was written for informational purposes only. Please practice due diligence before investing in any investment vehicle mentioned in this article.
Disclosure: I am/we are long KNOP, DLNG, GMLP.
I wrote this article myself, and it expresses my own opinions. I am not receiving compensation for it (other than from Seeking Alpha). I have no business relationship with any company whose stock is mentioned in this article.