This article discusses Hercules Capital (NASDAQ:HTGC), which is one of a handful of internally managed business development companies ("BDCs") and focuses on venture capital-backed technology lending.
Patting myself on the back:
My recent articles have accurately timed BDC purchases/sales, including: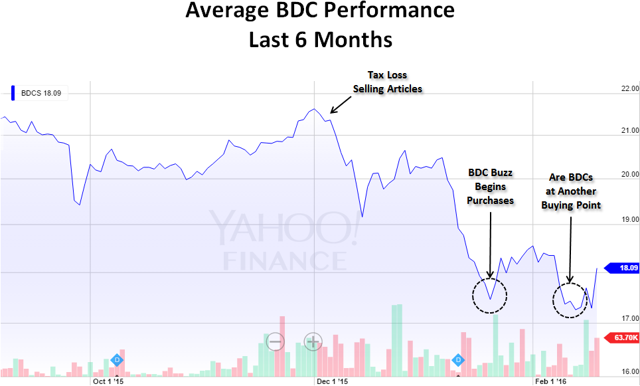 Click to enlarge
I believe that BDCs will have a sustained rally at some point in 2016, but likely after the remaining companies report results later this month and early March.
VC Lenders, Unfunded Commitments and the SEC: As mentioned in previous articles, the SEC has been assessing if and how much of the unfunded commitments for BDCs should be included for the regulatory asset coverage/leverage calculation. This was potentially responsible for the stock price underperformance in 2015 for BDCs that lend to venture-backed companies such as HTGC, Horizon Technology Finance (NASDAQ:HRZN) and TriplePoint Venture Growth (NYSE:TPVG). HTGC has been successfully working with the SEC as well as reducing the amount of unfunded commitments from the previous quarter, and the company believes this will be less of an issue going forward:
"... during the third quarter, we continue to manage down our unfunded commitments. We work diligently during the quarter to begin the reduction of unfunded commitments as we indicated that we would do in our second quarter earnings call. Unfunded commitments decreased from approximately $159 million in Q2 to $110 million in Q3, representing a 31% decline quarter-over-quarter."

"Although, it was a painful process, we would like to thank the SEC for their hard work during the third quarter, working diligently with Hercules and its legal staff, and finding a resolution that I'm sure BDCs were equally as thankful to the SEC achieving this endpoint. We're very grateful to the SEC for its filing, reconciling, and understanding the unfunded commitments phenomena that's associated, so simply eventual lending and now to the broader BDC industry."
As I have discussed with offline subscribers, I sold 50% of my position in HTGC on March 3, 2015, and I have been looking for an entry point to repurchase shares. The stock has historically traded at a healthy premium to its net asset value ("NAV") of $10.02 for the reasons discussed in my other HTGC articles. Recently, the stock has been trading lower, and that is likely partially due to the recent portfolio update provided by the company.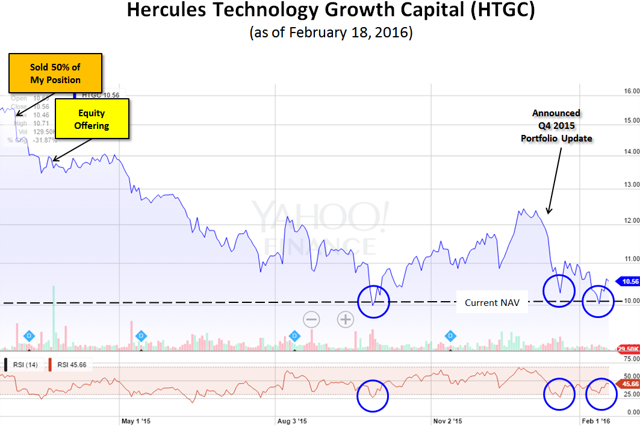 Click to enlarge
On January 12, 2016, the company announced its year-end portfolio update with the following highlights:
~$745.3 million in total debt and equity commitments.
15 portfolio companies complete IPO and/or M&A liquidity events.
Record level of scheduled and unscheduled principal repayments of ~$503.7 million in fiscal year 2015.
Outstanding management of total unfunded commitments to $115.9 million by end of Q4 2015, significantly down from a peak of $413.9 million in Q2 2015.
Combined $60.0 million redemption of the 7.00% 2019 notes in 2015; $40.0 million completed in Q4 2015, resulting in an annual interest expense savings of ~$3.0 million, or $0.04 Net Investment Income ("NII") per share on an annual basis.
In December 2015, it extended the Wells Fargo Credit Facility, under which Wells Fargo & Company has committed $75.0 million through August 2018 at the same terms.
More importantly were the Q4 2015 highlights:
As of December 31, 2015, Hercules has originated ~$116.3 million of debt and equity commitments to new and existing portfolio companies.
It received ~$129.4 million in principal repayments for Q4 2015, of which ~$105.7 million was unscheduled early repayments. The $105.7 million of unscheduled early repayments was higher than we had previously anticipated by ~$30-40 million, and primarily consisted of older term loans carrying lower prepayment fees and income accelerations. For 2015, Hercules received ~$503.7 million in principal repayments, of which ~$388.7 million were unscheduled early repayments - a record level for the company.
In October 2015, AtriCure, Inc. (NASDAQ:ATRC) announced and completed its acquisition of Hercules' portfolio company nContact Surgical, Inc. for an upfront payment of 3.7 million shares of AtriCure common stock, valued at $24.60 per share and approximately $8.0 million in cash. Hercules currently holds 201,439 shares of preferred warrants in nContact as of September 30, 2015.
In October 2015, Outerwall Inc. (NASDAQ:OUTR) announced that it had entered into a definitive agreement to acquire Hercules' portfolio company Gazelle, Inc. for $18.0 million in cash, less net closing transactions costs and fees. In December 2015, Outerwall completed the transaction.
In November 2015, BlackBerry (NASDAQ:BBRY) completed its acquisition of Hercules' portfolio company Good Technology Corporation (Pending:GDTC) for $425.0 million in cash. Hercules currently holds 500,000 shares of common stock in Good Technology as of December 30, 2015.
In October 2015, its portfolio company Edge Therapeutics, Inc. (NASDAQ:EDGE) completed its initial public offering of 7,315,151 shares of common stock at a public offering price of $11.00 per share. Hercules currently holds 157,190 shares of common stock and 78,595 shares of warrants in Edge Therapeutics as of September 30, 2015.
In October 2015, its portfolio company Cerecor Inc. (NASDAQ:CERC) completed its initial public offering of 4.0 million shares of common stock at a public offering price of $6.50 per share. Hercules currently holds 119,087 and 22,328 shares of Preferred Series B-1 and warrants, respectively, in Cerecor as of September 30, 2015.
As of December 31, 2015, Hercules held warrant and equity positions in three portfolio companies that had confidentially filed Form S-1 Registration Statements under the JOBS Act with the SEC in contemplation of a potential IPO. Also, in December 2015, its portfolio company Gelesis, Inc. formally withdrew its Form S-1 Registration.
What does all this mean?
The market is currently reacting to the "record level of scheduled and unscheduled principal repayments" portion of the announcement. There are a few reasons that this could be seen as a negative, including slower-than-anticipated portfolio growth to cover the dividend with recurring net investment income. Other reasons include the current market volatility as it relates to equity valuations of technology-related companies and the potential for higher risk premiums. Basically, HTGC has ample liquidity and is pressured to grow the portfolio during a period of increased volatility/uncertainty.
The good news
In my opinion, there is more good news than bad for HTGC, starting with the potential for higher fee income and equity gains in Q4 related to the continued prepayment and liquidity events. This is similar to Q3 2015, when HTGC beat estimates by $0.08, or 32%, and unexpectedly covered its dividend as well as adding to spillover income. Speaking of spillover, I believe that there is plenty to cover NII shortfalls in the coming quarters. Also, there is a good chance that the company has been repurchasing shares using its $50 million repurchase plan:
"Finally and being true to our word. Hercules committed to execute its stock buyback program if and when the stock approach levels what we found to be undervalued. I'm happy to say in defense to our shareholders that we're true to our words and Hercules committed and executed approximately $4.5 million of stock open-market purchases, representing $4.5 million against our $50 million stock buyback program."

"We stand ready and willing to reenter the market if and when our stock approaches levels near net asset value, or we believe does not reflect the proper value of our company. We stand committed as an internally managed BDC to ensure that we look out to the best interest of our shareholders and continue to monetize the total return potential of our company and our stock on behalf of our shareholders."
Share repurchases would reduce the need to grow the portfolio to cover its dividend.
When will I repurchase my shares?
I will likely wait for the company to report results on February 25, 2016, and assess upcoming portfolio growth needs for dividend coverage. For announcements of when I purchase (or sell) shares in specific BDCs, including target pricing charts and valuations, individual dividend coverage potential, rankings (risk, return, pricing, dividend potential), my historical purchases and current positions, and suggested BDC portfolios, please see my "BDC Research Page," and for my free monthly newsletter, please visit "BDC Buzz.com."
Upcoming reporting schedule

Disclosure: I am/we are long HTGC, TPVG.
I wrote this article myself, and it expresses my own opinions. I am not receiving compensation for it (other than from Seeking Alpha). I have no business relationship with any company whose stock is mentioned in this article.