When it comes to investing your hard earned money we believe that it is never a good idea to try and be a hero.
It takes a long time to save up a decent amount of capital but only an instant to lose it if you take on inappropriate risks.
That is why our approach is all about risk avoidance. We focus only on stocks that have made it into the portfolio of at least one world class investor. The greatest investors in the world are the ones that make the fewest mistakes.
Most of these great investors believe in Warren Buffett's first rule of investing, which is "Don't lose money." And they also believe in Buffett's second rule of investing, which of course is "Don't forget rule No. 1."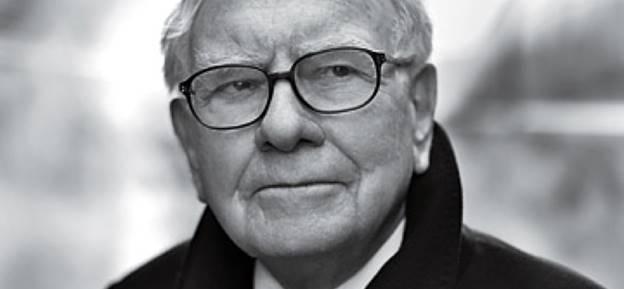 Image Source: Acumenwealth.com
Return of capital is much more important than return on capital. The greatest investors in the world are laser focused on that fact and that is why we endlessly search their portfolios for the best ideas.
We believe the single best approach for a retail investor is to build a portfolio from the best picks of the very best managers. To reduce our risk we only select ideas that have been approved by the best in the business. And then to further reduce risk we diversify across many of these great investors.
Risk Averse Yet Contrarian At The Same Time
The world's greatest investors focus first on preservation of capital. That does not mean that they can't also be contrarian at the same time.
There is no place that is more contrarian right now than the oil and gas sector. Oil (NYSEARCA:USO) prices haven't been beaten down like this since, well…..ever.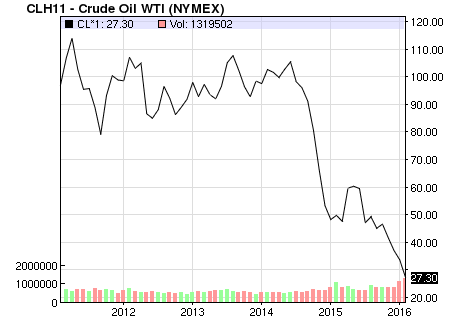 Source: Nasdaq.com
This week we spent some time combing through the portfolios and commentaries of the great investors we follow to see if any of them are bullish on an oil recovery.
We picked out three of note and thought that we would share their views.
Bruce Berkowitz - "It's Déjà Vu All Over Again"
A decade ago Bruce Berkowitz of the Fairholme Fund became very bullish on oil. As a concentrated investor he sought to profit from that belief with a large position in Canadian Natural Resources (NYSE:CNQ).
As oil prices rose in 2008 Berkowitz exited that position as oil soared. Now as oil has crashed he has re-established his position in Canadian Natural over the course of 2015.
Here were his recent words in the Fairholme Fund's 2015 annual report:
Supply increases have led to an oil and gas price collapse. Energy companies now sell for huge discounts from historic values, and related service businesses are trading at record lows as well.

When the Fund last purchased large amounts of securities in the energy sector, no one thought that the world would function if oil exceeded $40 per barrel. We sold our positions when oil eclipsed $100 per barrel and few thought a return to $80 possible.

Now, experts believe a price of $10 is possible and $50 per barrel a long way off. We again disagree. Prices cannot stay below marginal costs when demand grows and supply depletes - at least, not for too long.

In the immortal words of Yogi Berra, 'It's déjà vu all over again.'
Kyle Bass - The Best Investment For The Next 3 to 5 Years
Kyle Bass manages the hedge fund Hayman Capital. He is particularly well known for his prescient macro calls including the U.S. housing bubble and European debt crisis, both of which he profited from.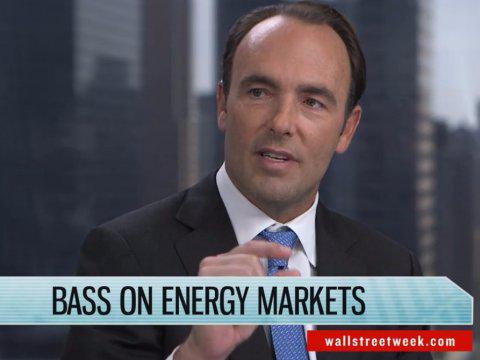 Bass recently appeared on Wall Street Week and was asked what he thought was the best investment opportunity for the next 3 to 5 years. Without hesitation his reply was "the energy space."
He explained his reasoning as follows:
In energy, I just believe that, first of all, the margin of safety for the globe is the smallest it's ever been in energy, global demand is 96 million barrels per day, the highest it's ever been, and let's say incremental supply capacity, let's say swing capacity, is at the lowest point as a percentage of that ever, about a million and a half barrels a day...
To that he added that his firm had done a thorough analysis of oil supply. Their conclusion was that U.S. production alone would drop by a million barrels per day from its March 2015 peak by April of this year.
Bass believes that the world is going to be shocked how quickly we go from an oil "glut" to an oil "deficit." He believes that investors have a six month window to get invested in the energy sector.
Andy Hall - The Oil Trading God
While both Berkowitz and Bass invest across many sectors, Andy Hall focuses exclusively on oil. His success as an oil investor has been so good he was given the nickname "God" by the other oil traders.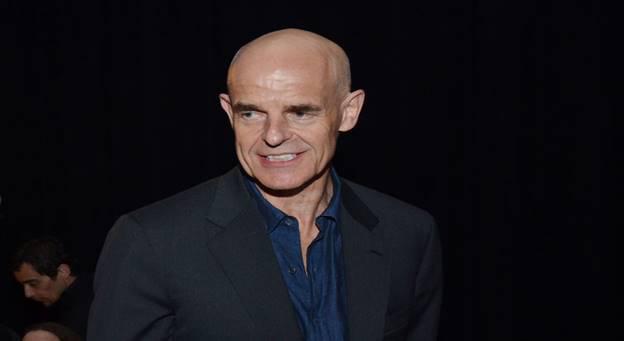 Source of image: Bloomberg
He too is bullish on oil, although we should note that he has been early on that particular trade having positioned his fund that way in early 2015.
In his most recent letter to investors in his fund he explained his bullish reasoning.
First he believes that supply is going to fall significantly in 2016:
Because of all these cutbacks in investments and their impact on production, we estimate non-OPEC production will shrink by at least 1 million bpd in 2016. OPEC production - led by growth from Iran -should grow by around 6-700,000 bpd. Total global oil supply should therefore shrink by a little under 500,000 bpd.
Second he believes that global oil demand should increase by an even larger amount:
Demand on the other hand should grow by around 1.2 million bpd in our (conservative) estimation - down from 1.8 million bpd in 2015. This means the global supply/demand balance should tighten by 1.7 million bpd on our reckoning.
With the supply and demand balance tightening by 1.7 million barrels per day Hall believes that the world will go from a current oversupply of 400,000 barrels per day to a 1.3 million barrel per day deficit. He believes that the price needed to stimulate new supply that will then be needed to be at least $60 to $80 per barrel.
When Multiple Star Investors Start Saying The Same Thing… We Listen
When several of the great investors we follow start to independently come to the same conclusion on a particular company or sector we get very interested, particularly when the opinion they have is not the consensus view.
This group of investors were sounding the alarm bells on the technology bubble in the late nineties, the housing bubble in 2007 and were getting long stocks after both crashes. Listening to these investors works, and that is why we are actively searching for energy sector opportunities today.
Disclosure: I/we have no positions in any stocks mentioned, and no plans to initiate any positions within the next 72 hours.
I wrote this article myself, and it expresses my own opinions. I am not receiving compensation for it (other than from Seeking Alpha). I have no business relationship with any company whose stock is mentioned in this article.