Waking up yesterday to the news that ConocoPhillips' (NYSE:COP) CFO is retiring does not give me the largest amount of confidence given the point in time at which he is exiting. The man did give 35 years of service to the company, but the exit doesn't come at the best time given the company's struggles with the low-price oil environment. If you were at all pessimistic about oil prices, you should have ideally started shorting this company back in late 2014 when the company was trading in the high-80s. But the initial slump in oil was something out of the blue and caught many traders by surprise. Now that oil has trended so low, the bears are wondering where the bottom will be. I'm still short COP, but may close soon as I will discuss in the article.

Click to enlarge
Oil Headed Higher?
All eyes right now should be on the $26.11/barrel mark. Reached back on February 11, this is the lowest level we've seen for the WTI in over a decade, and naturally, created extreme downward pressure on COP's equity. Interestingly enough, COP hit its bottom that day as well, but is starting to test the $32 level due to a WTI dip back below $30.
Moving away from exact dollar figures, we turn to Saudi Arabia, Iran and Russia - three producers just aren't giving COP shareholders what they want. Iran fell short of freezing production, while Saudi Arabia and Russia are freezing production at record levels. That doesn't exactly help - we need reductions in production (aka "caps"), not an agreement to keep production at record highs. Meanwhile, with U.S. oil inventories at record highs, the supply/demand imbalance is very, very clear and it's going to take time to reverse the damage that has been done.
An interesting figure to continue watching is the Baker Hughes Rig Count. With the U.S. oil rig count down 26 over the past week to a total of 413, we've continued to see reductions in rigs week after week. While this should be bullish support for the WTI, that's the surface level understanding of what's going on. We have to remember that the past two years have been chalk full of increased rig efficiencies so there should be an expectation that rigs will decline over time. Whether or not they should be just above 400 is largely subjective, but until rig counts start trending positive, I won't view the count as bullish for oil.
Below is COP vs. the WTI - notice the slope of the decline as soon as the new year begins.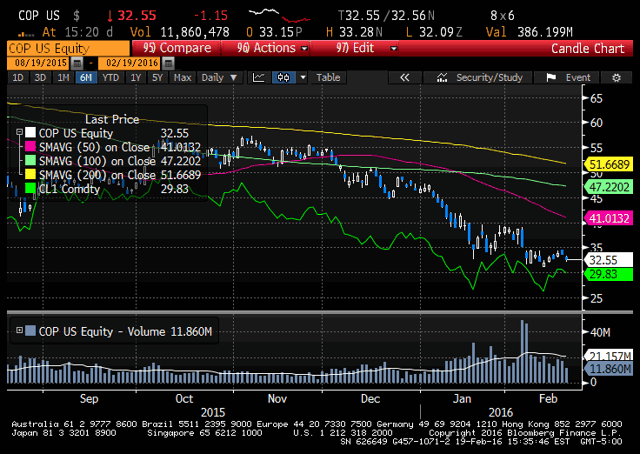 Click to enlarge
Source: Bloomberg
Understanding that ConocoPhillips' recovery will be synonymous with a recovery in WTI is crucial if you plan on making a play on the stock. If you choose not to believe that correlation to be true, which I've seen many commenters say, then run an HRA on COP on the terminal and prove it to yourself.
Takeaways From Earnings
We had to expect both a top and bottom line decline from COP and that's exactly what we received. With a 12.63% YOY decrease in revenue to $6.766 billion, this company is certainly not operating at ideal levels. However, with that being said, the revenue decrease could have been much worse had this company not had the strength that it does in its diverse asset base. Pure E&Ps or even other integrated players have been hit much harder on the top line.
Fortunately for COP, I found management's realization that the lower for longer situation with oil prices may actually occur to be a sigh of relief. Being conservative with operations in an environment like this is a smart strategy. Furthermore, we should notice that the company has plans to cut $700 million in LT debt this year, to create a flat $7 billion in LT debt. This will help reduce the interest burden incrementally, which is currently at $268 million per quarter. Reductions like these help to improve the bottom line and help the company to generate a more favorable EPS figure, which could be used to beat estimates in future quarters and generate a pop in the stock.
Recovering some of these top line losses naturally involves not having capex slashed or really pushing for current growth catalysts to show results. The company has cut capex 41% vs. 2014 levels. In terms of current growth catalysts, I'd say capitalizing on the high margins for LNG in the Asia-Pacific region could be highly useful to COP over the next two years.
The company just got the approval from the U.S. Department of Energy to export LNG out of the Kenai terminal in Alaska and will likely service geographically close APAC countries. While I'm bearish on the margins for the LNG export trade, COP has a particular advantage given where they're shipping and depending upon the contracts they secure. They could be looking at very stable cash inflows to offset the losses in oil prices.
Shorting Works
I said at the beginning of the year that Conoco Phillips was going to be a great short opportunity given the struggles in the operating environment. Yes, the risk/reward scenario remains the largest headwind to a short considering that the 52-week high is $69.72 and that the company is already down 29.86% YTD. If you do not want the downside risk associated with shorting, head right on over to the put options, seen in the second image below. I've begun to think more and more about a short in COP as equivalent to a short in the WTI, given their strong correlation. I'm bearish on oil fundamentals, especially for the short term, and feel that any upside will likely be mitigated. However, that being said, when I see record lows reached, like those back on February 11, I become quite more cautious in my ambition to short.
Click to enlarge
Source: Bloomberg
It should be noted that the options for COP 19-Feb expire today, obviously. Thus, the March and May options should be your next consideration. In my view, these options are rather cheap compared to other major integrated comps, but this is ultimately a decision you'll have to make for yourself if you want to allocate capital to an increased risk.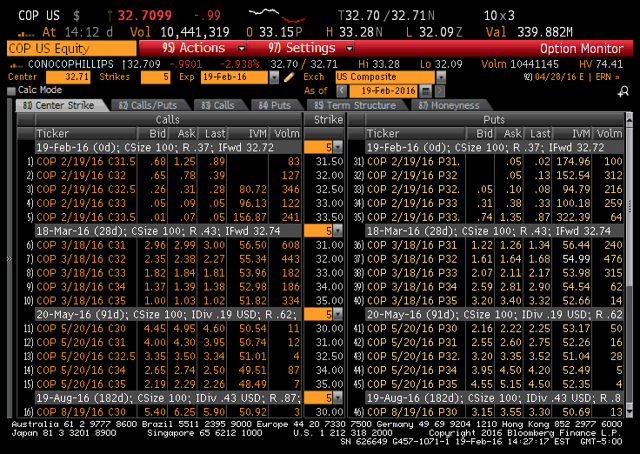 Click to enlarge
Source: Bloomberg
The company is sporting a current yield of 3.07% and now has a much lower five-year net growth rate thanks to the recent cut from $0.74/quarterly to $0.25/quarterly. This yield cut was a real selling point for many investors, as marked by the notable decline experienced when the cut was announced. I try to allocate a large portion of my funds to high yielding equities with a solid risk/reward scenario when it comes to my longs, and now with COP's yield only slightly above the S&P 500 average, I wouldn't think about putting this company in my portfolio. There's better equities in the current market to allocate capital to and earn a return when oil bottoms and turns around.
I've already surpassed my tolerance on COP short and while I should not be greedy in this environment, I think I may be able to squeeze out a few more percentage points. Interestingly enough, the company's short interest ratio, which currently sits at 3.56%, is at the highest it has been in the LTM. So, even with the WTI so, so low, we still have a heavy amount of bears keeping their short positions on the stock.
As I was reading the comments from my last take on COP, there was a plethora of individuals advocating for a long position in the company. The stock, despite being heavily turbulent since that article was published, is down a few percentage points. If you're going to bet on COP to be your turnaround stock for when oil recovers, I'd advise you to look elsewhere. There are many other options, especially non-integrated company options, with higher yields and more stable cash flows.
Conclusion
If oil hasn't bottomed, then my COP short has room to run. The chatter about OPEC and other nations coming to the table to work with global producers about production limits takes time and for now is purely just hype. There is nothing tangible, yet. The time frame on my COP short may be much more reduced than I originally thought, largely due to meetings being set up by major global producers. Furthermore, I did not expect to surpass my tolerance so soon. That being said, COP isn't the right stock for an oil turnaround and while it will undoubtedly surge if WTI recovers, depending on your risk tolerance, I believe there are better options. I will be discussing those options mid-next month.
Disclosure: I am/we are short COP.
I wrote this article myself, and it expresses my own opinions. I am not receiving compensation for it (other than from Seeking Alpha). I have no business relationship with any company whose stock is mentioned in this article.