For New Readers: It helps to understand certain basic concepts prior to reading this article. You should scroll to the bottom of this article to the "For New Readers" section.
As of February 16th, about three-quarters of companies in the S&P500 have reported earnings, and these companies represent almost 84% of the weight in the S&P500 (hence 84% of Q4's EPS is determined*). About 69% have exceeded estimates, which is in-line with recent beats and above the longer-term averages in the low-to-mid 60% range. In aggregate, earnings are beating estimates by 3.6%, below the 5-year historical beat rate of 4.7% (source: Factset). About half have reported revenues above expectations, below the 5-year historical rate. Earnings for the 4th quarter are expected to be about 4% below the prior year's quarter.*
* S&P Dow Jones Indices, or SPDJI, the official trademark owner of the S&P500 Index, and my preferred data source, reports their percentage on a market-weighted basis while Factset and Thompson-Reuters report based on the percentage of companies that have reported. All three make different adjustments to earnings and they may even calculate earnings differently, such that historical earnings differ. I generally will be reporting using SPDJI.
The "beat rate" sounds impressive, as earnings surprises can be an important factor in both short-term and long-term performance, but most investors know to take earnings surprises with a bit of salt. Back in 1968, accounting professors Ray Ball and Philip Brown reported their study which found that companies beating earnings estimates tended to perform better. A 2006 study found that positive earnings surprises grew from 49% of total surprises in the late 1980s to 76% by 2000. Regular readers know that when I was a quant in the middle 1980s, you could have made a lot of money simply buying stocks that reported the strongest earnings surprises.
In Chart 1 below, I show the price performance that Factset tracks around earnings announcement, which is for the EPS announcement date plus and minus 2 days. The left chart is from my Q3 NOSH and FANGS article, and ignoring the really negative surprises on the left, the lime green stock performance line is almost perfectly straight, meaning earnings surprises and stock price performance were highly correlated, and therefore impressive. Q4 as of January 29th is shown in the right chart and is both less impressive and less correlated, although the current February 12th (not shown) has straightened up a bit.
Chart 1 - Price Performance Around Earnings - Q3 versus Q4

Click to enlarge
Note: Left and right axis are not uniform across quarters. And the left two price movement brackets ("Below -40%" and "-40% to "-20%") are generally companies performing poorly. They react to earnings surprise differently and for many reasons (takeovers, bearishness so low that companies comments appear bullish, bottom-fishing, etc.).
I firmly believe you should not try to hide in safe sectors in a bear market, especially not with the availability of inverse funds, but it appears you cannot hide in positive earnings surprise stocks in a bear market either. I've looked back to 2012 at these charts and the correlation is positive above the lower two quantiles. Unfortunately, these charts are a recent addition for Factset and are not available for earlier, bearish markets.
Chart 2 below shows the earnings beat rates for each sector from S&P Dow Jones Indices. The more cyclical sectors have an average rate in the low 70s% range while the non-cyclical sectors average, weighed down by the non-surprising utility and telecom sectors (NYSEARCA:XTL), have an average beat rate of just under 60%. While I do not show the averages in these charts, you can see that healthcare took a big drop, driving down the non-cyclical average beat rate, returning to its more recent range after 3 quarters of exceeding past recent levels.
Chart 2: Sector Beat Rates - Cyclical versus Non-Cyclical

Click to enlarge
The S&P 500 index is proprietary to and is calculated, distributed and marketed by S&P Opco, LLC (a subsidiary of S&P Dow Jones Indices LLC), its affiliates and/or its licensors and has been licensed for use. S&P® and S&P 500® are registered trademarks of Standard & Poor's Financial Services LLC, and Dow Jones® is a registered trademark of Dow Jones Trademark Holdings LLC. © 2016 S&P Dow Jones Indices LLC, its affiliates and/or its licensors. All rights reserved.
In chart 3 below, you can see earnings as measured by Factset have been flattish for almost two years. On the right, I show S&PDJI operating versus reported earnings along with the percentage change year over year. Operating earnings are also known as "non-GAAP earnings," or "adjusted earnings," or, as in the first linked article, what Richard Bernstein calls them, "fictitious unaudited" earnings. Note that reported earnings, or real earnings, show more significant declines during recessions, which is when all those "non-recurring charges" grow (they must be non-recurring because we are never going to have another recession?). Was it a warning in the late 1990s when the spread between operating and reported earnings grew larger? During this century, the gap has been larger than the 1990s. Is it a warning now?
Chart 3 - S&P500 Earnings, with an Operating versus Reported basis comparison

Click to enlarge
S&P Dow Jones, Factset, and Thompson-Reuters all project earnings to recover, or rather, they generally show the same analysts estimates, and the analyst consensus is for earnings to recover. In the yellow estimate area, you can see earnings (miraculously?) turn on a dime, call it a V-bottom. That does occur, in recessions. Did I miss something, are we in a recession and nobody told me?
Chart 4 below shows S&PDJI's earnings back to 2000 because I wanted to include the two recessionary periods. You get big percentage changes when you have easy compares, so I ignored the four quarters following negative changes and circled solid double digit increases in the 20%+ range. They happened in late 2004 through 2005 when the housing boom occurred. Housing is coming back from a very depressed level but it is nothing like 2005. The solid double digits increases occurred again around 2001 and lasted four whole quarters. I circled three quarters starting at the end of 2016 when the estimates for reported earnings are estimated to reach the 25% range, or the not too aggressive range, just the plain ole' typical optimistic range.
Chart 4 - Operating and Reported Earnings, Quarterly and Trailing Twelve Months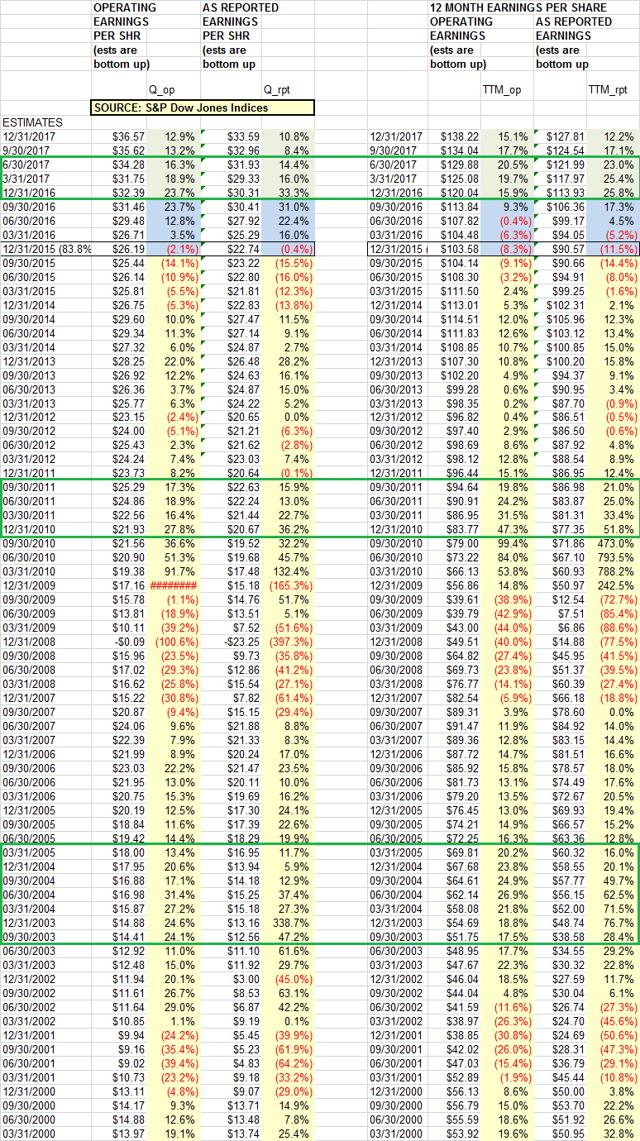 Click to enlarge
And it's not like analysts ever get too aggressive.
Chart 5 - S&P500 EPS estimates over time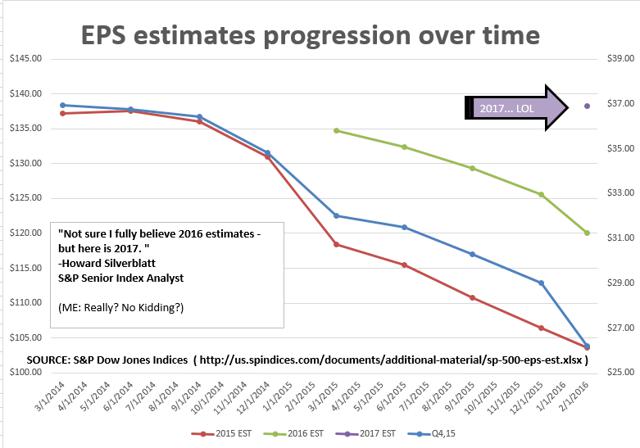 Click to enlarge
Chart 5 is the normal progression of analyst estimates over time. It happens all the time, with one exception. During recessions analysts eventually throw in the towel; their estimates become too pessimistic. I would say this lasts about 3-4 quarters, until they can get too optimistic again, only to thereafter decrease their estimates enough for the inevitable positive surprise. The charts like #5 become positive sloping as analysts chase the recovery on the upside, but like I said, it doesn't take them long to become too optimistic again. Ed Yardeni produces great charts showing the downward sloping revisions of analyst estimates, if you can get access to them.
In chart 6, I show the earnings contribution by sector. Note that I show recent changes in the S&P500 sector weight in the chart on the right. Utilities and consumer staples (NYSEARCA:XLP) have increased in weighting, mostly at the expense of energy (NYSEARCA:XLE), and these are safe sectors that indicate professionals are hiding. Technology looks like the huge winner with an increased contribution of 3.9% for the quarter, until you realize that Christmas sales drive many technology companies. For example, if I remember correctly, Apple gets about 40% of its business in Q4, and Apple is one of the largest, if not the largest contributor to S&P500 earnings (the details have not been included in recent S&PDJI data).
Focusing on the TTM change in column F, everyone is a winner in terms of increased contribution to the S&P500 earnings, at the expense of the energy sector. Around the end of 2015, analysts were projecting earnings for the energy sector would swing from the -5.2% contribution of the 3rd quarter to a positive contribution of almost 3%. It did not happen. Estimates project the energy sector to have a negative 2.7% contribution for Q4, the fourth quarter in a row that energy has been a drag on the S&P500 earnings.
Chart 6 - Sector Contribution to S&P500 EPS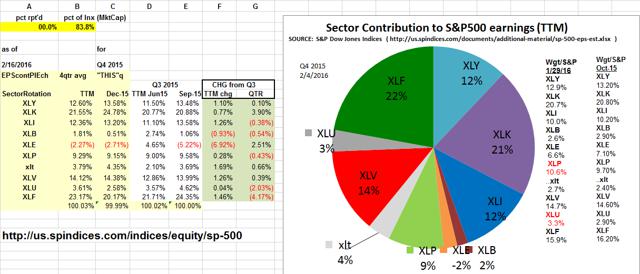 Click to enlarge
Color-coded sectors: XLV="blood RED"; XLF=DARK GREEN like money; XLP=LIGHT GREEN since it's also a necessity; XLB=Basic is BROWN; XLE="ORANGE energy", doesn't that almost rhyme?; XLU = boring GRAY; XLI=BLUE collar; and I ran out of mnemonics: XLY=cYan (does that work?); XLK=purple... I got nothing. xlt doesn't count.
EPS Contribution: The current quarter, column B, is included in the TTM - Trialing Twelve Months - column C, and a prior quarter comparison is shown in column D&E, with the differences in column F & G. Seasonality exists in some sectors so TTM might be the preferred comparison.
I expressed great skepticism about the ability of the S&P500 earnings to make a V-bottom and return to double-digit growth by the end of 2016 as shown in Chart 3. It is not just that the momentum is going the wrong way, or that next year would be the first year of a new president, typically when new Presidents take economic, or fiscal policy, pain. Energy desperately needs to turn around for the S&P500's optimistic earnings to come true, but I'm not holding my breadth.
When I read that the UAE is so desperate for storage space for oil that it will lease India's new strategy reserve space to store oil for the low, low price of giving India 2/3 s of the oil for free, well, perhaps OPEC will reach some kind of agreement like the "no increase" they are discussing, but that is not much of a deal in a world awash in oil. A better deal would be outright cutting production rates but Iran is coming online and they are complaining that it is not fair for them to be locked into a sanctions-determined low level of production. Iraq has been aggressively expanding production over the past two years, to the extent that Iraq has been the real "swing producer" in OPEC recently. I'm not sure how much more Iraq can produce, and the country - and region - is a powder-keg. Perhaps Iraq or some other middle-eastern country will "blow-up" or US oil production will tank, but shale producers, who have high costs, still have to service debts lest they are forced into bankruptcy. Canada, which has enormous tar sands reserves, could also halt production, but they too need to cover huge fixed costs. I mean, any black swan could occur, but that is speculating, not investing. Oil looks like it is trying to find a bottom but I see limited supply decreases and I cannot imagine the world economy picking up enough to drive demand significantly higher. So this near-term bottoming in the price of oil looks a lot more like it is speculator driven rather than being attributable to any fundamental improvement between excessive supply relative to demand.
There is just so much going on in the oil space that anything is possible. I do not know what will happen. Right now many investors are short the United States Oil ETF (USO), but others advocate the opposite trade. What I do know is that when my college math professor said the elasticity of the price of oil was one, meaning demand was unaffected by price changes, I just knew he was wrong but I did not know why. I finally figured it out and the answer is time, the little "t" in his equation. Given enough time, supply and demand will converge when they get so far out of balance like now. Given time, and I'm just not sure 4 quarters is enough, short of a black swan event like a war, for the energy sector earnings to come roaring back.
Chart 7 - Oil and Oil Volatility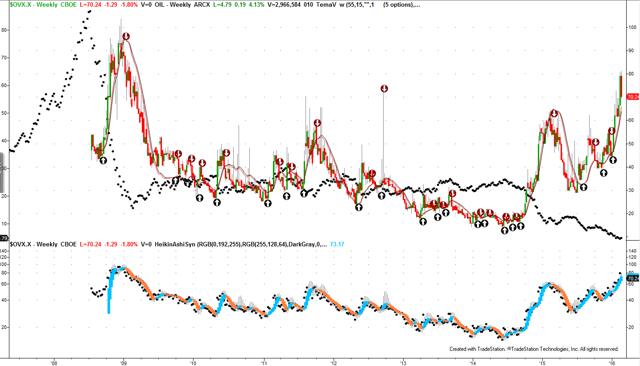 Click to enlarge
In chart 7, you can see that the last time oil volatility was this high was in 2008 when the price of oil dropped from over $140 to under $50 a barrel. There are ways for investors to take advantage of this volatility, but it takes extensive knowledge, especially regarding the pitfalls of futures ETFs, which suffer from "the futures roll." In the chart, I use the S&P iPath Total Return ETF (NYSEARCA:OIL), which shows a drop is from ~$88 to under $15. All futures-based ETFs exhibit similar problems (or rarely, benefits) from futures contango (and backwardation).
Energy and China have been driving our stock market and it appears energy is taking a leading role. Oil has been popping due to speculation that a bottom is in, and our stock markets appear to be following the same logic. Chart 8, however, shows that the current energy sector operating PE is off the charts, or meaningless; earnings are too depressed (negative), as is the sector's projected growth rate for earnings.
Chart 8 - Operating PE, Projected Growth rates, and the PE-to-Growth, or PEG, ratio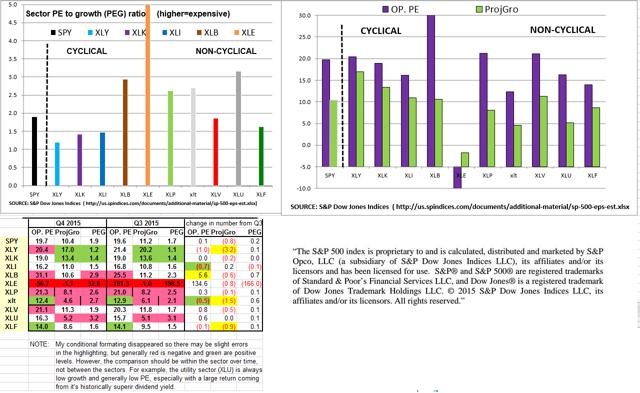 Click to enlarge
PE-to-Growth, or "PEG", ratios are sometimes meaningless, like when a sector has depressed earnings. Even in absolute terms, low PEG ratios are better, but this is a very broad generalization. The superior comparison would be a PEG ratio compared to its own historical PEG ratio. For example, utility companies typically grow slowly, and utility stocks generate return from higher dividend yields, which are not considered here. Why in the world would you compare Southern Company to Apple on a PEG ratio basis? I do not think you would. I am unfamiliar with any website that offers PEG ratio charts, at least none that are free. Finviz has an excellent free screener on valuation and other factors. Morningstar has a good selection of historical earnings growth rates and good valuation ratios, but you would have to calculate the PEG ratio manually. Aswath Damodaran has extensive datasets. Of course, this assumes you are a great stock picker, despite academic studies show that the bulk of performance is related to the market direction and sectors, and very little comes from stock picking.
Highlighted in green are inexpensive PE and PEG ratios, or high projected growth rates, with poor numbers in red or yellow. While the consumer discretionary sector (NYSEARCA:XLY) appears relatively cheap on a PEG basis, its projected EPS growth rate has experienced a drop from 20.2% percent to just 17%, a large change in a 3 month time period. Nonetheless, the sector still retains the best projected growth. Technology (NYSEARCA:XLK) retains the 2nd best projected growth rate, making its PEG ratio also inexpensive. The basic materials sector (NYSEARCA:XLB) took a large jump in its operating PE, explained by the fact that it has the best 4-week relative price performance. I am at a loss to explain this performance, especially since the Q4 EPS estimate has declined from $3.05 to $0.65, and 2016 projected EPS has declined significantly.
Turning to the non-cyclical sectors, staples is among the most expensive sector on a PEG ratio basis (barring utilities, which always look expensive on a PEG basis). As you can see further below in chart 12, the staples sector has been a strong sector recently. Healthcare (NYSEARCA:XLV) had a notable drop in its projected growth rate. It is among the more expensive sectors like technology, which is typical. The financial sector (NYSEARCA:XLF) also experienced a notable drop in its projected growth rate and the sector appears moderately attractive relative to other sectors. Utilities (NYSEARCA:XLU) have gotten slightly more expensive due to strong recent performance.
Chart 9 - Sector EPS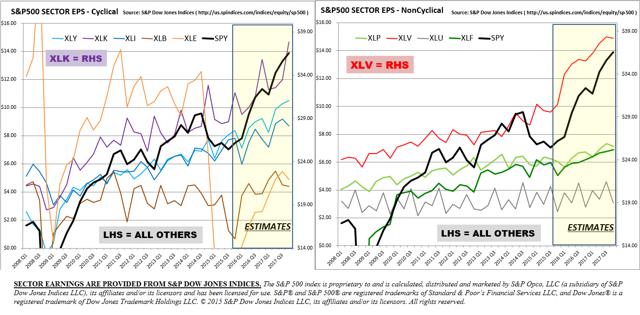 Click to enlarge
Sector earnings projections show acceleration in growth, driven by strong rebounds in the basic materials and energy sectors, if they occur. As noted, energy, where only 60% of companies have reported, has not yet registered this projected earnings rebound and analysts are simply pushing out their estimated earnings recovery. Projections for the technology and healthcare sectors, large contributors to the S&P500 earnings, are for large increases going forward. Other sectors show similar optimism. With some 76% of companies reporting thus far (84% of weighted earnings), most of this quarter's earnings have been reported.
The consumer discretionary sector lags in reporting due to the presence of retailers, who are too busy during Christmas to report earnings, so they typically report earnings on a January fiscal year-end basis. Holiday sales growth matched recent years, so I would not expect much in the way of true surprises. Thompson-Reuters is optimistic, noting that of the 16 consumer discretionary companies that have reported thus far, only 1 posted a negative surprise. With an overall level of earnings misses in the 10% range, having only 1 consumer discretionary company miss earnings, rather than 2, is not what I would call statistically significant.
Chart 10 - Aggregate Beats, Meets, and Misses for Quarterly Earnings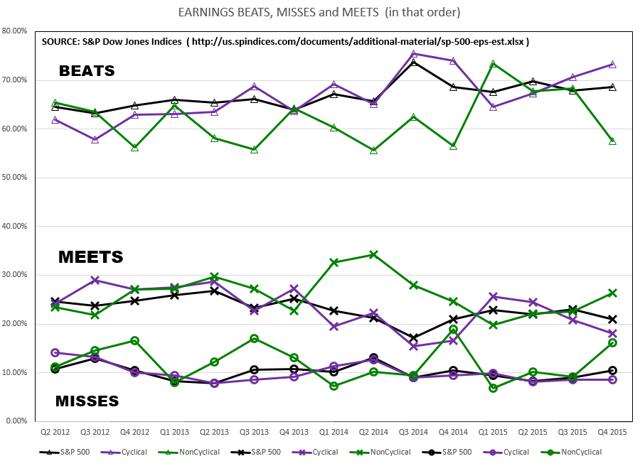 Click to enlarge
According to Factset, the US is responsible for about 70% of the S&P500 total sales, so while oil and China have caught the blame for recent stock market price action, China, at least, is less directly responsible for S&P500 sales numbers; presumably this is true for earnings too. What has pressured earnings has been a strong dollar, at least according to company reports; however, the dollar index soared from the low 80s in mid-2014 to 100 in early 2015, so the dollar has been at current levels for about a year. If it is the dollar impacting sales and earnings, it has to be having a diminishing impact at this point.
While Factset projects a slight upturn in Europe, which is about 12% of US sales, the direction of the dollar is likely to have a bigger impact. As yet, there is only limited impact from increased wages, mostly in the retail area, which is likely due to higher minimum wages in certain geographic areas. Indications are that wages are beginning to be under some pressure, but the strong JOLTS data implies companies prefer keeping positions unfilled rather than increase wages significantly (or lower hiring standards).
Looking forward, 80% of companies giving guidance have reported negative guidance, above the 5-year average of 72% (Factset). Financial and technology, which were strong contributors in my Q3 earnings report, are still reporting the most positive guidance, but at levels of 43% and 26% positive, respectively. This seems unimpressive but I do not have enough history for forward guidance numbers by sector to make a real judgment call. Net margins remain near record levels as shown in Chart 11, so sales, rather than margin expansion, should be the main contributor to future earnings growth. A perhaps under-appreciated factor could be decreased cost of goods as China exports deflation, but the Fed is fighting this earning-beneficial factor.
Chart 11 - Net Margin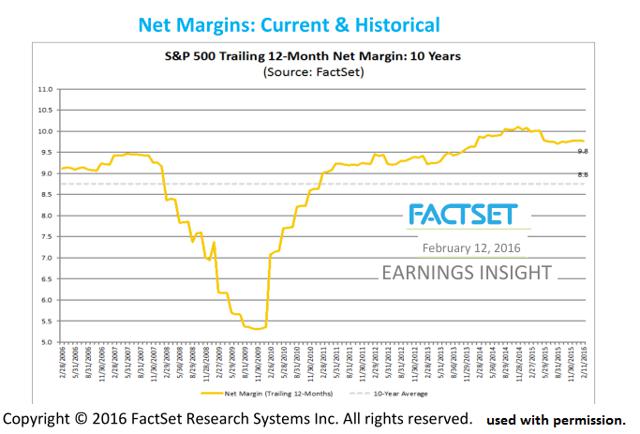 Click to enlarge
The focus of this article has been earnings, including sector observations, but it is an earnings article rather than the sector watch article some might have expected. You can always watch relative sector performance on Stockcharts yourself, using my color-code. I will write a more detailed sector rotation piece soon, but not much has changed. I have developed a new "all-in-one" chart that will show you what the various sectors are doing relative to the market.
On the left of chart 12 is a weekly ratio chart (corrected from original monthly label) for all sectors combined, and the right side is daily. When the ratio is positive, the ratio line is colored, and when it is declining, the ratio line turns gray. You can see that staples and utilities - the safe sectors - have been strong since mid-2015 when the market started flirting with bearish conditions. Technology remains strong and industrials are perking up. The long-term strength in discretionary is finally subsiding, a bite has been taken out of FANG and NOSH, and the sector is rolling over, as is healthcare. This monthly chart is showing a sector rotation to bearish market conditions, although I will be watching the short-term charts to see if the recent strength in industrials (NYSEARCA:XLI), basic materials, and energy sectors is something other than just a dead cat bounce.
Chart 12 - Relative (Ratio) Performance, for all Sectors in 1 chart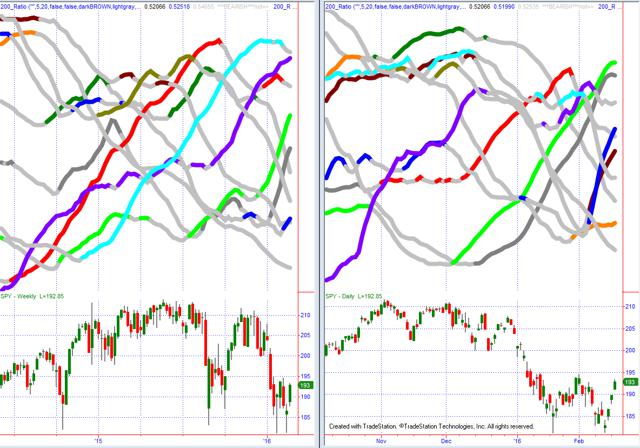 Click to enlarge
Color-coded sectors: XLV="blood RED"; XLF=DARK GREEN like money; XLP=LIGHT GREEN since it's also a necessity; XLB=Basic is BROWN; XLE="ORANGE energy", doesn't that almost rhyme?; XLU = boring GRAY; XLI=BLUE collar; and I ran out of mnemonics: XLY=cYan (does that work?); XLK=purple... I got nothing. xlt doesn't count.
I really am trying to wrap it up now, but I've also been trying to write this article for two weeks, only to discover the S&PDJI analyst who composes their file went on vacation (during the middle of the Q4 earnings reporting!). I had this McDonald's (NYSE:MCD) chart ready because I read an article that said McDonald's was actually a defensive stock (but lost the link). McDonald's dividend yield is almost twice the sector, but its PE ratio is also higher. Nonetheless, the stock is coming on strong, so rather taking a bite out of FANG and NOSH stocks, perhaps it is time for a Big Mac?
Chart "14" - McDonald's takes the lead in XLY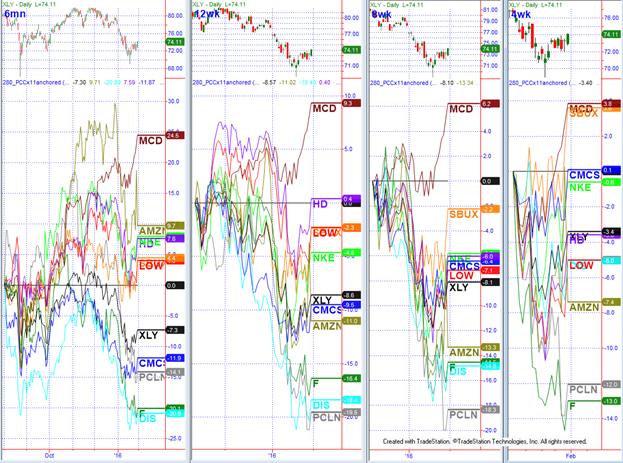 Conclusions
I have written recently about volatility, and in this article I show that oil volatility is near historic levels for the oil volatility index. Recent market action has been very volatile, and as I submit this article for publication, we have experienced three very strong gap up days ("advancing white soldiers"!). This strong price action cannot be argued with, and I cannot explain it. My best guess is the short squeeze explanation, combined with a double bottom in the S&P500 and Dow. All indexes, especially Russell and Nasdaq, have become technically oversold, so I have expected a bounce (and after waiting a couple of days for S&PDJI's legal approval for this article, the 3-day bounce has stalled). I remain positioned in options for a slow decline, and the optimal market path given my option expiration months is a slow bounce followed by a gradual decline.
As we bounce, I have added to my short S&P500 position. The strength of the last 3 days has been on lower volume, continuing a pattern of low volume bounces followed by higher volume declines, as discussed in my volatility article. We have retraced 38% of the recent decline, and making it to 50% would require breaking through near-term resistance levels, but should this occur, we might head straight for a 62% retracement. Absent another QE program, earnings may be something for me to write about, but it is not "something to write home about." The projected strong rebound in earnings estimates would, to me, be a miracle, and therefore is currently just a mirage.
For "Followers:" Should you decide to follow a Seeking Alpha author, if you sign up as a "regular follower" you will see their articles but not new Instablog posts. "Real-time followers" will receive e-mail notifications for Instablog posts (and articles), and given my long-windiness plus legal delays (S&PDJI) and Seeking Alpha editorial delays, I try to use my Instablog to keep you informed with short Instablog posts, requiring "real-time following" to receive e-mail notification.
For New Readers
I have focused on the sector rotation model after writing my first article on Seeking Alpha, which was in response to an article that advocated rotating into safe sectors at the start of a bear market, even though the author could not tell if the waterfall crash of August 2015 was, in fact, the start of a bear market. It must be worth a read because it was an Editor's Choice article. I followed it up with two other primer articles that all investors need to know. As primer articles they are long; investing is a marathon, not a sprint, it takes preparation. Because my first article was a counter-argument to a Seeking Alpha article, my first 3 primers were written in reverse order from which they should be read; follow the numbers below:
1) Secular Movement in Interest Rates : Interest rates exhibit long cycles of up and down movement. Finance 101 teaches that the valuation of an asset (stocks+) is inversely related to the "capitalization rate" (or the inverse, depending upon the industry: it's PE ratios for stocks, "cap rate" and/or "gross rent multiplier" for real estate, etc). The market PE ratio is therefore directly related to the level of interest rates. This really is the starting point for equity investing, but far too many investors ignore it because they think it is not important, or is for bond investing. This article is basic finance 101 combined with the history of bear markets and panics.
2) Equity Markets - Secular Bulls and Secular Bears : The stock market also exhibits long cycles of up and down movement (often driven by interest rates). The caveat, bear markets are volatile, so much so that some of the largest stock market rallies actually occurred during bear markets. This article also makes sure you understand real return, after discounting for inflation.
3) "Sector Rotation in a Bear Market" : Being my initial article, much of what might have gone in #2 above was written in this article. It introduces:
3.a - Percentage change charts, which show relative performance of different sectors (or could be stocks, etc), and discusses some of the problems with them.
3.b - It discusses misleading charts, where the wrong scale is used (log vs linear), or other misleading chart techniques used to enhance an author's point of view.
3.c - It discusses math; for example, how riding a stock down 50% and then up 50% still leaves you down 25%.
3.d - Behavioral finance is discussed extensively, and how investors fool themselves due to biases in investing.
3.e - The 2000 and 2007 bear markets are extensively reviewed from a sector performance perspective.
3.f - Ratio charts are shown, which create a buy/sell type signal relative to two different investments.
All these issues are critical to debunking the belief that you can "hide in safe sectors in a bear market," although sector rotation provides good clues as to what the professionals are doing. Individual investors can go to cash during bear markets, but professionals are paid to be invested, even during bear markets. Consequently they move to safe sectors during bearish economic or market times. Following the sector rotation model can provide clues to where the stock market is headed, or at least, where the paid professionals believe it is headed.
Chart 0 below shows the sector rotation principle. For a quick read on understanding of the principle and causes of sector rotation, you can read the "Sector Rotation Background" in this article (at the very top), but I would recommend you skip it and go straight to the more comprehensive "must read" article #3 (after reading the first two).
Chart 0 - Understanding the Sector Rotation Model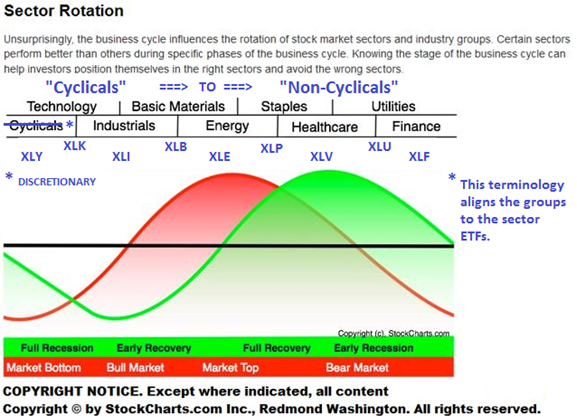 Disclosure: I am/we are short SPY, (USING OPTION STRATEGIES).
I wrote this article myself, and it expresses my own opinions. I am not receiving compensation for it (other than from Seeking Alpha). I have no business relationship with any company whose stock is mentioned in this article.