Introduction
Lindt & Sprungli (OTC:COCXF) (OTCPK:LDSVF) is a Swiss chocolate company that sells a wide range of quality chocolate products internationally. These products come under familiar brand names such as Lindt, Caffarel, Ghirardelli, Kufferle and Hofbauer. With the acquisition of Russell Stover last year, Lindt strengthened its presence in the United States, gaining 10% of the U.S. chocolate market and thus becoming the third-largest chocolate company in the country (behind the privately-held Mars Inc. and Mondelez International (NASDAQ:MDLZ) respectively).
However, it is not a stock that features prominently on many investors' buy lists. There are very good reasons for that -- Lindt is Swiss-based, which can cause tax and accounting problems, and its stock always appears to be richly overvalued -- but the reasons for Lindt's inclusion are much more compelling.
Competitive Advantage and Growth Prospects
Lindt's slogan is "Maítre Chocolatier Suisse Depuis 1845" or "Master Swiss Chocolatier Since 1845." It's a boast that has a considerable factual basis: Lindt's commitment to quality is indicated by the fact that, unlike competitors such as Hershey (NYSE:HSY), Lindt does not substitute cocoa butter for cheaper vegetable oil in its products (which is a shame, as Hershey is an excellent business in its own right, and one that the author has a position in). Consequently, it does not need to advertise itself as "made with chocolate." Lindt IS chocolate, period. Palm oil is used only for chocolate filling, but for the chocolate itself, only cocoa butter is used.
The Lindt portfolio of products cannot be duplicated either, as the recipe devised by Rodolphe Lindt in the 19th century remains a closely-guarded secret. Knowing that cocoa butter and the conching process are involved in the making of Lindt chocolate is not enough, and what else is needed is not something that is widely known. This enables Lindt to maintain its niche as a premium chocolate provider.
In addition to its quality products, Lindt can also boast quality leadership. CEO Ernst Tanner has been canny in identifying Brazil, Russia and Japan as potential growth markets, but is cautious in expansion, stating that:
We're not the ones who can establish a chocolate market...I'd rather concentrate on where the market is than risk everything in China where there's no chocolate market.
In other words, expansion will occur gradually, but the focus will remain on safe, mature markets.
This is very wise, considering that the outlook for cocoa as a commodity is decidely bearish for 2016, as a cocoa surplus caused by the upturn in Latin American production and better-than-average West African weather conditions will cause a cocoa glut, which will weaken demand in the same way that the oil glut has. Lindt is wise to play it safe with such a bearish market coming.
Lindt has a market capitalization of 14.92 billion CHF (approximately $15 billion), and brought in 3.92 billion CHF (almost $4 billion) in revenue last year. The company has expansion plans, and is not yet over-saturated in overseas markets to the point where further growth is difficult (compared to the much larger Nestlé (OTCPK:NSRGY), for example). So we have a profitable, well-established company that has considerable scope for further growth -- and quality products to help smooth its pathway.
Valuation, ADRs and Tax Issues
Lindt's business is exceptional, but once the stock is examined, doubts begin to creep in. Lindt offers two types of stock ownership: registered shares (which trade under the ticker LISN on the SIX Swiss Exchange, and as COCXF on the U.S. grey market) and participation certificates, which have 1/10 of a registered shares' value (LISP on SIX, LDSVF on the Pink Sheets).
The registered shares, at this time, are trading for 68,695 CHF ($72,200 as COCXF) and the participation certificates are trading for 5,670 CHF ($5,715.80 as LDSVF). The P/E ratio is 46.32, and the dividend yield over the last five years averages out at 1.18%. These aspects of the stock are the reason why few people bother to consider Lindt as a prospective investment.
Anyone considering investing in Lindt would be better off doing so via the SIX Swiss exchange, as nowhere on the investor section of their website do they mention the grey market offerings, and I have been unable to uncover any sign that these offerings are sponsored by Lindt in any way. That is not to say that these grey market stocks are bogus, but the lack of clear sponsorship on the part of the company itself would make me very wary of investing with Lindt by that route.
That said, even going by the SIX Swiss route, there are complications. Switzerland imposes a 35% tax on dividends, and though 20% of this can be reclaimed, it is an extra bit of paperwork that can prove bothersome to investors (and to whomever handles their tax affairs).
The Rewards of Owning Lindt
The investment hurdles around Lindt, though perfectly understandable, are worth overcoming. The company has never really been cheap, as this chart dating from 1987 to the present shows: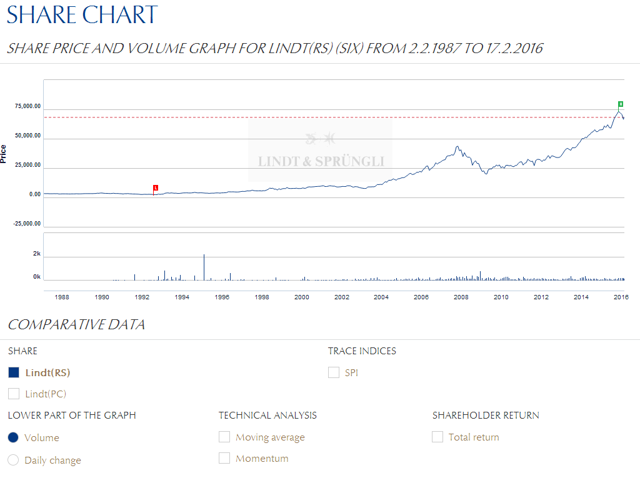 Click to enlarge
The only time the value of the shares dipped was during the Great Recession, around 2008-2009, and very few companies didn't experience a drop in share price around that time. Otherwise, the trajectory has been up, constantly.
As to why the stock always appears overvalued, no better explanation has been provided than the one offered by Tim McAleenan Jr., who wrote:
What kind of people do you think spend thousands of Francs to get their hands on a share of stock? It's probably going to be people with a long-term mindset. Just as shares of Berkshire Hathaway trade at only 1/10 of the average on the New York Stock Exchange, shares of Lindt & Sprungli trade at only 1/6 of the typical rate on the Zurich exchange.
Put simply, the people who buy Lindt stock rarely (if ever) relinquish it, and the number of people who buy it are few and far between. They haven't taken the decision to invest so much money in one share of stock lightly, and so will not be persuaded to sell it should a market crisis arise.
And the dividend yield may seem insubstantial at first, except when you realize that slightly more than 1% of 69,000 CHF is not a small sum (the most recent annual dividend was 725 CHF). Combined with the capital appreciation evident from the graph above, and you are looking at an investment with very handsome returns if you hold for the long term.
Conclusion
While Lindt & Sprungli is not an investment for everyone, it should not be ruled out by everyone. For a truly patient long-term investor with the disposable income at hand, Lindt could prove to be the sweetest investment they ever make. Most investors would be best looking to the more accessible participation certificates, and all investors should perhaps await a market downturn.
Cocoa is expected to take a hit this year, so an opportunity to get a relatively decent entry point in Lindt should not take too long to emerge. Lindt is an excellent business that investors will profit from long term, but it is wise to wait for the right moment to buy. Right now is not the time.
DISCLAIMER: I am not a financial professional and accept no responsibility for any investment decisions a reader makes. This article is presented for informational purposes only.
Disclosure: I am/we are long HSY.
I wrote this article myself, and it expresses my own opinions. I am not receiving compensation for it (other than from Seeking Alpha). I have no business relationship with any company whose stock is mentioned in this article.
Editor's Note: This article discusses one or more securities that do not trade on a major U.S. exchange. Please be aware of the risks associated with these stocks.