(click to enlarge, image source NationalGeographic.com)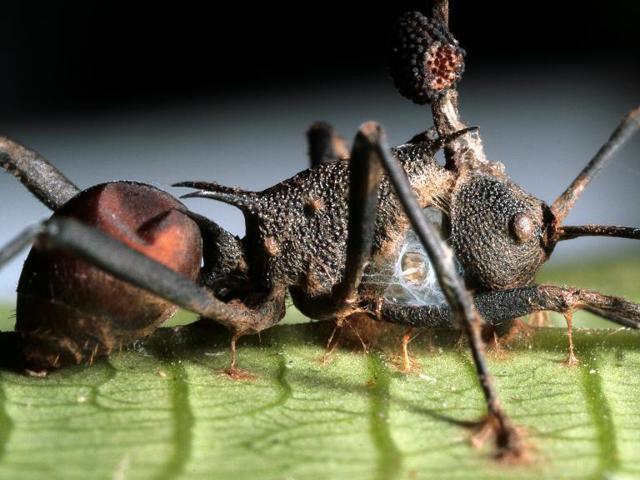 Click to enlarge
There are basically two types of people in the world:
Those who are repulsed or disgusted by the image above, and those who are curious about the amazing complexity of it. Children tend to be fascinated by insects, that's where the origin of Nintendo (NTDOY) and their Pokemon series lies. Somebody was a fan of collecting bugs and making them fight with each other.
Adults, in contrast, tend to be very, very turned off by what has infected the ant above. However, if you are willing to spend the time learning about what has happened, you can come to understand a way of investing that requires very little leverage, but becomes an unstoppable force as more time passes. I mentioned that I would be bringing more psychology-based discussions here to Seeking Alpha, and here is the first in that series.
Introducing Fungal Investing.
You probably don't think about it very often, but a single spore is able to grow and multiply to the point that it not only overtakes a bug, or a plant, but spreads through the ground overtaking entire forests, and it's impossible to slow down once it's reached a certain size.
Your stock portfolio is a lot like that, too. Dividend growth investors have long understood the power of compounded returns from reinvesting dividends, but the concept I'm going to talk about today is more about how to learn more about the businesses you are invested in, and leveraging that knowledge to find future opportunities.
I'll give you a real life example here.
The series of articles I wrote last year about Mattel (MAT) all began from the "single spore". I wasn't then, and am not now, an expert on the toy industry, but I was able to see that the stock price of Mattel had been hit very hard, where their competitor Hasbro (HAS) was still going strong. I was already an owner of Hasbro, but I knew from trips to Toys "R" Us that Mattel was the only company out there that sold more kinds of toys.
I bought Mattel shares in July of 2014 after they had a very quick pullback of more than 20%. I didn't even look at the news. I took a quick look at their last few years of income statements, the balance sheet, and decided right then to buy. The accounting documents took only about 2 minutes to read through. It was easy to see that the company had great profitability, and companies like that just don't dry up overnight. I talk more about the concept of how management reacts to problems in this article.
From one holding, another has grown. Like fungus.

Click to enlarge
And the compounding effect from dividend payments is enhanced, because in making this trade, I was receiving a higher dividend yield from Mattel. I wasn't concerned at all about the possibility of the stock price falling more. In fact, I was happy to see that happen, and as many of you know, it did. For a good, long time.
It's that initial purchase that was the important part though. It gave me time to start learning more about how the industry worked. I started reading their annual reports, learning about their competitors like Jakks Pacific (JAKK), and what Mattel did differently, and in my opinion, better. I was able to apply that thinking to other toy companies, and I learned more about their licensing partners like Disney (DIS) and Viacom (VIAB) as well.
Now, instead of a spore, the growth in my knowledge has become infective: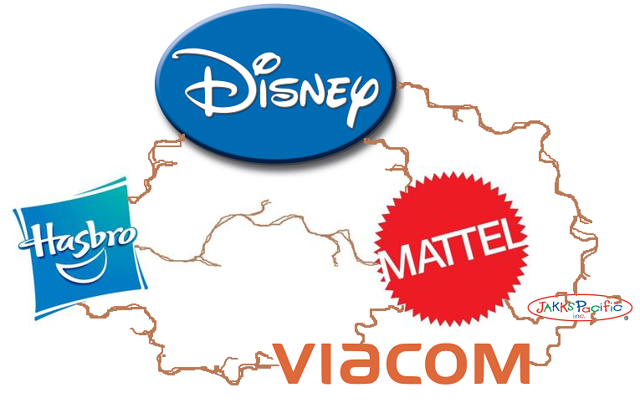 Click to enlarge
As a result, so has the growth in my portfolio.
The learning that's lead to more understanding about Mattel created additional opportunities I might have otherwise overlooked. Viacom had a good sized pullback last week because analysts were disappointed in the CEO's plans for growth or takeover prospects. I've come to learn how prominent a player that they are in the toy stores with their Spongebob Squarepants and Teenage Mutant Ninja Turtles brands.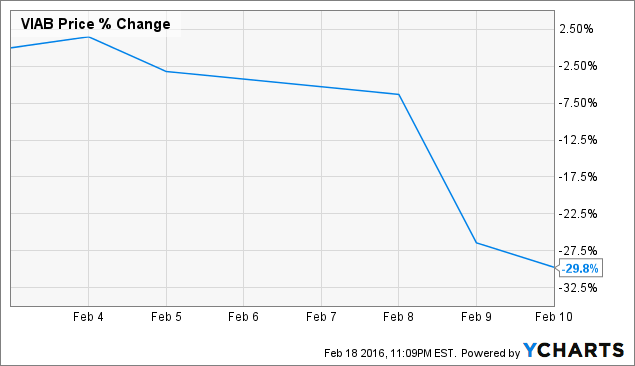 VIAB data by YCharts
In spite of those great brands, Viacom tanked. Inside of a single week you could buy shares at nearly 30% off, with a dividend yield above 5%. So I took a good sized stake in the company. Should the price of Mattel continue to rise the way that it has, Viacom is where I'll be redistributing some of those profits.
Over time, you will collect a forest worth of knowledge.
The longer you invest, and the more you learn, the easier it will be to locate opportunities. Because of the holding I have in Navios Maritime Partners (NMM), I've become more knowledgeable about the Baltic Dry Index. Which adds to what I understand about oil companies. In that sector, I've been buying Philips 66 (PSX) and Chevron (CVX). The price of oil and its impact on global construction helped me notice that Caterpillar (CAT) was selling at a great price, so I own shares in them now, too.
So there's diversification in my portfolio, but not excessively so. For the most part, I'm looking to own the strongest companies in their sector at good prices. Consistently profitable operations have the ability to recover from hard times, so it's important to me to continue to check in on these holdings to make sure that the businesses are still making money, regardless of what their stock price is doing.
I place the largest percentage of new money coming in from my job and from dividends into the holdings that have fallen the most, so when the turnaround inevitably comes, I receive the largest benefits.
The forest feeds off of itself, and everything grows together.
In the stock market, everything is cyclical. I've come to see that money will move from sector to sector based on whatever the news of the day is, but as a whole, there is more and more money over time. All you have to do is wait for a company that you know well to have a "bad news" day, and then jump on it. Keep buying that company until it is overpriced, and then when another sector is having a bad time, move a portion of those profits there.
This activity will keep you in a constant state of "buying low", and only selling when the price is high, or in several of my cases, never selling because the strength of the company is such that you don't have to worry that much about what you paid; earnings and dividend growth will fill any gap in that overage.
Indexing in that sense is also a similar discipline.
Except that you are not selectively isolating the best values. The way index funds like the Vanguard Total Stock Market ETF (VTI) are constructed tends to leave you paying more for growth, and getting less in compounding from dividends. Growth is fleeting; today's fast movers are not likely to be the same fast movers years or even months from now.
We saw that problem develop with Amazon (AMZN), which took down the entire market when their stock fell at the start of the year. It took the market with them for the ride because index funds owned proportionally large amounts of their shares. Amazon's story isn't finished yet, but it was because I was knowledgeable about their competition that I knew I needed to stay out of their way.
Focus on buying, not selling.
Don't stress about when to sell, you will know when you have a holding that's become more popular than it should be. Sooner or later, an opportunity is going to appear somewhere else that it makes sense to take advantage of. In 2010, when Disney released "Tron: Legacy", I sold a good sized chunk of that holding, because the price of ConAgra Foods (CAG) had fallen sharply.
It wasn't because I thought Disney was a bad company, I just thought the price didn't make sense for how much the dividend was. It was the fungal investing that I had been doing in supermarket stocks that made it possible for me to know that there was an opportunity in another sector.
ConAgra isn't number one in their sector, but they're one of the largest. The market didn't appreciate how ConAgra was performing against their rival Procter & Gamble (PG), and the stock price had been pushed low enough that the dividend yield exceeded 4%. Disney was below 1% at the time. When I made that trade, the difference in yield captured me an instant pay increase of nearly 400%. Eventually, the imbalance was equalized, and took my profits out.
In closing:
Fungus grows slowly in the beginning, but eventually overtakes every living thing. Everything on the planet is in contact with its spores. The knowledge you gain from learning about business is never lost. You don't have to be a fact machine, or up on the latest news feeds. The abstract ideas about each company's niche will stay with you.
When you own companies with these qualities, a market crash is not going to take you out. A forest fire can't stop the molds that have infected the roots of trees, and even in a widespread crash, the majority of your holdings will keep paying dividends. Most will increase them.
Don't reach out at random. Stick to your circle of competence. Focus on learning as much as you can about what you already own, and the knowledge of other opportunities will reveal themselves. When the time comes, it is only a matter of scattering your spores.
(Image source: Pixabay.com)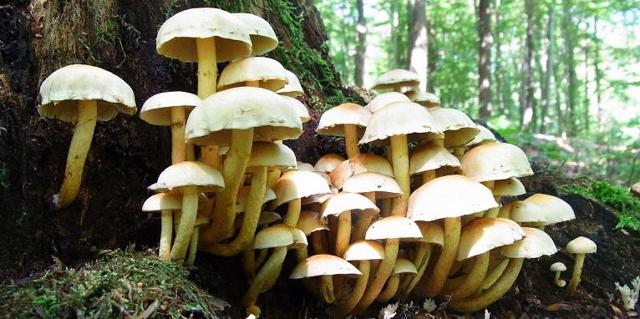 Click to enlarge
Disclosure: I am/we are long DIS, NMM, VIAB, HAS, NTDOY, CAT, PG, CVX, MAT, PSX.
I wrote this article myself, and it expresses my own opinions. I am not receiving compensation for it (other than from Seeking Alpha). I have no business relationship with any company whose stock is mentioned in this article.
Editor's Note: This article covers one or more stocks trading at less than $1 per share and/or with less than a $100 million market cap. Please be aware of the risks associated with these stocks.