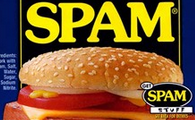 Have you eaten any Spam lately? Maybe you've even cooked this delightful recipe, Spam Meatloaf Cupcakes...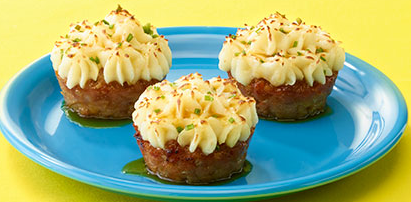 (Source: HRL website)
Hey, don't sneer, the market loves this stuff! If you think it's all foie gras and caviar down on Wall Street, think again - the market has been gobbling up shares of Spam's manufacturer/marketer, food giant Hormel Foods (NYSE:HRL):

As we've been rediscovering in some of our recent articles, there's a whole lot of spice to some food-related stocks, whether it's food service giant Sysco Foods, (NYSE:SYY), or even c-store gasoline retailer Sunoco LP, (NYSE:SUN), whose gas station c-stores with Laredo Taco food locations attract repeat customers into its gas stations 40% more often than its non-Taco outlets. SUN jumped over 22% since we wrote about it last week - the market must have gotten wind of that special hot sauce it puts on its tacos.
Profile: Hormel Foods Corporation produces and markets various meat and food products worldwide. The company operates in five segments: Grocery Products, Refrigerated Foods, Jennie-O Turkey Store, Specialty Foods, and International and Other. It provides various perishable meat products, including fresh meats, frozen items, refrigerated meal solutions, sausages, hams, wieners and bacon; and shelf-stable products comprising canned luncheon meats, shelf-stable microwaveable meals, stews, chilies, hash, meat spreads, flour and corn tortillas, salsas, tortilla chips, peanut butter, and other products. The company also offers poultry products such as turkey products; and nutritional food products and supplements, sugar and sugar substitutes, dessert and drink mixes, and industrial gelatin products. Hormel Foods was founded in 1891 and is based in Austin, Minnesota. (Source: HRL website)
As you can see from the above list, HRL is no one-trick pony - in fact, it boasts 30 brands which have the No. 1 or No. 2 positions in their category, including the newly acquired Applegate organic meats, Skippy peanut butter, Hormel Chili, Wholly Guacamole, and, who can forget this relic, Dinty Moore Beef Stew.
Clearly, a firm with strong marketing clout, Hormel's latest presentation actually links certain brands with demographic groups. Careful boomers, you may not want to look at the next picture - yep, good ole Spam is right there under your picture. What a raw deal, those young Gen X'ers and Millennials get all of the cool products, like Muscle Milk and Wholly Guacamole, while we old timers are relegated to our cans of chili, stew and spam: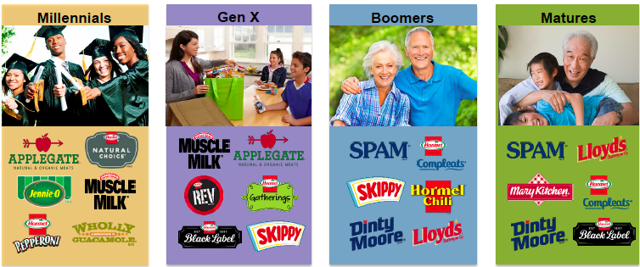 Click to enlarge
How popular are these products in the US? Well, even the ubiquitous Skippy brand is only in 24% of US households, which is a lot, but there's plenty of room for more growth. Spam is in 12% of US households and had sold over seven billion cans as of 2007. It started out in 1937, and gained popularity after its widespread use in World War 2 during rationing. The Spam-crazy Hawaiians create some interesting dishes with it, such as Musubi, in which it's placed on rice and wrapped with nori. (Source: Wikipedia)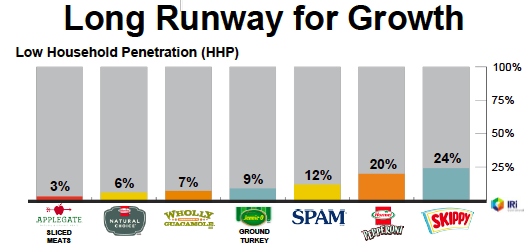 (Source: HRL website)
Dividends: If you're looking for a high dividend stock, HRL may not be your cup of meat. However, it has the admirable record of raising its dividends for 50 years in a row and is a Dividend Aristocrat. The dividend was raised from $.25 to $.29, as declared on 11/23/15, and paid on 2/16/16. (HRL did a 2-for-1 stock split on 2/9/16, and adjusted this dividend accordingly, from $.29 to $.145/share.)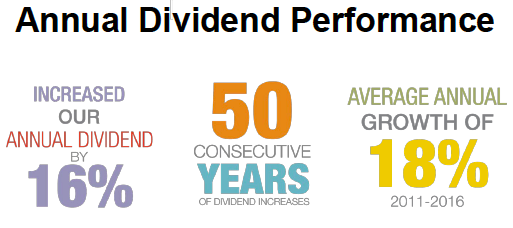 Options: If you're looking to boost HRL's dividend income on a short-term basis, you might consider selling covered calls.
We just listed a June covered call trade for HRL in our Covered Calls Table, which also tracks over 30 other income-producing trades.

Click to enlarge
Since the $45.00 strike price is $2.25 above HRL's price/share, this trade does leave you some room for potential price gains, in addition to paying $1.40 in call option income, and $.29 in dividend income prior to the June expiration. The table below details the various income streams for this trade on an assigned vs. expired basis:

Click to enlarge
There's also an at the money June $42.50 put option for HRL, which pays $2.30, giving you an attractive 5.4% yield in four months, or 16.6% annualized.
You can see more details for this and over 30 other put-selling trades in our Cash Secured Puts Table:

Click to enlarge
Earnings: Although its top line has been down over the past four quarters, HRL has cooked up some impressive growth rates in its operating income, net earnings, and diluted EPS. (As mentioned earlier, HRL did a 2-for-1 split in February, which is why its share count doubled in Q1 2016.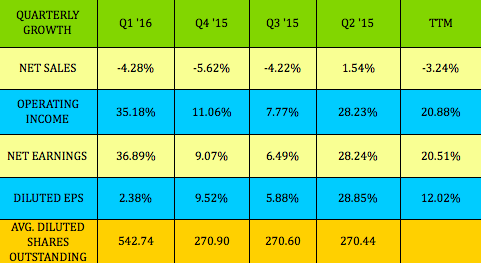 HRL also had flat sales, but good growth in operating income, net earnings, and diluted EPS in fiscal 2015: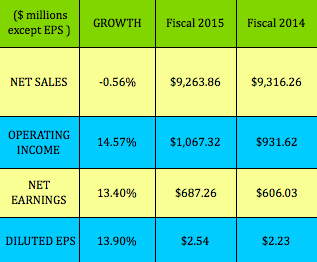 Looking back further, HRL has outpaced the S&P 500 and its Packaged Foods and Meats peers over the past several years: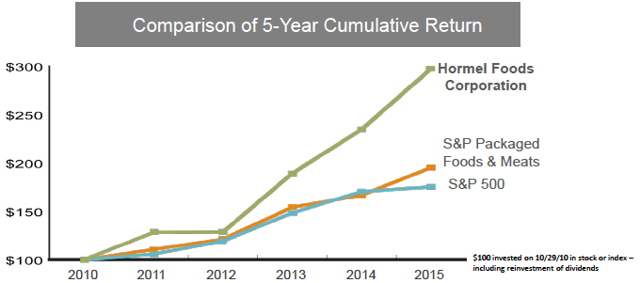 Click to enlarge
(Source: HRL website)
Segments: Which segments are growing the most? Specialty Foods only grew 11.91% in fiscal 2015, but its operating profit surged over 30%. Refrigerated Foods chipped in over 47% of revenues and grew operating profits over 25%.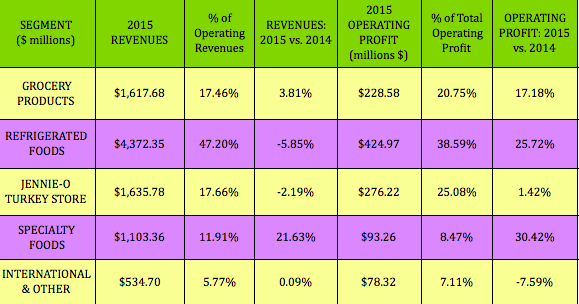 HRL also did a non-GAAP breakout of segment operating income performance over the past few years in its latest presentation, which shows Specialty Foods, Refrigerated Foods, and Grocery Products having strong growth in 2015 and the for the 1st quarter of fiscal 2016, which ended 1/24/16:

Click to enlarge
Increased Guidance: "Our strong earnings performance in the first quarter, led by Refrigerated Foods, Grocery, Products and Specialty Foods, along with the positive momentum at Jennie-O Turkey Store, has given us confidence to raise our fiscal 2016 earnings guidance range from $1.43 to $1.48/share to $1.50 to $1.56/share," stated James P. Snee, President and Chief Operating Officer, on HRL's Q1 earnings release. (Source: HRL website)
Analysts Estimates and Price Targets: In researching stocks to write about, we've been seeing an overwhelmingly downward trend in earnings estimates for some time now, so it was quite a pleasant surprise to see these robust upward estimate revisions for HRL. Not only have 10 analysts upped their estimates, but the actual consensus is up for 2016 and 2017.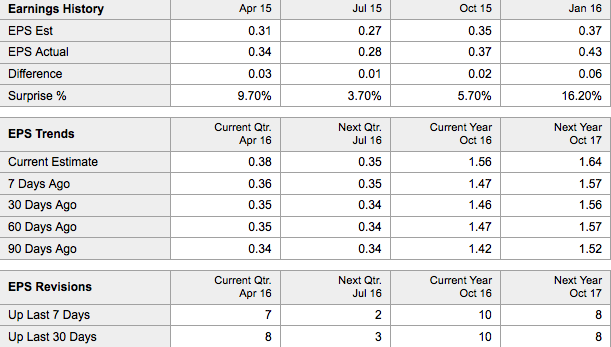 (Source: Yahoo Finance)
Price Targets: With its steady outperformance, HRL has pulled even with analysts' mean $42.75 price target.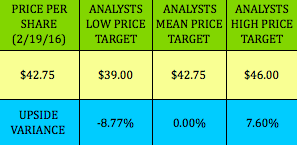 Valuations: HRL is commanding a premium price/book and price/sales valuation, vs. broad food processor industry averages. Its P/E looks lower, but is higher than about half of its fellow Dividend Aristocrats, and way above the S&P 500 mean average P/E of 15.58.

HRL has quite a strong balance sheet, with a 1.91 current ratio, only 6% long-term debt/shareholder's investment: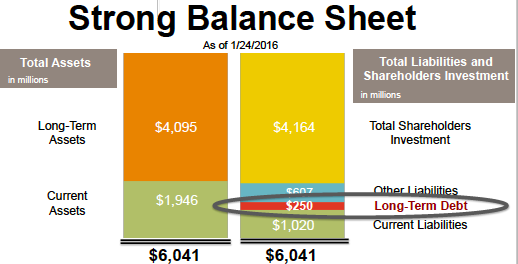 (Source: HRL website)
All tables furnished by DoubleDividendStocks.com, unless otherwise noted.
Disclaimer: This article was written for informational purposes only. Please practice due diligence before investing in any investment vehicle mentioned in this article.
Disclosure: I/we have no positions in any stocks mentioned, but may initiate a long position in HRL over the next 72 hours.
I wrote this article myself, and it expresses my own opinions. I am not receiving compensation for it (other than from Seeking Alpha). I have no business relationship with any company whose stock is mentioned in this article.