It is never a good idea to kick a dog when he is down. I have read several articles on Seeking Alpha lately pointing to the recent performance of Andrew Hall's hedge fund, Astenbeck Capital Management that reportedly lost 35% on oil positions in 2015. One such article states, "Generally, when hedge funds lose more than 25% or 30%, the "lock-up" provisions keeping investors in the fund are rendered inoperative."
It is no surprise that Hall still attracts investment funds to Astenbeck; he is perhaps the greatest and most perceptive oil trader alive today. I have some insight into Mr. Hall; I worked with him from 1991 through 1997 - I sat next to him on a daily basis throughout that period. I could never be him; I do not have the mental abilities but I learned as much as I could and for that, I will be forever grateful to the man.
The chess game of crude oil looks a bit better
Last week, an announcement of a "freeze" in production at January 2016 levels was released to the market as a result of a meeting between the Saudi oil minister and his Russian counterpart with Venezuela and Qatar in attendance. That "freeze" initially caused selling, which took the price of crude oil down to $30.66 per barrel on Tuesday, February 16 on the April NYMEX futures contract. However, on Wednesday, the price rallied with the active month April contract adding over $2 on the session and closing at just shy of $33 per barrel. After the close, the American Petroleum Institute reported a surprise withdrawal of 3.3 million barrels from U.S. inventories, lifting the price to almost $34 per barrel. The next day, the EIA reported a build of 2.15 million barrels. NYMEX crude oil closed on Friday, February 19, at $31.75 per barrel.
The price of crude oil has plunged for the better part of a year-and-a-half, falling from over $107 on the active month NYMEX futures contract to the $33 level. It got as low as $26.05 on the expiring March contract on February 8. Oil-producing countries are suffering under the weight of an oil price that is less than a third of what it was. While at first glance, the word "freeze" caused a sell-off, an author who continues to discount Hall's prowess called the "freeze" a "joke." That picture is work in progress; perhaps a masterpiece creation by the hands of an artful brush controlled the Russians who are clearly playing the role of mediator between the two most powerful members of OPEC, Saudi Arabia and Iran. It may just be a precursor of things to come and what the market truly needs - a production cut organized by another party with vested interest, Russia and Mr. Putin.
Given the animosity between the two powerful producers at OPEC's helm, the only way to paint the picture of lower production is appeasement of both sides. Both the Saudis and Iran want the oil price to rise. At the same time, each revels in the pain felt by the other. I believe the "freeze" is a first step, a baby step, on the path to a production cut that will result in unanimous consent by all members of the cartel. The price of crude oil is higher after the "freeze" term appeared in the marketplace. This should come as no surprise. The world of international petroleum is a chess game. Masters who understand the economic and political ramifications of the market play for keeps in a game where the stakes and egos play as large a role as production and consumption.
Andrew J. Hall understands that game; he has lived it and profited in it for more than three decades. Any analyst who doubts him or throw stones at one year's isolated performance amounts to a checker player at a chess table.
Market structure says it has a chance
Over recent sessions, the contango in both NYMEX and Brent crude oil has decreased in response to a rebound in price. This is likely to benefit the positions Mr. Hall prefers when it comes to his activities in the crude oil market. You see, those who understand his trading philosophy know that the front-to-back spreads or calendar spreads are his favorite method of expressing his market view.
In the article that excoriates Hall, the author quotes him from his latest missive:
"... as 2016 progresses the current imbalance turns to a deficit. This will result in quite rapid reductions in inventories and should provide the catalyst for a sustained rise in prices from levels that are required to destroy supply to levels that are required to create it."
This tells us that Hall is betting that the contango will narrow, as inventories will decrease. The author responded to Hall's comments with the following:
"At this juncture, with demand for crude imports to the U.S. likely to drop as noted above, the supply/demand balance appears it will worsen, rather than improve, as expected by Mr. Hall. It would not be surprising to see the OPEC Basket Price drop below $20 in the weeks ahead."
One needs only look at the chart for one-year oil spreads (the March 2016 versus March 2017 NYMEX spread) to understand what Mr. Hall expects: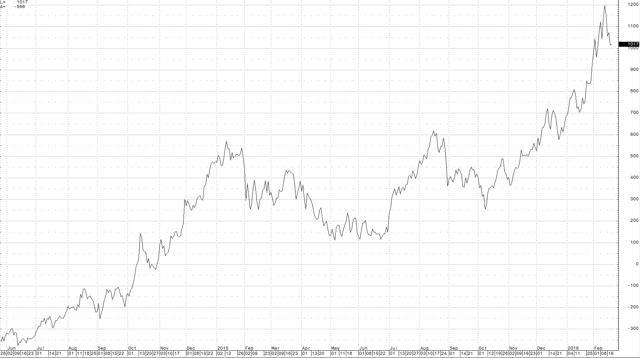 Click to enlarge
That spread has dropped from $12.01 since the time of the SA piece to $10.17 - the spread has tightened. This move in the spread is reflective of a more positive outlook at this time. The direction of the spread is clearly the direction of Hall's current bets. Crude oil has not dropped since the article that came out on February 12; it has actually rallied from $28.83 to $31.75 per barrel. It actually reached highs of $34.21 the week before falling back. Sentiment remains bearish so the sell-off late in the week, particularly in light of the EIA stats was not a surprise.
Technical indicators stretched - sentiment changes slowly
A quick look at the weekly chart for NYMEX crude oil leads me to wonder, what was that author thinking when he penned that piece last weekend?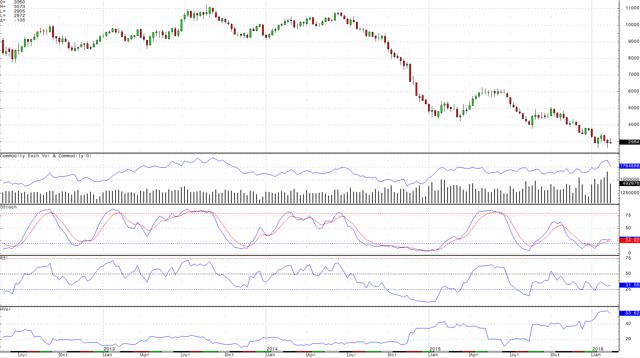 Click to enlarge
The weekly chart of NYMEX crude oil tells us that the market is overripe for a recovery. Notice that open interest, the total number of open long and short positions on NYMEX crude oil futures, had risen steadily as the price declined recently. For quite some time, sentiment in the world of crude oil has not just been bearish, it has been apocalyptic. It has now risen to a level where the odds are tilting in a way that so many shorts in the market will roast on a spit. The oil gods - and I count Mr. Hall as one of them - love to hand out the largest dose of pain to the largest and most aggressive positions that overstay their welcome in a market.
On the monthly chart, relative strength and momentum metrics are turning higher, which creates the perfect temperature for roasting those who fall in love with fundamentals that are old news.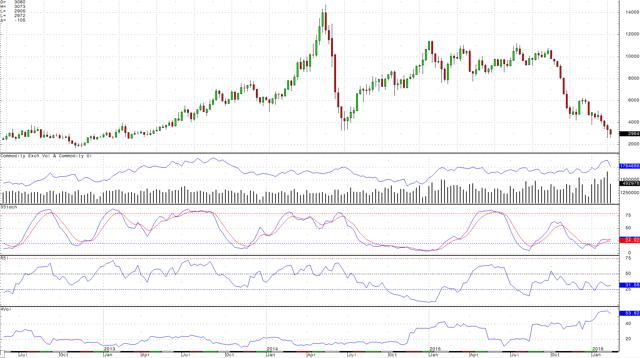 Click to enlarge
The monthly chart shows a similar picture of oversold metrics that are in desperate need of a relief rally. One thing about markets, sentiment tends to change slowly - a key mistake of the masses.
Sentiment has not changed yet in the oil market, but it will - the ultimate price will be huge losses. Yes, Andy Hall has been bleeding in the oil market for more than a year. However, this trader or "guru" has a history of making vast sums of money in very short spans of time.
Contrarian plays result in biggest surprises
Contrarian positions go against the grain of market sentiment. That is why they are the most profitable and difficult to conquer. They require patience and steadfast discipline. They require one to filter out all of the noise and test the position holder on a daily basis. That is why when they go right, it happens quickly and violently. The true contrarian must have nerves of steel and blinders to all extraneous information. Hall has those qualities and he will prevail.
In the oil market today, all eyes are on OPEC. Hall's eyes are firmly on the prize - he sees this market in a different light, through a different sensory perception. That perception is not superhuman, it is a skill built on decades of experience and knowledge. Those skills do not just relate to quantitative fundamental or technical aspects but to the qualitative, the psychological, political and pulse of a breathing crude oil complex that operates around the world. Factored in is an understanding of the turbulence of the region of the world where the majority of reserves are present. Those skills encompass an understanding of the demand components of energy and sometimes, more importantly, the egos and stakes involved in a complex equation.
Billions in profits were no outlier
Hall has made fortunes over the years, his record of accomplishment is positive and his profits are in the billions. His biggest hits are always contrarian plays. In 1990, he made a mint when Iraq and Kuwait went at it. In 2007 and 2008, he made even more when crude oil climbed to $147 per barrel. He got in and he got out - generally at times when non-believers littered the market.
I cannot count how many times those in the markets or on the sidelines have written his career obituary, each time he prevailed and my bet is that he will once again. All of those losses, all of that bleeding over the last year-and-a-half will be wiped out during the next move in crude oil and his AUM will rise along with his wealth. Andy Hall's trading prowess is unprecedented, and the root of his talent is that he understands the multivariate calculus of trading. He is a master of the chess game populated by checker players that seek to make him look foolish and at the twilight of his career. The fundamentals sighted by that author are clear for all to see - it takes a special talent to look beyond those production and consumption figures and feel the pulse of a market for it as a living and breathing being, filled with influences that only few can disseminate.
Only the naive kick a guru when he is down - Marc Rich was probably the greatest trading talent of the 20th century. Andrew J. Hall is his equal, and he will prevail and remain victorious as he once again solves the current equation that is path of the price of crude oil. Others write about Hall often. I rarely do. Having worked alongside him and learning from him, I respect and honor him with silence. However, reading the pieces about him on Seeking Alpha recently, I felt the need to add my two cents.
As far as losing AUM, Astenbeck is no ordinary hedge fund - those who invest with Hall know that. His investors have the same patience the trader extraordinaire has. My money is on Andy Hall. If he says a deficit is coming in oil, although he may have mistimed it, I am sure he will be correct and will profit like no other in the marketplace.
Disclosure: I/we have no positions in any stocks mentioned, and no plans to initiate any positions within the next 72 hours.
I wrote this article myself, and it expresses my own opinions. I am not receiving compensation for it (other than from Seeking Alpha). I have no business relationship with any company whose stock is mentioned in this article.