Starbucks (NASDAQ:SBUX) is popular not only with consumers but also investors as well. Growth in both top and bottom lines almost seems to be unstoppable. The graph provided by Barchart shows a steady growth in price appreciation over the past 6 months:
(Click charts to expand)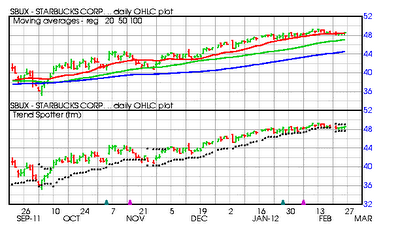 Starbucks Corporation purchases and roasts whole bean coffees. It operates 6,705 company-operated stores and 4,082 licensed stores in the United States; and 2,326 company-operated stores and 3,890 licensed stores in Canada, the U.K., China, Germany, Thailand and internationally. The company provides regular and decaffeinated coffee beverages, Italian-style espresso beverages, cold blended beverages, iced shaken refreshment beverages, premium teas, packaged roasted whole bean coffees, and soluble coffees. Starbucks stores also offer various fresh food items, including pastries, prepared breakfast and lunch sandwiches, oatmeal, and salads, as well as juices and bottled water. In addition, it sells bottled Frappuccino beverages, Starbucks DoubleShot espresso drinks, and Discoveries chilled cup coffee, as well as markets and distributes Starbucks super-premium ice creams.
Further, the company provides various coffee and tea products, and licenses its trademarks through other channels, such as licensed stores, grocery, and national food service accounts. Its brand portfolio includes the Starbucks, Tazo tea, Seattle's Best Coffee, and Starbucks VIA Ready Brew. Starbucks Corporation was founded in 1971 and is based in Seattle, Washington. (Yahoo Finance profile)
Factors to consider
Barchart technical indicators:
48% Barchart technical buy signal
Trend Spotter hold signal - but trending bullish
Above its 20-, 50- and 100-day moving averages
5 new highs and up 2.10% in the last month
The price is only 1.44% off its 1-year high
Relative Strength Index 57.42%
Barchart computes a technical support level at $47.90
Recently traded at $48.61 with a 50-day moving average of $47.09

Fundamental factors:
The stock has long been a darling with Wall Street brokerage firms where 23 firms have assigned 28 analysts to follow the company's numbers
Analysts predict revenue will grow 13.60% this year and another 10.90% next year
Earnings estimates are for an increase of 21.05% this year, an additional 22.28% next year and continue at an annual rate of 18.31% over the next 5 years
These consensus numbers resulted in firms issuing 11 strong buy, 9 buy, 7 hold, 1 under perform and no sell recommendations to their clients
If all numbers are hit analysts look for a total annual return in the neighborhood of 7% - 9% over the next 5 years ( growth in sales and earnings but return to a lower P/E).
P/E ration is 30.78 compared with the market's P/E of 15.10
Dividend rate is 1.41% (30% of estimated earnings) compared with the market dividend rate of 2.20%
The company enjoys an A financial strength rating
Growth will come in increased sales of food, packaged goods and juice (from the newly acquired Evolution Fresh line)
Growth in China is above 25% annually
Packaged goods at the grocery stores include not only bags of beans and ground coffee but also K-cups marketed by Green Mountain Coffee Roaster (NASDAQ:GMCR)

General investor interest:
7,545 readers of Motley Fool have put this stock on their watch lists
The readers voted 78% that the stock will beat the market
The more experienced and savvy All Stars are more optimistic with a 90% vote for the same result
Fool notes that most of the articles published on the stock have been favorable
Some giving the thumbs up are Jim Cramer, Pat Dorsey, George Soros and Gary B Smith

I like to compare a stock's price action with stocks in the same industry and while SBUX was up 48% in the last year Caribou Coffee (NASDAQ:CBOU) was up 91%, distributor Green Mountain Coffee Roasters was up 62% and Dunkin Donuts (NASDAQ:DNKN) was up 5%.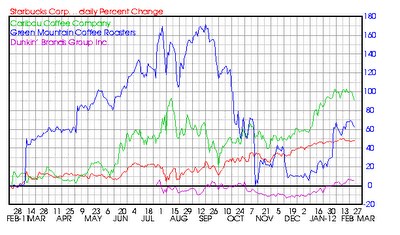 Summary: You can tell by the chart above that interest in the coffee sector was higher earlier in the year but is continuing to recover nicely. Starbucks should be a core holding in conservative long-term growth portfolios but more aggressive investors might look at the smaller Caribou Coffee to invest new money. The chart below indicates that the upward momentum is not over for Starbucks and traders should look at the 50-day moving averages or lower 14-day turtle channel to find an exit point: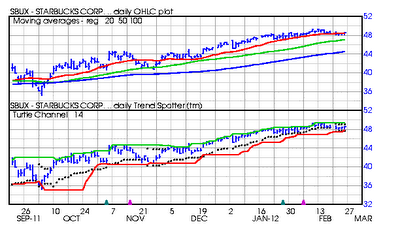 Disclosure: I have no positions in any stocks mentioned, but may initiate a long position in CBOU over the next 72 hours.