"If you say the world has been getting better you may get away with being called naïve and insensitive. If you say the world is going to go on getting better, you are considered embarrassingly mad. If, on the other hand, you say catastrophe is imminent, you may expect a McArthur genius award or even the Nobel Peace Prize."
- Matt Ridley - The Rational Optimist
The bookshops are overflowing with tales of the next financial crisis. The airwaves are crammed with pessimism and doom. I've been challenged and criticized repeatedly because of my stance on the equity market. Primarily due to the fact that I may be one of the last who haven't thrown in the towel and changed to a more bearish equity positioning.
When investors are faced with a deteriorating market, one naturally assumes that someone, somewhere, knows something. That the market must be possessed of great insight. The scramble then becomes to unearth what this great insight might be.
This is what investors have done with energy debt issues. Many are now convinced this situation is similar to the mortgage banking crisis in 2008. I have spent a great deal of time and research on the energy debt issue to show that isn't the case at all. Plenty of evidence has been presented to demonstrate the stark differences in the two. Yet, market participants lean to the idea that someone knows something and are sticking to their assumptions.
The "fear" commentary has been taken to yet another level with the European debt issues. Fears over economic collapse in the Eurozone and completely unfounded estimates of enormous derivatives exposures to commodities, all have one word in common, contagion. It is the linchpin for the theories as investors try to sort out what may be taking place.
Renaissance Macro says:
"Financial crisis worries starting with European banks are overdone. It notes the Portuguese central bank's handling of a problem bank relied on a "bail-in'' solution that put the burden on senior debt holders, not a counterparty. This suggests that while European banks may face multiple hurdles with compressed margins and a slowing global economy, counterparty risk does not appear to be among them. And without counterparty risk, it's difficult to have contagion risk.
As of this week, 8 of the 17 names in the S&P 500 bank index trade at a price-to-tangible book value of below 1. Market participants have now extrapolated the issues with the European banking system to U.S. banks. The implication is that assets held on the books of these banks are going to be written down substantially in the future, and that they won't generate any loan growth. In my view, this is an enormous quantum leap assumption. The industry has far more capital and stable funding than at any time in the past seven years. The "insiders" seem to agree and see some value in their own shares with these recent insider purchases.
Late 2008 was a first for investors in more ways than one. Up until that point, the vast majority of investors and professionals in the financial sector had never experienced a downturn of that severity. As a result, the Financial Crisis caused a stampede of investors out of risk assets and into the safety of treasuries. One result was that in late 2008, for the first time in just about anyone's career, the dividend yield on the S&P 500 topped the yield on the 10-year U.S. treasury. As discussed in last week's missive, we are at that point once again.
In other words, treasuries, which offer no upside from their face value, paid an investor less to own them than an asset class that has historically generated capital appreciation at an annualized high single-digit percentage rate. Investors have conjured up a story to answer the question of what the market may be telling them and may have simply talked themselves into a fear scenario last seen in 2011.
The comparisons to 2008-09 could become increasingly popular as the issues that have been laid out for investors to ponder. At this moment in time, from where I sit, I don't envision that kind of meltdown.
I continue to report a contrary view to what the majority is saying. In 2008, the financial system was extremely vulnerable; highly levered with extraordinary exposure to a collapsing asset (mortgage-backed securities, starting with subprime) where underlying assets represented a far larger share of the U.S. economy than oil does.
The consumer, who represents 70% of the economy, was similarly over levered and faced a frightening wave of layoffs to boot. Central banks were caught offside with relatively tight monetary policies. And equity valuations were extended.
Today, the banking system is well capitalized, and in my view, with little to no systemic risk. Household balance sheets are much improved and are as healthy as they were before the real estate mania of the 2000s, with household debt service relative to household income bouncing around 35-year lows.
Equity valuations, particular after this year's price action, already are approaching "fair value" levels on the longer term earnings expectations.
I'm not sure why these facts are completely dismissed by skeptics. Sans yet another black swan (the first being the debacle in the oil market), these data points would not seem to be the makings of a deep and prolonged recession, bringing equities down 40 to 50% as experienced in 2008.
That said, caution is better than euphoria at this juncture, for one simple reason. The aforementioned "fear factor" that has been injected into the picture. With earnings numbers still in question, and the valuations that investors are willing to pay also compressing, the S&P could remain vulnerable to the downside.
So, I watch and wait looking for clues to signal what trend will firmly take hold.
While I don't necessarily agree with the overall analysis, this article, while making some solid points, takes the optimistic approach to the extreme.
ECONOMY
The typically cautious Atlanta Fed has raised its first-quarter GDP forecast to 2.7%. I have to admit that was a surprising move. If you read into the details, they dovetail what they feel is the condition of the U.S. consumer in forming their forecast.
Duane Van Vuuren on the probabilities of a U.S. recession and a series of other logical thoughts.
According to the Bureau of Economic Analysis, the consumer is doing just fine. Data shows inflation adjusted consumer spending in 2015 was the strongest since 2005, rising 3.1%.
The weekly Bloomberg Consumer Comfort Index hit a 4-month high on falling gas prices and a stronger jobs market, with the buying climate component advancing to a 10-month high. Michigan's preliminary sentiment for February slipped, but remained solid, with the current conditions component well above 100.
Here are two charts of interest.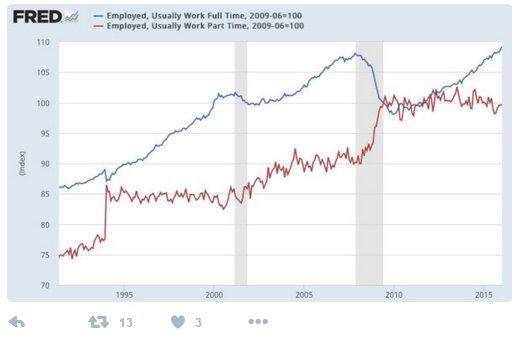 Source: Bureau of Labor Statistics
So much for the "all new jobs are part time" argument.
This graphic would seem to indicate that the industrial sector isn't dead just yet.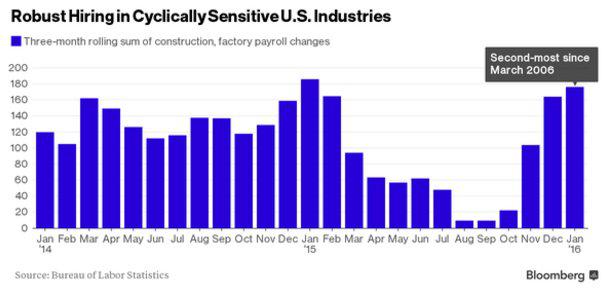 January industrial production rose by the most in 14 months as manufacturing and utilities output increased; the latest sign the economy regained some ground early in the year.
The skeptics most likely will dismiss those data points and rally around this headline. The Empire Manufacturing report for the month of February, while showing modest improvement, rising from -19.4 up to -16.6, is still quite dismal.
This report has now been in contraction mode for seven straight months, which is the second longest streak in the history of the index (July 2001) behind only the 17-month streak from February 2008 through June 2009. It is also the 10th month in the last 12 where the report was weaker than expected.
The February report on manufacturing in the Philadelphia region came in better than expected for the second month in a row. While economists were forecasting the headline reading on business conditions to come in at a level of -3.0, the actual reading came in at -2.8. Yes, it was a tiny beat, but in the weak environment of late, the bulls will take it.
Unfortunately, the bad news is that the Philly Fed headline index has now been negative for six straight months, which is the longest streak of negative readings since 2012 when we saw seven straight negative months.
Home builder sentiment dropped more than expected in February and now sits at its lowest level since last May. While economists were expecting the headline index to remain unchanged from January's initially reported reading of 60, it actually fell three points from an upwardly revised level of 61. This marks the third decline in the last four months, as well as the largest four-month decline since May 2014.
Bespoke Investment Group reports:
"With investors increasingly viewing economic data for signals of a recession or not, we would note that even if sentiment has peaked for this cycle, prior peaks in home builder sentiment often preceded a downturn in the overall business cycle by at least two years."
After a weaker than expected reading on home builder sentiment, data on Housing Starts and Building Permits for the month of January came in mixed with a negative bias. Starts missed by 74K on a seasonally adjusted annualized rate, while permits came in slightly higher than expected. For both reports, though, note that the December readings were also revised lower.
Global Economy
Much has been said regarding the weakness of the Baltic Dry Index as an indicator for a global recession.
I've debunked this argument before, with this article explaining what the Baltic Dry Index is really telling us. I'll reiterate my thoughts stating that the BDI has fallen primarily due to the 30% overcapacity in the shipping industry. Cargo volumes have been growing, adding 2.3% in 2015. BDI is a terrible economic measure, confusing price with volume and excess supply with growing demand.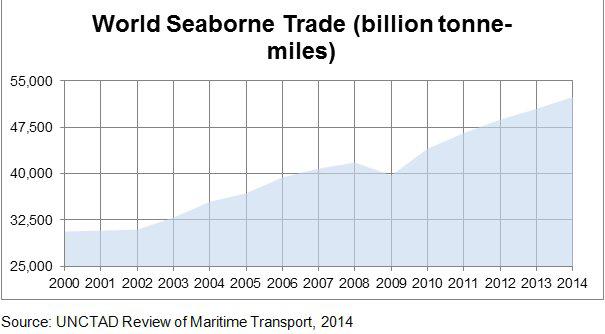 Chart courtesy of Urban Carmel
Ed Yardeni reports:
"The risks of global recession outside the US have increased. But if this drags the US into recession, it would be a first."
EARNINGS
Here is my weekly compilation of the recent headlines of the earnings reports for all major companies reporting to date.
Earnings season officially ended when Wal-Mart (WMT) reported this past Thursday. While we regularly hear that there's a "profit recession" in U.S. stocks, we should also note that there's definitely growth for some specific sectors. Consumer Discretionary and Healthcare both managed to grow revenues and EPS while beating revenue and EPS estimates for the quarter amongst the large caps.
According to an analysis from FactSet Research:
With 87% of the companies in the S&P 500 reporting earnings to date for Q4 2015, 68% have reported earnings above the mean estimate and 48% have reported sales above the mean estimate. Seven sectors have higher growth rates today (compared to December 31) due to upside earnings surprises led by the Materials sector.
As expected, the Energy sector was the largest contributor to the year-over-year declines in both earnings and revenues for the index.
The blended earnings growth rate for the S&P 500 (ex-Energy) for Q4 2015 is 2.5%. The blended sales growth rate for the S&P 500 (ex-Energy) for Q4 2015 is 0.5%.
The USD continued to impact earnings. S&P 500 companies with higher global exposure have reported lower earnings growth and lower revenue growth relative to S&P 500 companies with lower global exposure for the fourth quarter.
Ed Yardeni shares his view on the USD impact on earnings:
"When the dollar is up 22%, it automatically lops 11% off corporate profits. It is equivalent to a 100 bp increase in the Fed funds Rate. As reported last week that "headwind" may be subsiding.
From Thomson Reuters:
Forward 4-quarter estimate: $121.90 versus $122.50 last week

P/E ratio: 15.3(x)

PEG ratio: 11(x) given the low forward growth rate

S&P 500 earnings yield: 6.54% versus last week's 6.52%

Growth rate of forward estimate: +1.38%, versus last week's +1.75%
SENTIMENT
Money has been flowing out of equity funds (including ETFs) 10 of the past 11 weeks. A period which roughly corresponds to the equity high point in December. Urban Carmel notes that this is the first time since the week of March 10, 2009 that equity outflows have been negative 10 out of 11 weeks.
Fund managers' cash positions are now at levels last seen in 2001, and according to BAML, it has registered a "contrarian" buy signal.
AAII reports: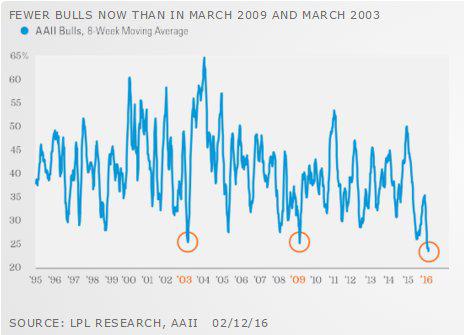 MARKET SKEPTICS
Market participants love guru worship in the field of finance. Many like to find someone who sounds smart, says all the right things, makes a few good calls and cling to their every word. Until they fall on their face. Then we find another guru to worship until the process repeats itself. There is a revolving door of "gurus" in this field.
With the stock market feeling pressure, the bad news bears are being rolled out to promote their ideas, books and websites. Many market participants cite the latest headline and predictions from some of the widely followed self proclaimed gurus in the business.
The most prominent now are David Stockman, Raoul Pal and Harry Dent. Of course, we can't forget the one that never seems to go away despite having the most horrific track record during the entire bull market, Tyler Durbin and Zerohedge. They continue to skew the data in an effort to keep investors questioning why they would ever wish to be in the stock market. Maybe that will eventually work out for them but they have kept many people away from equities during one of the greatest bull markets in history. That is an indisputable fact. In my view, anyone defending Zerohedge is taking up an indefensible position.
Those that listened to David Stockman in 2013 would have run away and hid from the stock market. That hardly seems like good timing or advice given the advance the S&P has seen since those thoughts were first spoken. It is more of the same today, if it didn't pan out then, let's roll the date forward and try again.
Raoul Pal "ushered in the end" for all of us back in 2013 when he predicted global financial calamity. With those words from Mr. Pal back then, I find it nothing short of a miracle that I am sitting here writing this. Fast forward to 2016 and I guess it's best that I quickly sum up my thoughts before I am once again faced with financial Armageddon.
Harry Dent predicted Dow 3,000 in 2011 and advised investors to be out of the market between early 2012 and late 2013. The precise time that the Dow and the S&P broke out of a 13-year sideways pattern that pushed the Dow to over 17,000. Today, he calls for Dow 6,000 in 2016 and Dow 3,300 by 2020.
Now some say I am biased, and claim that just because there were some incorrect market calls, I should keep an open mind. Perhaps a look at this independent review of Mr. Dent will alter one's opinion rather than taking my "biased" word for it.
Honorable mention goes to Jesse Felder turning bearish in February 2013, and issuing a sell signal in May 2013, and the calls for doom from Stanley Druckenmiller. Both were bearish and warned back in 2013 that it was time to get out of equities.
It's not a coincidence that they all called the next "crash" back in 2013. They weren't alone. The stock market made a new high and the "unsustainable overvaluation" bandwagon started in motion. It was time to tell everyone that you were wrong and they were right. Their circus had arrived at your town.
What better time now to ramp up the rhetoric as the stock market has weakened. The followers are once again jumping on this bandwagon and the circus is once again ready to visit us again.
The issue with a lot of these "gurus" is that they're focused. They're specialists in offering a myopic view of global events. Since nothing works all the time in finance, these gurus often go through very brief periods of looking brilliant and long periods of looking silly. It doesn't mean they're not smart. It just means they are, by definition, in the wrong place at the wrong time most of the time. I have four words for those who say they were "early" with their assessment of the markets. "Give me a break"
I've been asked why I can't come around and embrace some of the recent commentary as it now seems to "fit" with what is taking place in the financial world today.
Really? Think about it, they convinced many that it "fit" back in 2013.
Ladies and gentlemen, I don't summarily dismiss the fact that the financial events being described can't happen. I, like most of you reading this, have lived through, and more importantly survived, the greatest financial crisis in stock market history. Doesn't that count for anything when using common sense to view global financial markets?
If anyone wishes to embrace anything that is presented by these self proclaimed "gurus", be my guest.
The fact is, the "crash" rhetoric is here and it's designed to question every investing principle that investors have used to build wealth over time. I simply say, Caveat Emptor.
CRUDE OIL
In the week ending February 13th, crude oil was 81% off its all-time high. Since '83, it has never been further off the all-time high. I do wonder how many saw the magnitude of this decline coming.
There was an announcement last week, stating that OPEC and other major players had met and agreed to "freeze" global oil output. That event sparked a quick 11% jump in the price of WTI, even though the outcome was viewed as having little or no effect on the current oversupply situation.
I have two takeaways from what transpired. First, I believe it just may make any of the larger traders in this market think twice about ramping up the "short" positions. If so, that could lessen the selling pressure that crude oil has been under.
Secondly, the mere fact that Russia and the Saudi Arabia are talking is a positive, as these two aren't exactly bosom buddies.
THE TECHNICAL PICTURE
My view entering into this week was fixated on the idea that if the bulls were going to make a statement, they had better step up soon. Indeed, they have as we have witnessed a 108 point rally in the S&P from the intraday lows of February 11th.
The good news is that the lows from August/September/January held once again. The "potential" bad news is that support will most likely fail if retested again any time soon.
Similar to last year, there appears to be 'W' bottoming pattern in place, as shown on this chart. However, the difference this time around is that we are coming off of "lower" lows.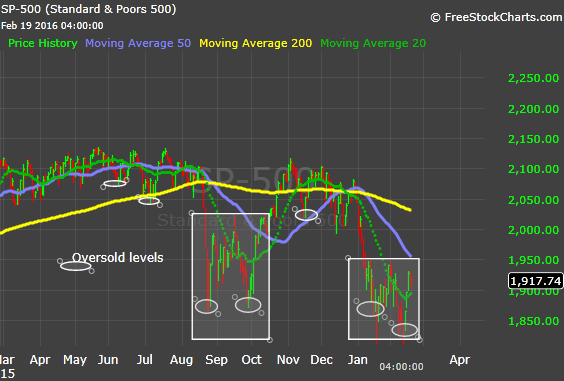 How much energy is left in this push higher remains to be seen. The onus and spotlight still sits squarely on the bulls.
The general consensus that prevails is, "sell the rally". Since I rarely agree with the "consensus" view, my strategy remains the same since the first "scare", which was 6 months ago. Let the situation play out before making any drastic portfolio changes.
The Dow Jones Transports represent an important part of the economy and have been on my radar for some time. According to many market watchers, the Dow Jones Transportation Average was one of the first "tells" that there was something wrong with the stock market. After all, how could the transports be so weak when fuel prices were tumbling. The assumption then was, all is not well with the stock market.
To give you an idea, the Dow Jones Transports are down over 20 percent in the last 12 months, having fallen over 30 percent from the late 2014 highs to January 2016 lows.
I have often stated that this price weakness could simply be a reversion to the mean, and the transports weren't telling us anything.
I say that because while the Transport has underperformed the S&P lately, it outperformed the major averages in 2013 and 2014. In that period, it registered gains of 41% and 24%, respectively. That compares to the S&P gains of 31% and 11% in the same time frame. Perhaps what we are witnessing is a mere consolidation of a very large two-year move.
One look at the graphic presented below and it is apparent that those excesses have been worked off. The DJ 20 has come down from a trailing P/E ratio of 23 last year to the present day P/E of 11.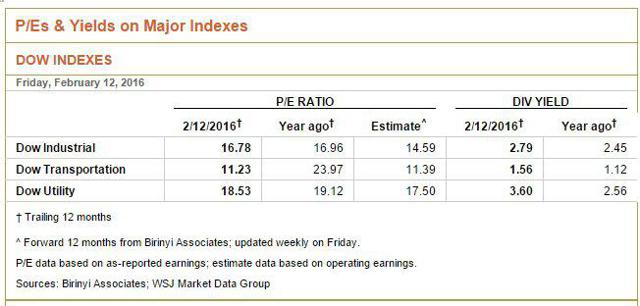 Click to enlarge
Investors might wish to take a look at what has developed and give credence to the thought that the transports are no longer overvalued.
This is one of the most important sectors in the world, so it's important that the Dow Jones Transports "may" have put in a bottom here. This price action coincided with the S&P 500 testing a critical support level around 1,810 as well.
INDIVIDUAL STOCKS
Note that during the last 3 months, I have not recommended or chased the "utilities" here. It is a crowded trade and they are overpriced. One look at the data presented indicating a P/E ratio of 18 for the sector makes that quite apparent. In my opinion, one can do much better at this point in time by researching dividend stocks that combine better valuations and growth prospects. Wait until some of this fear subsides, the sector cools off, then enter positions to diversify your portfolio.
Apple (AAPL), Gilead (GILD) and Celgene (CELG) are not expensive given their growth profiles.
SUMMARY AND CONCLUSION
In recent years, it has paid to stand firm in these pockets of distress. Equity markets have bounced back as investors realized that the economic underpinnings were stable.
The most recent examples were last August and again in September, as the market rebounded around 7% from those lows.
Here we are again with the latest test coming in February. As the market evolves, so should an investor's outlook. "Project, monitor and adjust", best describes what I believe market participants need to concentrate on now.
The biggest change from what we experienced in the past is the "fear factor" that is at heights not seen since 2011. There are more market inter linkages than in the past. Market participants are fixated and questioning what is going on in China, as they are unsure of the outcome from a manufacturing based economy to a consumer driven one. Other global growth issues have the attention of investors along with the incessant weakness in the crude oil market. It seems there are many more questions around now than answers.
The switch from high beta to more defensive dividend payers has been the extent of my change of positioning.
It is still my view that repositioning within a portfolio to add more quality and lessen volatility is the way to proceed. Changing the composition of my equity exposure is the prudent first step in reducing overall risk.
I have been taking the recent market action as a "growth scare" rather than the signs of impending Armageddon. Thus far, I have mentioned that I'm not in favor of being overly defensive by switching to an outsized cash position, or making a large switch to bonds. That has been the correct call for my portfolios as the S&P sits at 10% from the high and 6% from the lows. It also allows me to take part in any recovery from the recent selloff that tested last years lows, while the portfolio continues to generate dividend income.
Reassess, project, monitor and adjust.
My strategies aren't for everyone. Investors need to look at their personal situation and do what gives them peace of mind. I offer my views and portfolio management strategy because they have served me well over time.
As always, do what works for you. There's not just one way to get the job done.
Best of Luck to all!
Disclosure: I am/we are long AAPL, CELG, GILD, WMT.
I wrote this article myself, and it expresses my own opinions. I am not receiving compensation for it (other than from Seeking Alpha). I have no business relationship with any company whose stock is mentioned in this article.