Unilever (NYSE:UL)(NYSE:UN) is my preferred pick in the consumer goods sector. The company is progressing slowly but steadily despite a more and more challenging market environment. As underlying growth slows down, Unilever fortunately enjoys a strong position in regions where consumer goods spending is still increasing: the emerging markets. Unlike Procter & Gamble (NYSE:PG) which direction is not really clear to me, Unilever has a sound strategy and executes successfully.
Admittedly, Unilever which reports in euros does not have to cope with the strengthening dollar, a severe headwind for companies like P&G. But even when the effects of currency tailwinds are eliminated, Unilever reported strong full-year results. Revenue grew by 10%, including a positive 5.9% currency impact which means that USG (underlying sales growth) reached 4.1%. Growth solely came from the emerging markets where USG is up by 7.1% while the developed markets were stagnating. Core EPS climbed 14% from €1.61 ($1.80) in 2014 to €1.82 ($2.03) last year. At constant exchange rates, there would have been an 11% increase. Some other positive developments to mention are the improvement of the core operating margin which was up by 30 base points to 14.8% and free cash flow which increased considerably.
Share price and dividends
Quality has its price and unfortunately, successful consumer goods companies are (almost) never cheap. The current market uncertainty and the shift to quality has supported Unilever shares in the recent months. Unilever tends to be one of the safer havens, and investors can expect comparatively low volatility, an attractive and constantly growing dividend, plus some long-term capital appreciation potential on top.
Over the past year, the stock has been trading in a relatively narrow corridor between $38 and $46 and currently stands at $43.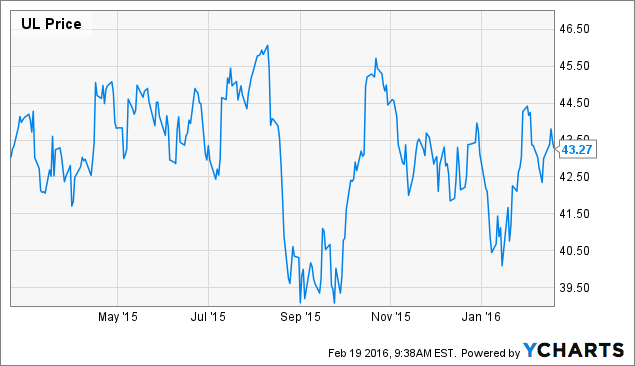 Quite uncommon for a European stock, Unilever pays quarterly dividends, and the dividend is usually raised in the second quarter. In 2015, the company increased the payout by 6%, and I expect a similar raise for this year.
Unilever Dividend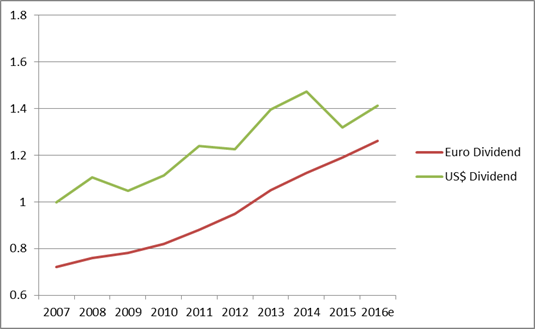 Source: company website
Unilever currently yields 3.1%, and the next dividend raise will be announced in April. Assuming a 6% increase, the yield would grow to 3.3%. Based on the strong 2015 result, even a higher raise seems possible, but giving the uncertainties down the road, I do not think that the company will be more generous. Admittedly, the dividend yield is not outstanding, but it reflects the (perceived) safety which the low-beta stock offers in troubled times.
The payout ratio of 66% has remained more or less constant over the past few years and is at an acceptable level for a consumer goods company.
Unilever has a successful dividend track record, the company is a reliable dividend grower and has increased its payments (in euros) by in average 7.8% over the past five years. Due to currency fluctuations, the dollar dividend shows some ups and downs and particularly in 2015 the appreciating dollar led to a significantly lower distribution.
More attractive for US investors because of the dollar strength
I see Unilever as a core long-term holding, therefore market timing is not so much of the essence. Nevertheless, there is no hurry to buy, and waiting for the next correction will likely be rewarded. Unilever is not a volatile stock, hence no big jumps can be expected which also limits the downside potential, at least unless we enter a real bear market.
For US investors another important aspect comes into play: the weakness of the euro (or the strength of the dollar). This effect which had a negative impact on the dividend recently, is on the other side helpful for investors looking to buy foreign stocks. Unilever's share performance in euros is much better than in dollars, but due to the euro depreciation, dollar investors have not seen extensive gains over the past 24 months. While Unilever shares are up by 40% in euros over a 2-year period, there is only a 15% gain in dollars.
The good news is that, Unilever can be bought cheaper today in dollars, and there are more signs pointing towards a further strengthening dollar than for a trend reversal. If interest rates in the US and the eurozone continue to diverge, the dollar should continue to appreciate, opening more opportunities for US investors.
Unilever's most recent price drop occurred in September/October, when the stock fell from a 52-week high of $46 to a low at $39. In the current market environment, I would consider a share price below $40 as a quite attractive entry point. This level that was almost reached four weeks ago when Unilever dipped again. Since then, shares have recovered, but I believe that we could see similar opportunities in the next months.
Based on the current analyst consensus which forecasts EPS to grow by 5% to €1.91 ($2.14), the 2016 PE ratio stands at 20, not a modest valuation. In case of a 10% price decline to below $40, the PE fell to 18 and the expected 2016 dividend increased to 3.7%, a situation which would make me feel more comfortable to add some more shares.
Conclusion
Unilever continues to be a success story, and the strong 2015 results are the best proof for it. The company became a reliable overachiever during the past years by capturing growth opportunities in emerging markets while improving operating efficiency and constantly increasing margins. I believe that Unilever is a good addition to the defensive part of each portfolio. Today might not be the perfect time to consider the stock, but it remains on my watch-list, and in case of a correction by 10% or more I am willing to add more shares.
Disclaimer: Opinions expressed herein by the author are not an investment recommendation, any material in this article should be considered general information, and not relied on as a formal investment recommendation. Before making any investment decisions, investors should also use other sources of information, draw their own conclusions, and consider seeking advice from a broker or financial advisor.
Disclosure: I am/we are long UN.
I wrote this article myself, and it expresses my own opinions. I am not receiving compensation for it (other than from Seeking Alpha). I have no business relationship with any company whose stock is mentioned in this article.