Money is certainly flowing into precious metals ETFs. I took a look at fund flow data provided by XTF.com for three of these funds, the SPDR Gold Trust (GLD), iShares Gold Trust (IAU) and iShares Silver Trust (SLV).
Here's a comparison of money flowing into each of these funds, showing year-to-date fund flows against the one-year total (going back to February 2011).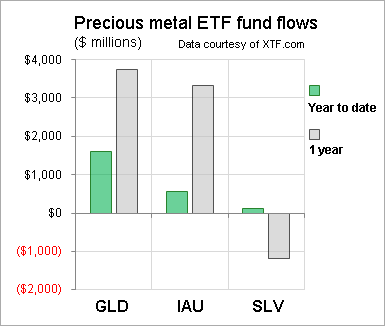 GLD and IAU together have seen inflows of more than $2 billion against a total of about $7 billion for the entire year. So investors are certainly picking up the pace in putting money into these gold funds.
But what's really interesting is that SLV has seen net inflows of $119 million year-to-date. That seems like a pittance, but it certainly beats the $1.2 billion that came out of the fund over the full year.
Here's a closer view of the trend. This chart shows the exponential moving average of daily fund flows.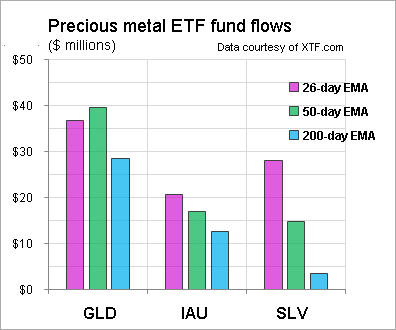 Once again, money continues to flow into the gold ETFs, but the daily average of money moving into SLV has certainly spiked.
While over the past 200 days an average of only $3.5 million flowed into SLV, that rises to more than $28 million per day over the past 26 days.
Silver, of course, is way more volatile than gold. Yet it has rewarded investors pretty well so far this year - with the price up about 27% against a nearly 14% increase in the price of gold.