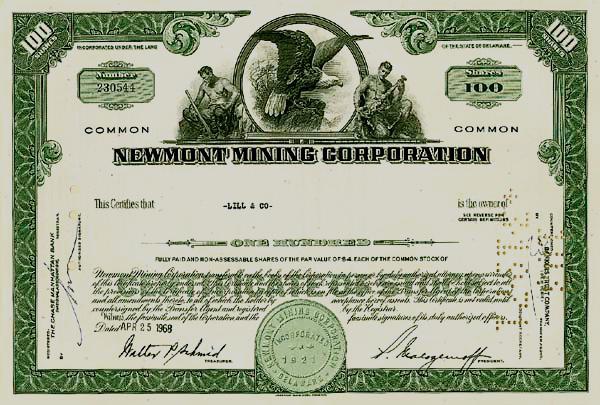 Picture: Newmont Stock certificate
Newmont Mining Corp. (NYSE:NEM)
This article follows my preceding article on Newmont Mining published on October 31, 2015 about 3Q'15.
Newmont is the only gold producer listed in the S&P 500 index and was named the mining industry leader by the Dow Jones Sustainability World Index in 2015.
A quick look at the financials:
Year 2015
Q4 2015
Q2 2015
Q1 2015
Year 2014
Q4 2014
Basics

Total Revenues

$ billion

7,729
1.816
2.033
1.908
1.972
7.292
2.02

Net Income from operations

$ million

220
254
202
131
175
508
15

EPS

$/share

0.42
(0.48)
0.38
0.18
0.35
1.02
0.08

Adjusted Net income

$ million

507
20
126
132
229
545
86

Adj. EPS

$/share

0.98
0.04
0.23
0.26
0.46
1.09
0.17

Consolidated cash flow from operations

$ million

2,157
275
813
441
628
1,451
562

Free cash flow

$ million

756
(185)
478
119
344
415
218

Cash and cash on hand

$ million

2,782
2,782
2,964
3,308
2,598
2,403
2,403

Dividend

$/share

0.10
0.025
0.025
0.025
0.025
0.225
0.025

EBITDA

$ million

2,700
435
758
692
815
2,090
638

Net Debt

$ billion (less cash)

3,305
3,305
3,121
2,832
3,854
4,077
5,286

Debt and long-term liabilities

$ billion

10,890
6,087
6,085
6,470
6.583
11,827
6.875

Share Outstanding

in Million

530
-
-
-
-
499
-
Mining highlights

Gold Production in M Oz

Including CC&V mine (8/15)

5.035
1.247
1.34
1.236
1.213
4.845
1.261
Copper Production in K Lbs
166
39
48
41
37
86
28.7

CAS Cost applicable to sale Gold $/oz

Including CC&V mine (8/15)

633
680
608
638
609
704
631
CAS Cost applicable to sale Copper $/lb
1.21
1.18
1.15
1.61
1.33
2.88
1.86
Gold price Oz
1,141
1,084
1,104
1,179
1,203
1,258
1,194
Copper price $/Lb
2.13
1.86
1.95
2.41
2.34
2.65
2.55

AISC gold/oz

Including CC&V mine (8/15)

898
999
835
909
849
1,002
927

Capital expenditures

$ billion

1.401
0.460
0.335
0.322
0.284
1.099
0.344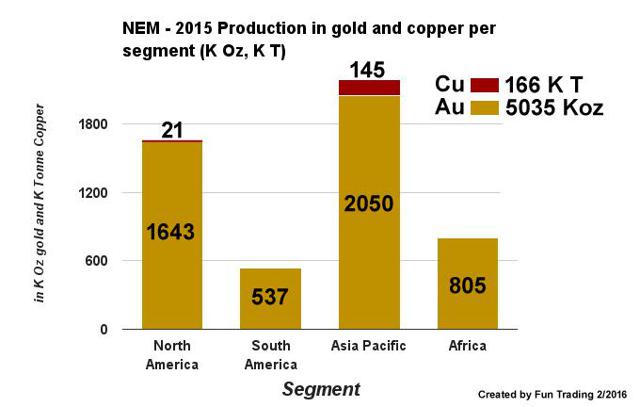 Click to enlarge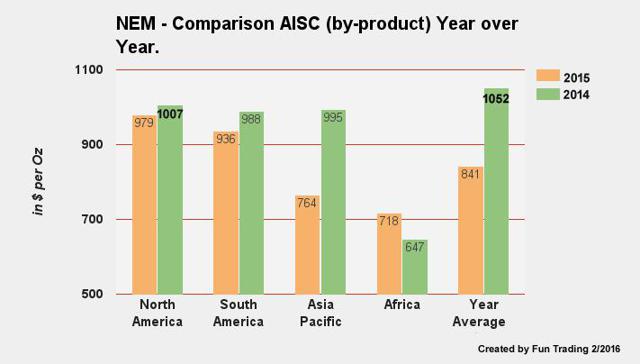 Click to enlarge
Commentary:
Newmont mining released its earnings results for 4Q'15 and full year 2015 on February 17, 2016. It was a slight mixed basket with earnings which missed Wall Street estimates whereas revenues came in above estimates.
Revenues for the 4Q'15 were $1.816 billion down 10.6% -- due in part by an export delay impacting about $100 million in revenues -- quarter over quarter and $7.729 billion for 2015, up 6% year over year.
One important element, NEM has lowered debt by 19% since the end of 2014, a huge positive for investors, following the trend started by Barrick Gold.
M. Gary J. Goldberg, CEO, said in the conference call, the following:
We increased our adjusted EBITDA by 29% to $2.7 billion despite a 9% decrease in realized gold price. We more than doubled free cash flows to $756 million, reduced net debt by 19% while continuing to invest in growth, and paid $52 million in dividends and delivered first quartile total shareholder returns versus our competitors. Our sustainability performance also influences our ability to create value.
NEM is a huge gold/copper miner and of course, it is quite difficult to present the company in a few graphs and comments. This is one of the most difficult aspect to complete for us, the common shareholders, when it comes to big gold miners such as NEM or Barrick Gold (NYSE:ABX).
They are so big and so spread around the world, it comes to a point where we are left guessing a little, and rely on basic financial ratios that are not really the best approach to invest, I must admit.
As a trader and investor, I rely a lot on my "feelings" to decide if I can trust the company for the long run. The gold sector is a sector that should represent between 5% to 10% of any balanced portfolio, and within this sector the gold miner segment is an important feature. My favorite gold miners are Newmont Mining and Agnico-Eagle (NYSE:AEM) and I added seriously last October GoldCorp (NYSE:GG) and Barrick Gold, when the gold outlook was really bearish.
One number that I pay attention is the gold AISC (by-product basis) for a gold miner.
I see NEM improving its AISC in 2015 to $841/ Oz from $1,052/ OZ in 2014, thanks to favorable oil prices and exchange rates in 2015. Guidance for 2016 until 2017 seems staying below $1,000/ Oz which is a satisfactory number but not an excellent one. I would prefer an AISC in the low $800's or even below $800. Some progress in this segment seems necessary.
On the projects situation:
Turf Vent Shaft was completed in November 2015.
Long Canyon remains on track to begin production in the first half of 2017.
Merian is about 2/3 complete.
CC&V expansion under way.
Tanami expansion project is on track, with the second decline well underway and mill expansion construction beginning in mid-2016.
In the conference call, M. Goldberg said about the potential sale of Batu Hijau:
I also want to address speculation about the potential sale of Batu Hijau. Newmont, with our partner, Sumitomo, are in discussions with certain parties who have expressed serious interest. But to date, none has secured fully committed financing or final deal terms.
On the debt front, the company repaid $454 million in debt in 2015 (including $120 million of debt repayment in Q4'15) with now a net debt of $3.3 billion and a ratio Net debt versus Ebitda of 1.22 which is good and among the lowest in the industry.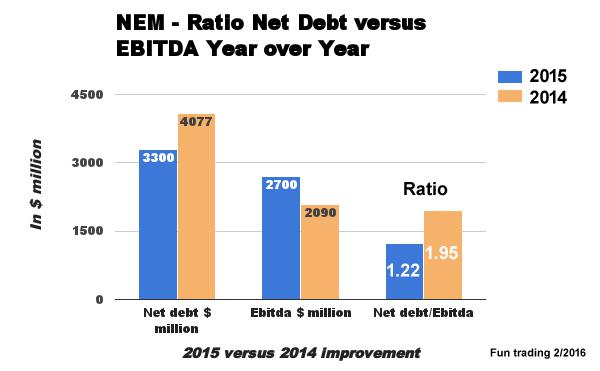 Guidance:
NEM is expecting a production 2016 at approximately 4.8-5.3 Moz at an AISC at around $950/ Oz. CapEx will be around $1.3 billion in 2016 and will go below $1 billion until 2020.
Solid numbers overall but not extremely convincing for a high PPS valuation. As I said above, I would like the company to get to the low $800's for the AISC and achieve 5.4 Moz of gold for 2016.
Conclusion: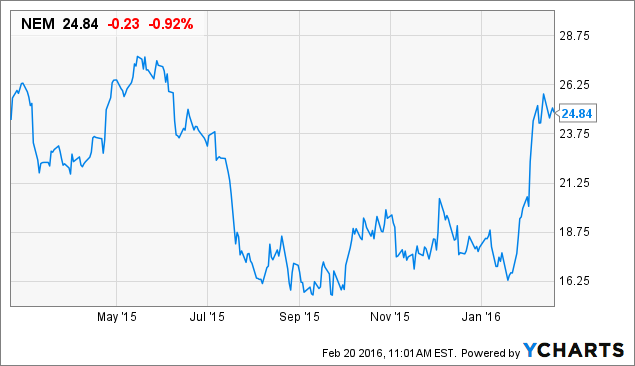 Newmont Mining is certainly one of the basics from a long-term investor's perspective. NEM can safely be considered as a proxy for gold price. I find NEM a bit rich, right now, after this recent gold strong rally, and I believe it is safe to wait for a natural retracement in the low 20's before initiating a long position. However, I rate NEM as a buy with a target in 2017 of $29-$32.
Disclosure: I am/we are long NEM.
I wrote this article myself, and it expresses my own opinions. I am not receiving compensation for it (other than from Seeking Alpha). I have no business relationship with any company whose stock is mentioned in this article.