IAMGOLD (NYSE: IAG)
IAMGOLD is a mid-tier gold producer based in Canada with five operating gold mines spread on three different continents. The company also has four development projects (Westwood in Quebec, a Cote Gold project in Ontario, Rare earth elements in Quebec, and Camp Caiman in French Guiana).
This article is an update of the preceding article published on November 4, 2015, about the 3Q'15 results.
Company financial snapshot:
IAMGOLD released presentation on February 18, 2016. Third-quarter presentation.
Year 2015
Q4 2015
Q3 2015
Q2 2015
Q1 2015
Year 2014
Q4 2014

Revenues

in $million

917.0
238.2
207.6
226.5
244.7
1,007.9
272.5
Cost of sales $million
971.6
283.5
227.6
228.8
231.7
892.9
239.5

AISC gold mine

in $/Oz

1,118
1,202
1,027
1,076
1,113
1,101
1,021
Attributable gold production inclusive of the JV operations in K Oz
806
199
197
202
208
834
241

Net cash from operations

in $ million

26.0
(45.5)
9.8
31.7
30.0
312.2
72.0

Impairment charge

in $ million

621.3
621.3
0
0
0
0
0

Comprehensive Loss

in $ million

(766.0)
(685.8)
(83.8)
(19.7)
23.7
(212.9)
(135.1)

EPS attributable to stockholders of IAG

$/share

(1.93)
(1.73)
(0.21)
(0.05)
0.06
(0.55)
(0.32)

Cash and Cash equivalent

$million

481.0
481.0
783.4
836.4
889.1
158.5
158.5
Capital expenditures $ million
191.4
49.2
74.6
13.6
54.0
343.7
-
Long-term debt $million
628.1
628.1
635
645
636.7
641.7
641.7
Shares outstanding in million
391.4
391.4
391.4
391.3
391.3
376.9
376.9

Gold price

$/ Oz

1,158
1,101
1,121
1,194
1,222
1,259
1,201
Non-Cash Impairment Charge

In the fourth quarter 2015, we recorded a non-cash after-tax impairment charge of $580 million relating to the Côté Gold project and the Westwood mine. For impairment testing purposes, we used a gold price assumption of $1,100 per ounce for 2016 and a long-term gold price assumption of $1,200 per ounce. In 2014, we used $1,250 per ounce for 2015 and $1,300 per ounce long-term. After-tax impairment charges of $400 million against the carrying amount of Côté Gold's exploration and evaluation assets and $180 million against the carrying amount of Westwood's property, plant and equipment were recorded. Refer to the Financial Condition section of the annual MD&A for further information on impairments.
| | |
| --- | --- |
| Guidance 2016 - IAG | |
| Attributable Gold Production | 770k-800koz |
| Total Cash Costs | $775-$815 |
| All-in Sustaining Costs | $1,000/$1,100 |
| Capital Expenditures | $250 million ±10% |
| Exploration | $47 million |
| Depreciation | $260 and $270 million |
| Cash Taxes | $15.0 million to $20.0 million |
Gold production per mine:
Mines

Production

2015

Production

K Oz 4Q'15

Production

K Oz 3Q'15

Production

K Oz 2Q'15

Production

K Oz 1Q'15

Rosebel (95%)
287
70
70
71
76
Essakane (90%)
383
98
107
89
89
Westwood (100%)
60
13
2
23
22
Sadiola (JV 41%)
69
16
17
17
19
Yatela (JV 40%)
7
2
1
2
2
Total
806
199
197
202
208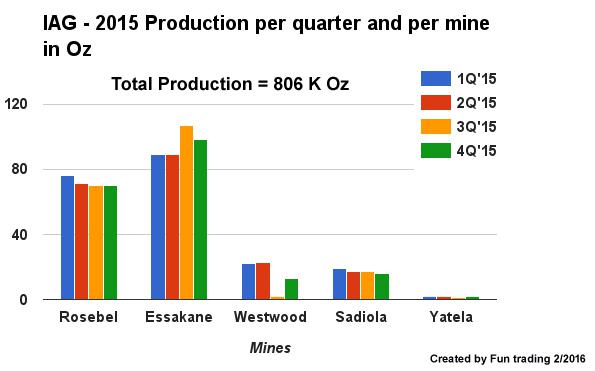 Recent events:
January 19, 2016 - announced updated life-of-mine plans for Westwood, Rosebel and Essakane.
February 1, 2016 - entered into a four-year $250 million revolving credit facility, comprising a $100 million fully committed secured facility plus an option to add a further $150 million.
Commentary:
IAMGOLD released its 4Q'15 and full year 2015 results on February 18, 2016. The results were quite disappointing, however, the production was 199 K Oz up 1% from Q3'15. Revenues for the 4Q'15 were $238.2 million up 14.7% quarter over quarter.
Since the results were publicly released, IAG has been downgraded to sell by Mackie research, due to a "distinct lack of excitement in fundamentals." It is a bit harsh but I understand the rationality of this rating.
M. Mark Letwin, CEO, said in the conference call:
All-in sustaining costs were $1,118 per ounce. However, excluding a number of unusual items that Carol will walk you through, we came in at $1,057 an ounce for the year. This is a tremendous improvement over we were just three years ago, and I'm very, very proud of the team for what they've been able to do.
I really do not agree with M. Mark Letwin on that issue?
IAG shows one the highest and persistent high-AISC among its peers, and I believe the company is facing a huge challenge, and cannot lower the AISC in the $800-$900/ Oz range. However, to be fair, I have to indicate the following:
All-in sustaining cost for Rosebel was skewed high at $1,420 per ounce in the fourth quarter and $1,165 per ounce for the year, due to the one time purchase of assets held under finance leases and the realize losses on fuel and currency hedges.
Personally, the major issue (beside a too high AISC) and my big disappointments, were Westwood mine in 2015, along with a recurring workforce problem at Rosebel.
On the other hand, IAG reduced capital expenditure and maintained an overall liquidity of approximately $691 million in cash and bullion and still has $100 million line of credit with the option to add another $150 million. Net debt is very low at $147 million, this low level debt gives some leverage to the company.
The 4Q'15 was characterized by a large non-cash impairment. Ms Carol Banducci, CFO, said in the conference call the following concerning this large impairment:
The largest item was $580 million after tax impairment charge relating to the Côté Gold project and the Westwood mine. This was a non-cash charge comprising of $400 million against the carrying amount of the Côté Gold exploration and evaluation asset and $180 million against the carrying value of Westwood property, plant and equipment.
In short, nothing exciting again in the 2016 guidance, which is seen as slightly lower than 2015 production, with an increase in capEx.
Obviously, the company is counting importantly on the Essakane mine in 2016, and it is a risky business model, in my opinion.
Our updated mine plan shows Essakane to be a robust profitable operation for at least another 8 years or longer depending on the exploration success with the soft rock targets in surrounding areas.
Rosebel mine offers some good reserves, in a lesser extent.
Based on the updated mine plan for Rosebel, the remaining life of mine is at least another seven years, production will average 300,000 ounces for the next several years, before tailing off near the end of mine life as we move into the lower grade pit.
Conclusion: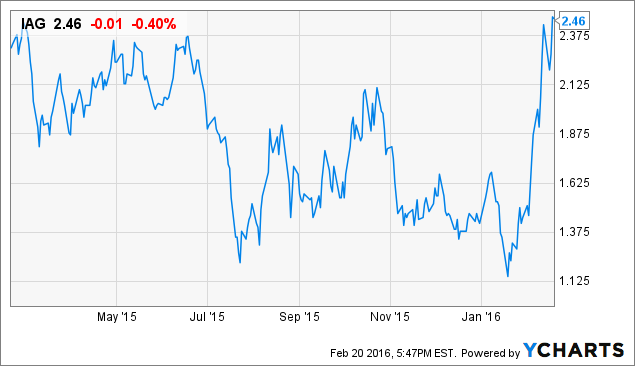 In my preceding article I recommended to buy IAG under $1.45 due to an attractive valuation at the time. Since then, the stock has more than doubled from its January low, and it is time to take a profit and sell at least 50% of your holding. I have to agree with Mackie Research, there is not much excitement with this gold miner.
IAG may have some potential, if the gold price continues to be strong, but technically the PPS is ready to retrace in the $1.80's. Personally, I do not think IAG is the best gold miner around, whereas, it may profit from the positive momentum that pushed gold well over $1,200/ Oz.
The fundamentals are decent, but the AISC is definitely inadequate, with potential further potential weakness in Westwood, and recurring workforce problem in Rosebel.
Disclosure: I/we have no positions in any stocks mentioned, and no plans to initiate any positions within the next 72 hours.
I wrote this article myself, and it expresses my own opinions. I am not receiving compensation for it (other than from Seeking Alpha). I have no business relationship with any company whose stock is mentioned in this article.
Additional disclosure: I trade IAG