In the last two years, QIWI (NASDAQ:QIWI) stock has been hammered down as the economic situation in Russia, the company's main market, worsened due to the low price of oil and a political crisis in the region. However, I believe that the company is undervalued at these levels and there's a lot of room for growth. And here's why:
1. It still has one of the best financial ecosystems in the region
QIWI is one of the leading providers of financial payment services in the post-Soviet region. It enables consumers and merchants to use and accept electronic payments via its self-serving kiosks and electronic wallet system.
The main reason why the company is successful is because of its expansion strategy. After its foundation, the management of QIWI started to build alliances and strategic partnerships with major players in different industries. Last year, it signed partnership agreements with Beeline (one of the biggest mobile operators in Russia), Russian Post (national postal operator of Russia), Otkritie (one of the biggest Russian financial groups) and SPSR Express (logistic company). Besides that, it also acquired its local competitors Contact and Rapida, and formed a strategic alliance with Visa.
With these agreements and alliances, QIWI could become a leading online payment system in Russia and post-Soviet region in the next couple of years. Its main competitor is Yandex (NASDAQ:YNDX). WebMoney is facing big problems due to Yandex's exposure to the macroeconomic events which I described in my other article. And its other competitor WebMoney doesn't accept transfers from the popular financial exchange businesses like Western Union and uses third parties for many of its operations, which raises the question of trust and the possibility of fraud. This gives QIWI the opportunity to increase its presence in the Russian region and become the leading payment service there.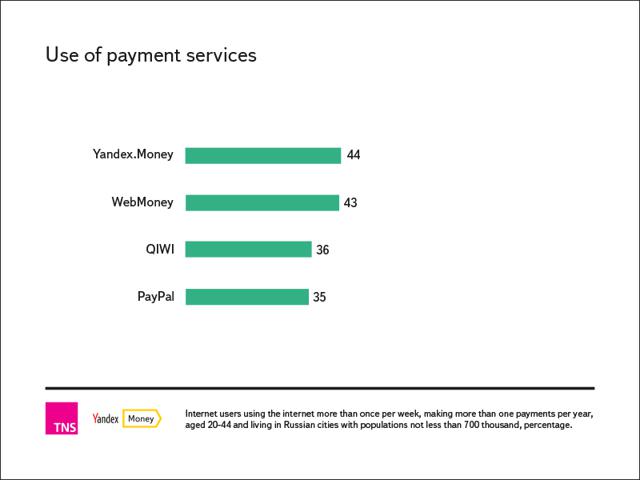 (Source: Russian Search Marketing)
2. Financials are in a good shape
Unlike other companies from the tech world that have enormous valuation and present a bigger risk for investors, QIWI has a P/E of 6.70 and a price to book value of 2.05. It showed a consistent growth for the last few periods, and its adjusted EBITDA for the first nine months of fiscal 2016 is already bigger in comparison with the same period last year: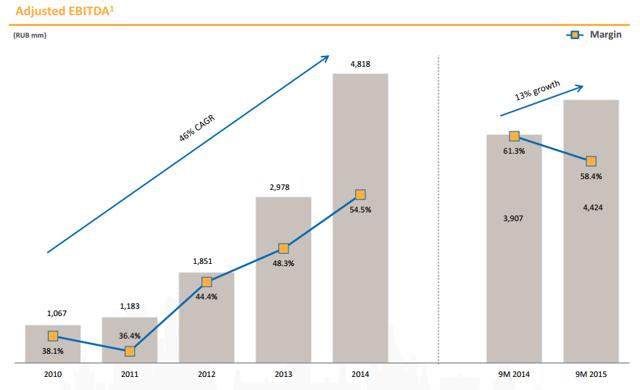 (Source: Investors Presentation)
The company plans to announce its earnings results for the period ended December 30 on March 10. I believe that the new contracts and growth which I described above will have a positive impact on the results and will push QIWI stock higher.
Another thing that will play an important role in the company's future success is the electronic payment market in Russia. It expects to grow at a 20% CAGR from 2012 to 2019, and most of the funds will be transferred online, which will certainly help QIWI in acquiring more users into its ecosystem: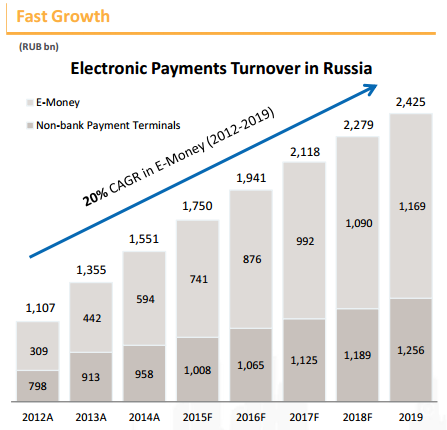 (Source: Investors Presentation)
The main reason why QIWI stock has fallen apart in the last few years is the macroeconomic situation in the Russian region. But I believe that despite this exposure, it's time for the company to recover. Its valuation is relatively low in comparison with other competitors in the space and the outlook looks pretty attractive. I see a lot of upside here.
Disclosure: I/we have no positions in any stocks mentioned, and no plans to initiate any positions within the next 72 hours.
I wrote this article myself, and it expresses my own opinions. I am not receiving compensation for it (other than from Seeking Alpha). I have no business relationship with any company whose stock is mentioned in this article.