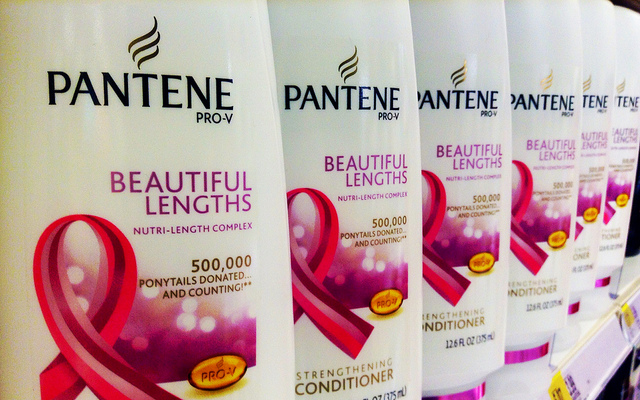 I am (like so many others) a fan of Procter & Gamble (NYSE:PG). Its remarkable reach across the fast moving consumer goods sector is impressive. As a result, probably every one you met today in your day-to-day life had used a Procter & Gamble in the last day or so. Quite impressive, hey?
I finally got to jump on board the Procter & Gamble wagon back in September in the low-$70s; a price I considered quite a bargain. Since then, it has gone on a bit of a share price tear: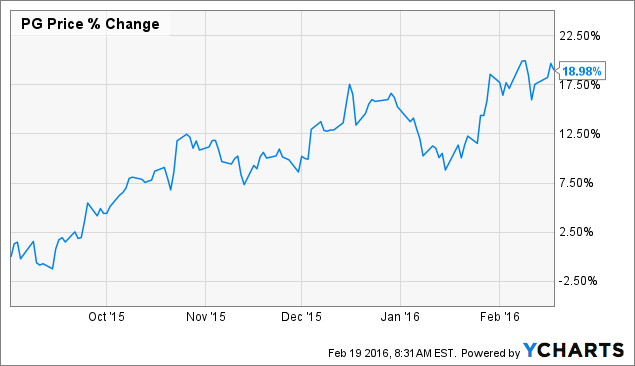 PG data by YCharts
Now I must admit to expecting to see Procter & Gamble back up in the mid-$80s at some point as my analysis back in December suggested a fair value around the $85 mark when I compared it to Unilever (NYSE:UL). However, the speed of the rise has surprised me.
What is more, the steeper still share price jump on Q2 results surprised me even more after a quick perusal of them. But when I look at them in more depth, do I share the growing bullishness in Procter & Gamble's near-term performance?
Revenue Growth Returns
First impressions, were pretty good. Taken from an organic revenue perspective, things look encouraging. This is the status of the brands that are still held by the company (that is, not being sold off or wound down). Procter & Gamble declared pretty good looking organic revenue growth figures: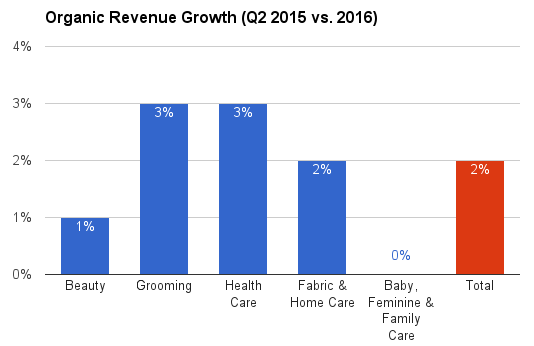 However, when we look at its closest peer, Unilever, it declared far more impressive sales growth figures.
Differences in currency exposure fed some aspects of this performance with USD-denominated Procter & Gamble facing stronger headwinds than the EUR-denominated Unilever. However, even with this borne in mind, Unilever has produced a much stronger performance over the last few years.
Volumes Growth? Not Quite Yet
More worrying though was the matter of volumes. The reality is that volumes continue to decline even if we do look at it from an organic perspective: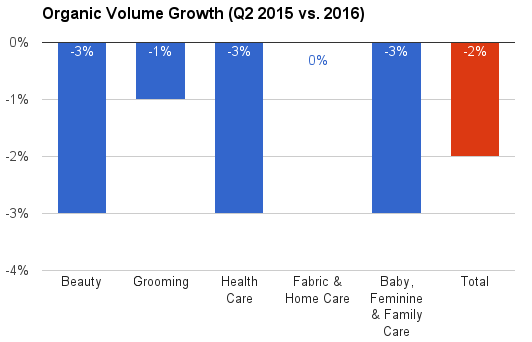 Procter & Gamble remains the market leader. However, such hefty slices off of its volume figures across the segments are not nice to see.
However, this also highlights a positive aspect.
The Power and Problem of Price Hikes
Inevitably, if volumes were declining, there is only really one reason for revenue growth (however modest it may be): price hikes. This was certainly true; across the segments prices were lifted by fairly hefty amounts: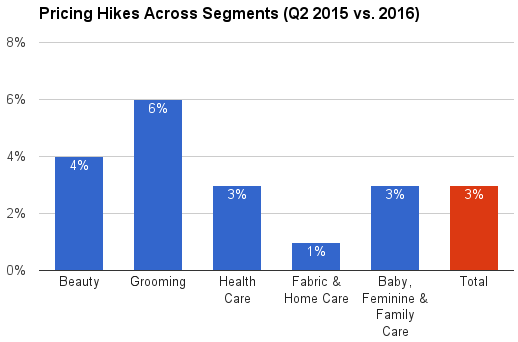 This is fine to some extent. After all, part of the investment appeal for me here is that the brands the company holds have the appeal that pricing increases are often fairly happily absorbed by the consumer without much thought.
However, this can only go so far. Unilever's faster revenue growth was fed by a combination of volume and pricing growth. Procter & Gamble's was not and this is not sustainable. The company recognize this itself with the CFO, Jon Moeller, noting that:
We're not going to be able to take 3% pricing indefinitely, nor is that our intent in any way.
This is a problem. However, there is a ray of hope here. Pricing hikes like this have fed the organic volume declines. Moeller noted that share price hikes usually take "six to nine months" to work their way through with regards to returning volume figures:
Remember we - because we are the market leaders - typically have to lead or nothing happens, so we're exposed for that period of time and competitors can take six to nine months sometimes before they respond or they cannot respond at all. And to cases where they don't respond to the level that are necessary to maintain our value equation comparisons or where they don't price at all, we will reduce price. We're not going to be un-competitive, we're not going to lose share on a sustained basis.
In other words, PG takes the lead on price hikes. Volumes decline as a result of some consumers turning to cheaper brands. Eventually rivals meet the price hikes from Procter & Gamble, and volumes return to Procter & Gamble brands in turn as consumers return to their favoured brand which is now priced more in-line with its rivals.
This is encouraging. So how much should we be worried about volume declines? Right now, only moderately. As long as they chiefly represent the effect of pricing changes, this is fine. In turn, we should expect to see volumes stabilise and - eventually - begin to grow again.
For the long-term investors, therefore, this less happy set of figures is something to carefully watch in future results rather than currently worry.
Fortunately, Procter & Gamble offered investors plenty to cheer hidden in its results.
Improving Efficiency
Thankfully, further chinks of light appear when we crawl a little deeper into the results. This is especially true when we look at some of its efficiency measures.
Some things have improved noticeably, however. Operating margins continue to strengthen: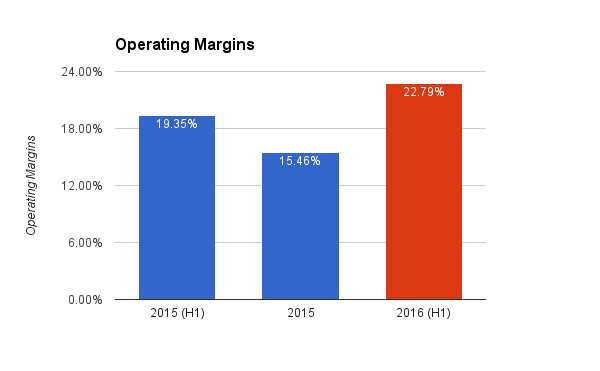 This is a great sign. Procter & Gamble has seen its margins consistently expand in recent quarters and with its renewed focus on a more lean, high-margin set of products, I expect that this has some way still to run.
Cash Flow Looking Stronger
Even more encouraging for me is the matter of cash flow performance. FCF (operating cash flow minus CapEx) improved noticeably over H1 2015, courtesy of higher operating cash flow and lower CapEx: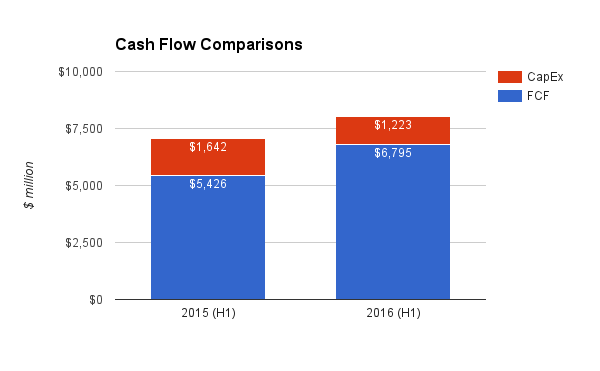 This is encouraging, of course, FCF performance underpins the dividend prospects for Procter & Gamble and it was great to see that the FCF payout ratio had shrunk in H1 compared to both FY2015 and the same time last year: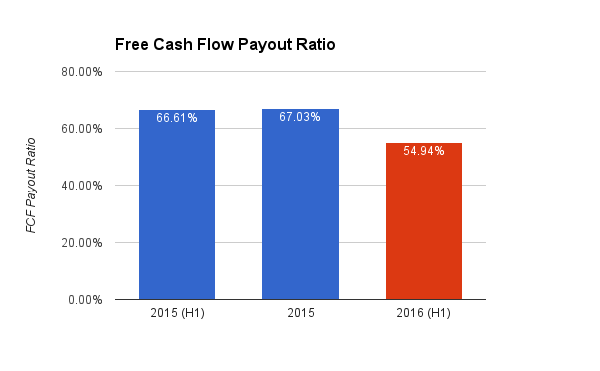 I doubt this will mean that we will see a hefty dividend hike in the next quarter. However, seeing the FCF payout ratio drop bodes well for the sustainability of continued dividend growth into the future.
CROIC Continues to Strengthen
Procter & Gamble is certainly becoming a more efficient cash generating machine. Continued FCF growth on the back of its increasingly leaner portfolio and balance sheets has also had a profound impact.
Recently Procter & Gamble has significantly underperformed its peers with regards to cash return on invested capital: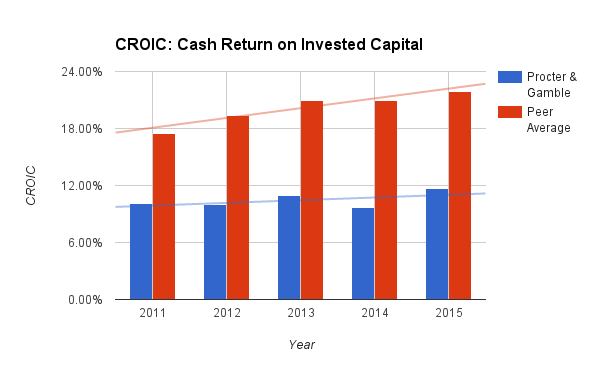 In 2015, it put together a CROIC of 11.64% compared to a per average north of 20%. In other words, for every $100 invested in the company, Procter & gamble was returning less than $12 in FCF compared to the over $20 of its peers. Now, a CROIC of nearly 12% is still pretty good. However, it clearly underperformed its peers.
However, from the first six months of 2016, we have seen something of an improvement: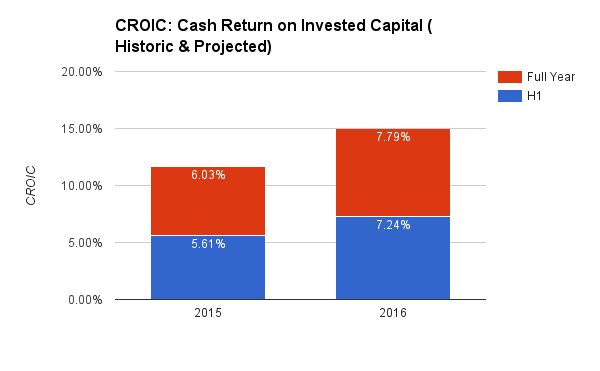 The first half of the year has seen the CROIC rise to 7.24% from 5.47% this time last year; a good jump. What is more, if we see the first half make up the same proportion of the full year's results as last year, we could see a CROIC back up above the 15% mark. A notable improvement.
What is encouraging here is that the company has been improving its cash generating efficiency for a couple of years now. This is a good sign. The more cash it can generate from its capital invested, the faster it can compound its growth across the board from fundamental performance to shareholder returns. All very good indeed.
Fair Value Reevaluation
The results from the first half of 2016 are therefore a little mixed. Certainly, the business is growing in efficiency. However, as yet, the sustainability of its market share and the currently modest revenue growth remains to be proved.
Yet, has my fair value figure shifted in response?
I calculate my fair value by taking the historic PE for the company over the last five years and multiplying it by the average from the EPS predictions for the next two years.
Procter & Gamble has historically traded on a PE over the last five years of 21.3. Using this gives me a:
Basic fair value of $81.69
I then adjust this by the amount of cash held on the company's books. Doing so offers us a:
Cash-adjusted fair value of $84.21
For me, this suggests that Procter & Gamble is now trading pretty much in its fair value zone (between basic and cash-adjusted fair value).
Holding On
For now, I am happy to hold onto Procter & Gamble. Its fairly rapid share price appreciation of late is interesting, but I am unsure that it reflects the progress the company is actually making. Part of the reaction was almost certainly a counter-response to too keen a selling late last year and an additional bit of momentum was certainly provided by the volatility of the start of this year which has seen a rush to defensive investments.
Clearly, it is improving in many regards. Its focus on its higher margin products and segments is expanding margins and bolstering cash flow. However, volume declines remain a concern. Right now, I am willing to accept that pricing increases have helped fuel this poor volume result so far. However, with pricing hikes increasingly hard to countenance, we need to see organic volume growth to support the improvements elsewhere.
Procter & Gamble is becoming an increasingly efficient business. This is certainly great in itself. However, what we need to see now is for volumes and revenues to return to consistently higher rates of growth. Without this, efficiency measures will only slow Procter & Gamble's declining performance rather than bolster growth into the future.
Procter & Gamble is a great business well and truly embedded in our everyday lives. Its place in almost everyone's portfolio (especially income-focused ones) seems secure.
Right now, the company looks on the cusp of seeing the benefits of its restructuring being fully reflected in improved fundamentals. However, risks remain. And, for me, the price now reflects this less generously. It is still far from firing on all cylinders, yet its valuation right now increasingly suggests that it perhaps should be. Indeed, its PE valuation is almost identical to that of Unilever despite the contrasting recent performances.
I am very happy to hold, but if it was to rise above $85 without any obvious catalyst from its volume or revenue performance in future quarters, I may look to temporarily reduce my exposure as I would strongly suspect downside share price risk was far more likely than upside.
Notes
* Peers in this case are: Unilever, Reckitt Benckiser (OTCPK:RBGLY), Church & Dwight (NYSE:CHD), Kimberly-Clark (NYSE:KMB), Clorox (NYSE:CLX), Colgate-Palmolive (NYSE:CL), Tupperware (NYSE:TUP), and WD-40 (NASDAQ:WDFC).
Unless otherwise stated, all graphs and the calculations contained within them were created by the author. Creative Commons image reproduced from Flickr user jeepersmedia.
Disclosure: I am/we are long UL, PG.
I wrote this article myself, and it expresses my own opinions. I am not receiving compensation for it (other than from Seeking Alpha). I have no business relationship with any company whose stock is mentioned in this article.