By FS Staff
Thoughts from our recent conversation with David Nicoski, Director of Research at Vermilion Technical Research.
"We are still not in the start of a bull market and we really need to see some changes take place in a number of areas…to give us a greater belief that we truly are making a reversal here," Nicoski recently told Financial Sense.
Two areas in particular he would watch to see if we are truly forming a bottom in the market are "the Ted spread and the US overnight repo rate," he said.
"If these two can come back down into a normalized area that we've seen over the last five years, that would certainly make us much more comfortable in looking at the markets in terms of bottoming because I think you would remove a lot of that credit risk."
Of the two, here is a chart of the Ted spread (courtesy of Bloomberg), which shows credit risk having moved above the average range seen since 2009 as of April-May of 2015-right when the broad indexes peaked.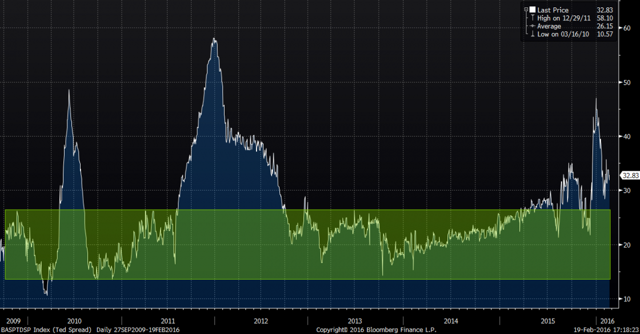 Click to enlarge
Definition of Ted Spread
From Bloomberg: "The price difference between three-month futures contracts for U.S. Treasuries and three-month contracts for Eurodollars having identical expiration months. The Ted spread can be used as an indicator of credit risk. This is because U.S. T-bills are considered risk free while the rate associated with the Eurodollar futures is thought to reflect the credit ratings of corporate borrowers. As the Ted spread increases, default risk is considered to be increasing, and investors will have a preference for safe investments. As the spread decreases, the default risk is considered to be decreasing."
In summary, Nicoski tells listeners "I think it's best just to stay on the sidelines" and "be on the defensive side."
Listen to this full interview on Saturday with David Nicoski, Director of Research at Vermilion Technical Research, by clicking here.