A few months ago I visited my parents in the suburbs and had the opportunity to take advantage of the Costco (NASDAQ:COST) deals available to their members. It was a fantastic day. Arriving early in the morning, we got through the crowds and were able to do the necessary shopping for our big football party. In addition to the festive supplies, we also purchased regular items and concluded the day with a hot dog and pop for a great price. I felt great about the savings and it got me thinking about the stock. Would it be of equal value?
Although I was aware Charlie Munger (Warren Buffett's long time partner) was on the board of directors, I wasn't sure I could simply run out and buy the security the way a Costco member runs for the toilet paper. I had to do my due diligence.
Looking at the long term chart, it was clear that Costco had done very well and its stockholders had been handsomely rewarded over the past 5 years. The question I always ask myself however, will it continue? After the first question, I often ask myself the next question: What am I getting vs. what am I paying? In the case of Costco, further research is needed to arrive at a proper conclusion. Let's take a look.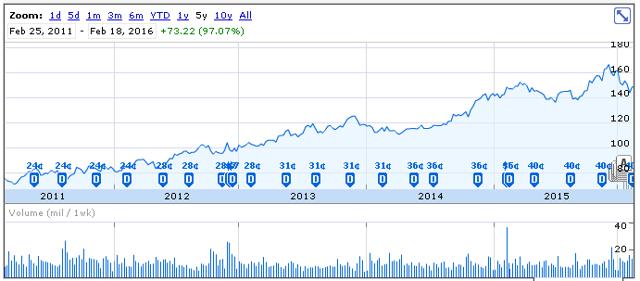 Click to enlarge
Source: Google Finance
Given Costco is a well established retailer, I looked at the companies P/E going back to 2011 and saw that given the years high and low prices, Costco stock has clearly been range bound between 20 and 32 times earnings. Although earnings have increased steadily, it seems to me more and more difficult to justify a high P/E ratio given that growth in this particular area of retail is running out. Customers are going online much more than into stores these days. Further, younger consumers seem to shy away from Costco as they drive less than their parents did and live more in large cities than in the suburbs. The tide may be going against Costco on this one. After looking at Costco's website, it became apparent that the website wasn't bad, but it certainly wasn't great. We'll have to see how this plays out.
Given the company's ability to generate free cash flow however, it seemed worth a further look. Once I looked at the companies 10k and began running through the Dupont model, a few things became apparent. Let's remember, the Dupont model is the breakdown of return on equity.
First, the shares outstanding have remained pretty steady from 434 Million in 2011 to approximately 438 Million by the end of 2015. A good sign, but in a period when many large cap companies have been buying back shares, Costco seems to have resisted, opting instead for the special dividend approach. It's almost like Charlie Munger and the board thought it may have been a better idea to payout the cash instead of retiring shares at a high multiple.
Getting to the Dupont model, let's take a look:
| | | | | |
| --- | --- | --- | --- | --- |
| | PROFIT MARGIN | ASSET TURNOVER | FINANCIAL LEVERAGE | |
| | | | | ROE |
| | Net Income / Sales | Sales / AVG Total Assets | AVG Total Assets / Average SE | |
| | | | | |
| Year 2015 | 2377 | 116199 | 33232 | |
| | 116199 | 33232 | 11460 | |
| | 0.020456286 | 3.496599663 | 2.89982548 | 0.207417 |
| | | | | |
| Year 2014 | 2058 | 112640 | 31653.5 | |
| | 112640 | 31654 | 11568 | |
| | 0.018270597 | 3.558532232 | 2.736298409 | 0.177905 |
| | | | | |
| Year 2013 | 2039 | 105156 | 28711.5 | |
| | 105156 | 28712 | 11597 | |
| | 0.019390239 | 3.662504571 | 2.475769596 | 0.175821 |
| | | | | |
| Year 2012 | 1709 | 99137 | 26950.5 | |
| | 99137 | 26951 | 12182 | |
| | 0.017238771 | 3.678484629 | 2.212412264 | 0.140295 |
| | | | | |
| Year 2011 | 1462 | 87048 | 25288 | |
| | 87048 | 25288 | 11416 | |
| | 0.016795331 | 3.442265106 | 2.215233674 | 0.128071 |
As we can see from above, Costco has done an excellent job in controlling costs and prices, bettering their profit margin, all the while keeping their asset turnover ratio pretty consistent. The financial leverage ratio has slightly and consistently increased, moving the ROE from almost 13% to now over 20% with a higher than ever profit margin. The top may be in for Costco.
Looking at the dividend yield for Costco, it's a little slim at about 1%, with a very consistent payout ratio of between 25% and 30% since 2009. It's the kind of thing I can almost set my watch by, similar to the shares outstanding. Although the dividends and payout ratio have room to grow, it will be a long time before the yield becomes (as an example) 3%. The dividend would have to triple, forcing a 75% payout, or Costco would need to drastically increase earnings. This will take several years to transpire if they can pull it off.
As the dividend situation has been reviewed, it fails to accomplish what some companies such as Coca Cola (NYSE:KO) or Wal-Mart (NYSE:WMT) accomplish: set a floor on the share price due to its dividend yield. Income investors will not be knocking on Costco's door the way they do a KO for the income stream.
Looking at the stock from a trader's perspective, I've included a chart of the securities technical's below. The black line is the stock price, yellow is the 10 day simple moving average, blue is 50 day simple moving average, and the pink is the 200 day simple moving average. It seems the stock may have bottomed at its 200-day moving average, but it may also be preparing for a new leg down. Eventually the market will figure out the Costco story. The growth is behind it and the multiple is just too high.

Looking at the information above, it becomes clear to me that Costco is definitely not an investment I want to be holding when the music stops. The current price is floating in a range that does not offer me evident value on either side. Given its current share price of approximately $148 at the time of submission, I'll be monitoring Costco for a new high ($170 or more) or a significantly lower price before taking a position. Given the current price, P/E ratio, and ROE numbers, the stock seems to lack the upside that I look for when making investments.
In the retail sector, I have recently written an article about Wal-Mart where the value seems to be much more evident for a long term investor. Click here to read it.
Disclosure: I/we have no positions in any stocks mentioned, and no plans to initiate any positions within the next 72 hours.
I wrote this article myself, and it expresses my own opinions. I am not receiving compensation for it (other than from Seeking Alpha). I have no business relationship with any company whose stock is mentioned in this article.